New Year's resolutions are a dime a dozen. This is the time of year where gyms are slap full and the healthy foods aisles are barren for all of one month. Let's face it – change can be difficult. Challenging yourself is important, but it's crucial to set a balanced bar between your professional self and your baser instincts. Better budgeting and time management are on my list, and so is getting outside more. I know I'm hitting at least one of those goals, and the time spent satisfying my outdoor drive promotes fresh perspective for my reality between trips.
I decided to start the year off on a high note with a winter expedition. With a nice chunk of time off for the new year, we set our sights on exploring the eastern Sierras. Time has been a limiting factor which usually keeps us to a stricter route without much opportunity for detours. Our northernmost destination was Mammoth Mountain, and with two full days budgeted, it was time for some unplanned exploration. With Matt on holiday, our ops director Ben and I packed up the black 4Runner and headed for the 395 North.
First stop: Alabama Hills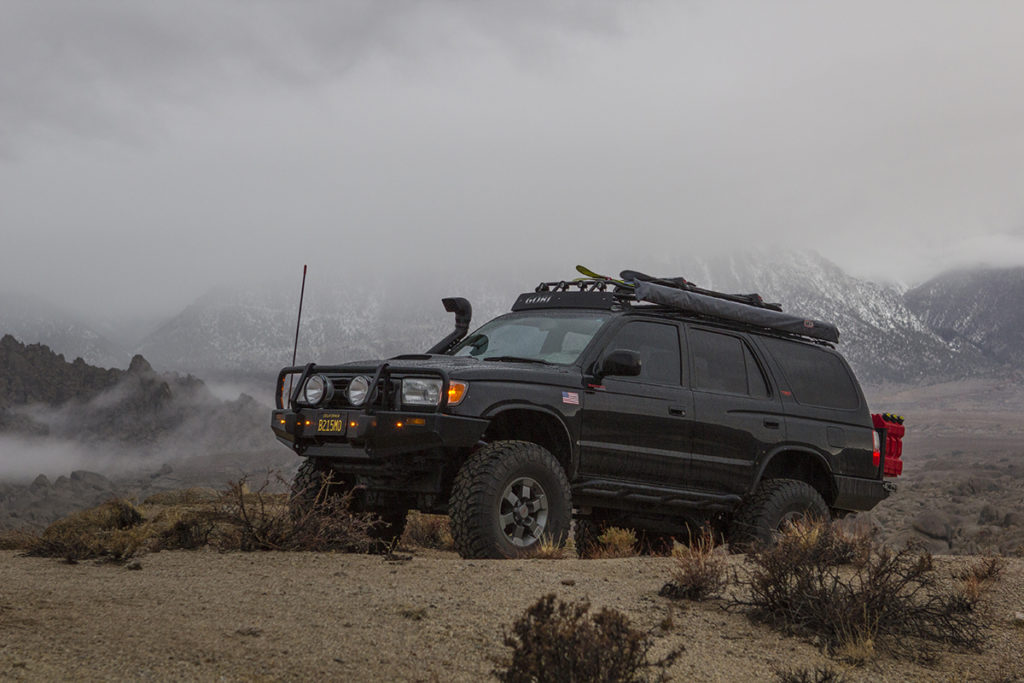 The Alabama Hills are a very popular area just outside of Lone Pine, CA. The landscape and rock features are an attraction in themselves, and their prevalence in films dating back to 1919 only adds to the appeal. More recent films include Iron Man, Gone in Sixty Seconds, Django Unchained, and Gladiator.
On our last trip to Mammoth, we took random back roads to Mount Whitney instead of the direct highway route. Alabama Hills has been on my list for some time, and I can't believe how close we were to stumbling upon it unexpectedly. On that trip, we decided to take a right at a fork in the road which was a direct shot to Whitney Portal Road. A left would have taken us directly through Alabama Hills to Whitney Portal. We took the main road from Mount Whitney back to the highway and never saw the signs. After mapping and realizing how close we had been, it was an easy decision for our first night of camping.
The rain started in San Diego and followed us all the way to the mountains. We pulled into a wet and busy Lone Pine early Friday afternoon and drove straight for Whitney Portal. Stopping at the information turnout to snap a picture of the map, the turnoff for our destination was roughly a mile ahead. Once you turn off, the paved street quickly degrades into washboard roads.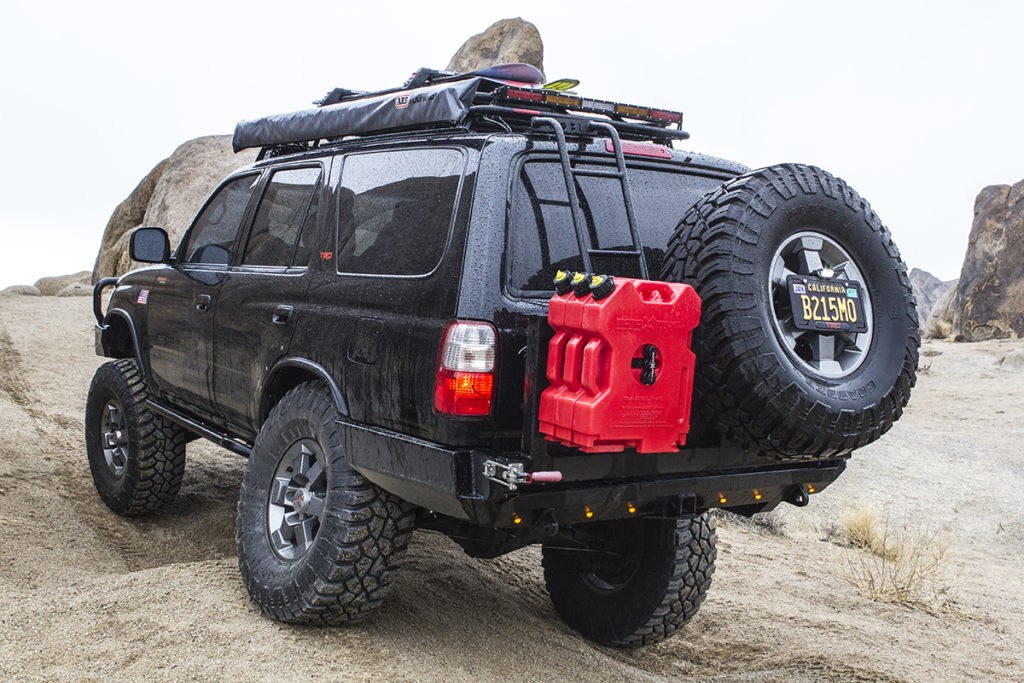 Alabama Hills is filled with amazing primitive camp spots, and within the first mile we noticed the fire rings. After spending so much time in the San Diego wilderness, you almost forget campfires are permitted elsewhere. Knowing we were heading back into town for firewood, we decided to scout the entire route while we had daylight. Amazing scenery and backdrops at every turn with a few awesome overlanding rigs nestled in various features and formations. Each camp setup we passed looked worthy of a magazine cover.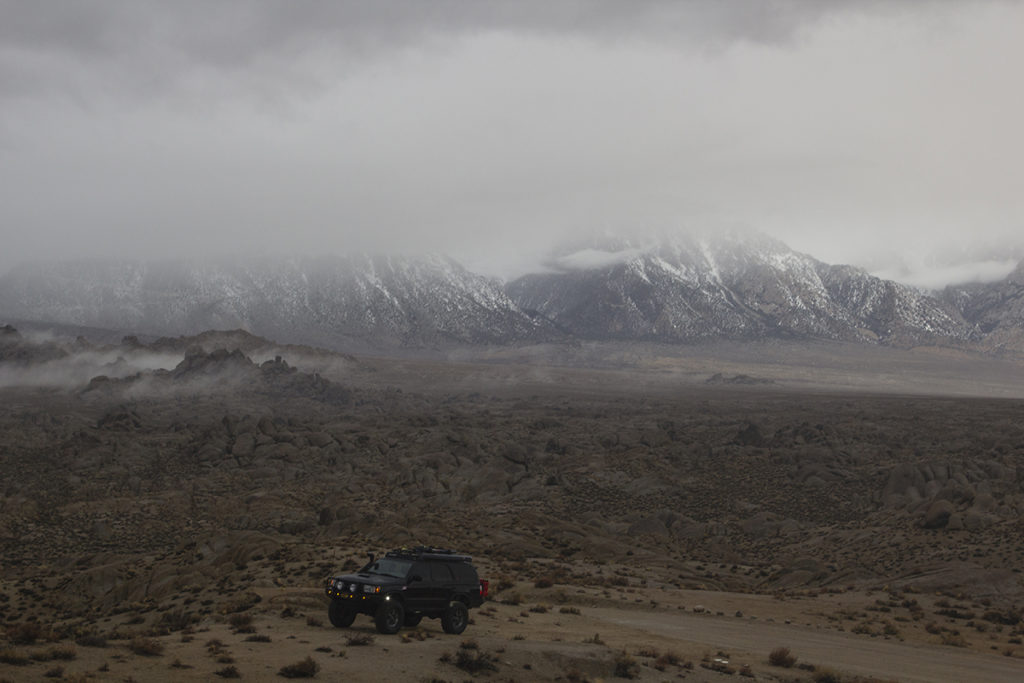 Once we exited the other end of the hills, we found our fork in the road from our last trip. This was the final puzzle piece in our mental mapping of the Lone Pine area. Having a better grasp on the land, we turned around and headed back to town for our wood.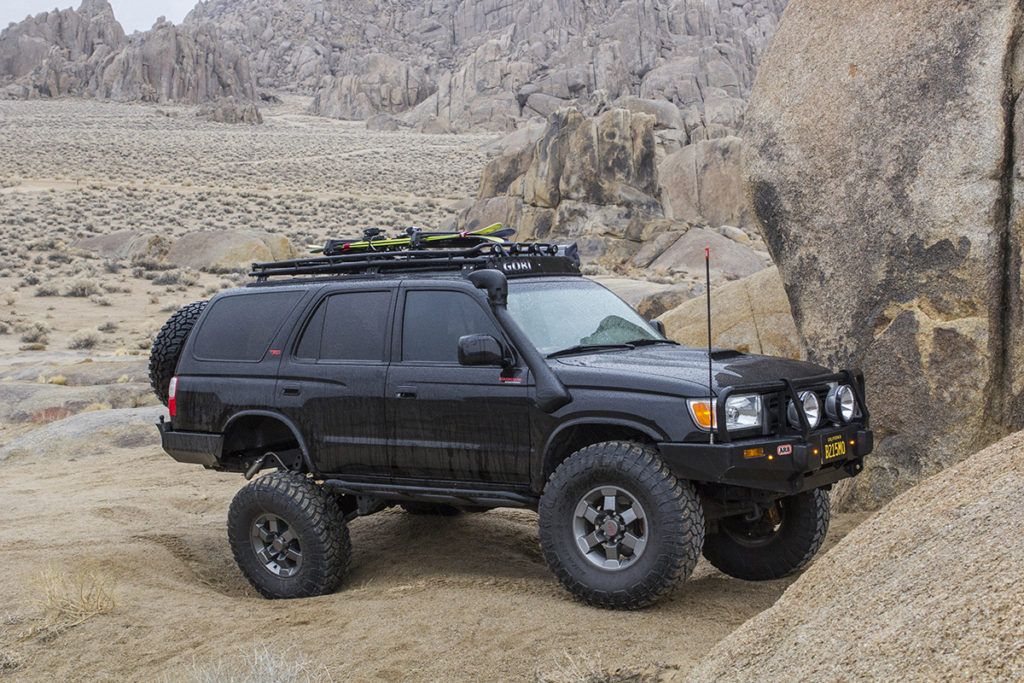 The sun had set while in town, and as we climbed back up to higher elevations the rain finally began to subside. I foolishly ran the first trail fully aired, and my rattled teeth and truck were begging for more cushion. Knowing the next day would have us bouncing between highways and rough trails, so I aired down slightly to 30 and hoped for the best. While it certainly helped, the best relief came from riding the shoulders and scoping flattened lines to follow.

Once on the backside of the hills, we took an offshoot we had noticed on our first passing. The trail and possible camping spots were obscured by rock formations, but we were confident in finding a good spot with at least some natural wind barriers. Being at the foothills of the Sierras puts you in the crosshairs of considerable winds, and setting up an exposed camp in the valley is asking for a bad time.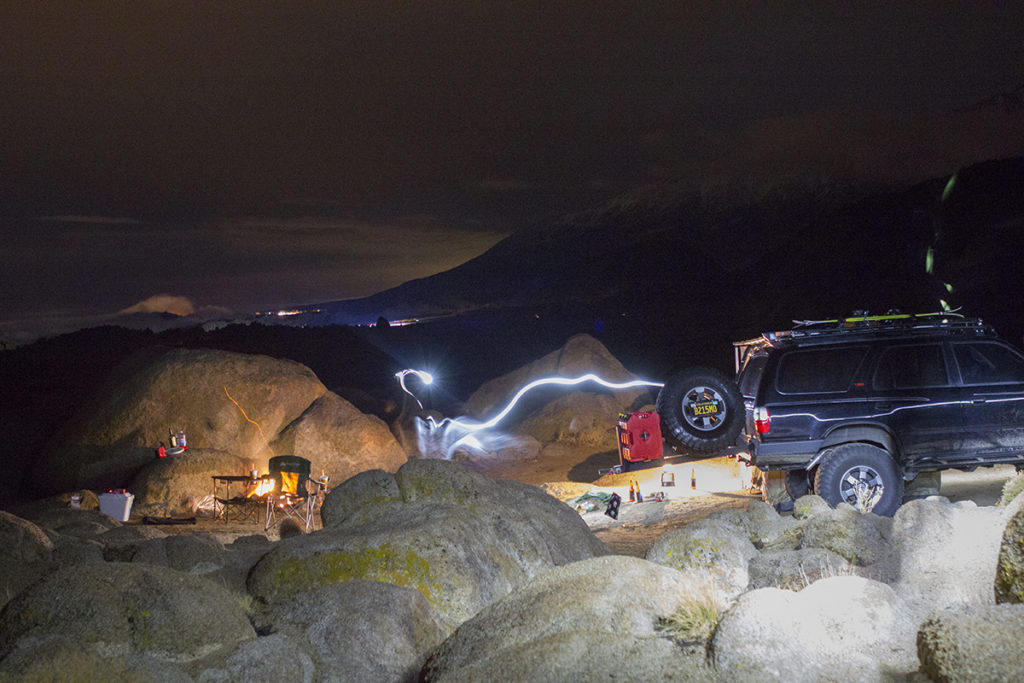 Luckily for us, we found a spot perfect for the night. Excellent views, slight rock coverage, and enough level ground to deploy the living room. With only one night of camping and nearly 1000 miles of total travel, we left our beloved rooftop tent at home for better fuel efficiency and instead opted for the living room extension on our ARB awning. Gobi carries a full line of rack accessories, and their the awning mounts perfectly to the side of our stealth rack – little to no effect on aerodynamics and gas mileage compared to the RTT.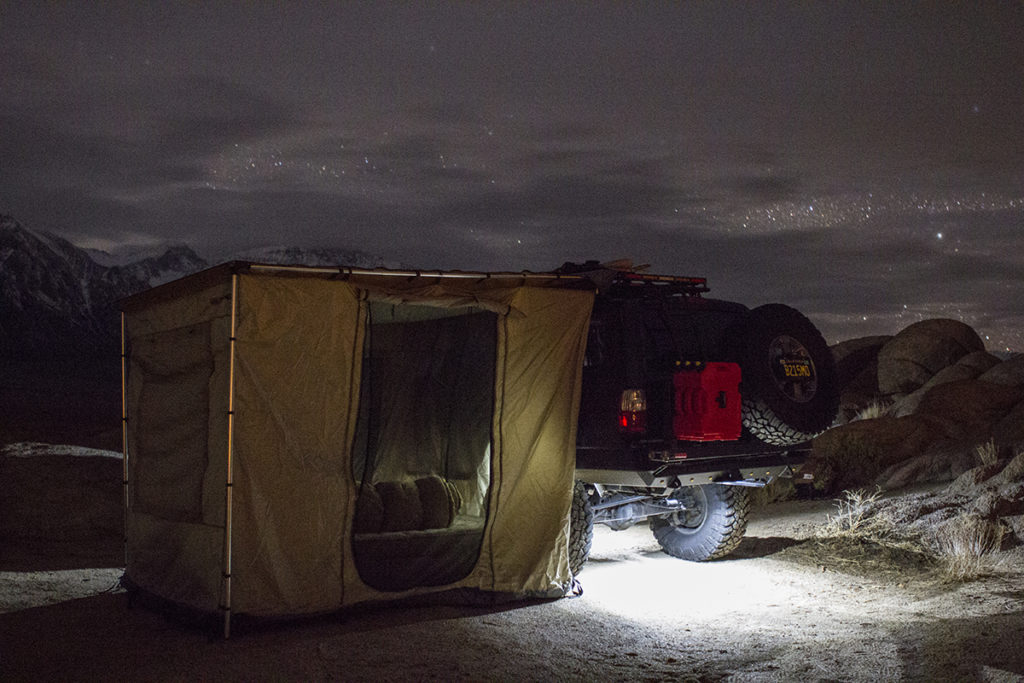 The living room has been critical in past trips, providing shelter from high ridgetop winds and allowing drinking games to continue long into the night instead of prematurely tucking into our tents. We can fit a few outdoor chairs from Survival Cooking in there, which means we can just pack one set and take them from the fire to the indoors to save space. It's an impressive space and perfect for a living room, but that amount of square footage means lots of air to warm/cool for comfortable sleeping. Temperatures were in the high 30s, and we were set with a double-high air mattress and plenty of blankets and a rectangular sleeping bag for a perfect fit into the rectangle living room extension. Add a propane lantern for preheating and a tablet loaded with HBO's Westworld, and you have total satisfaction.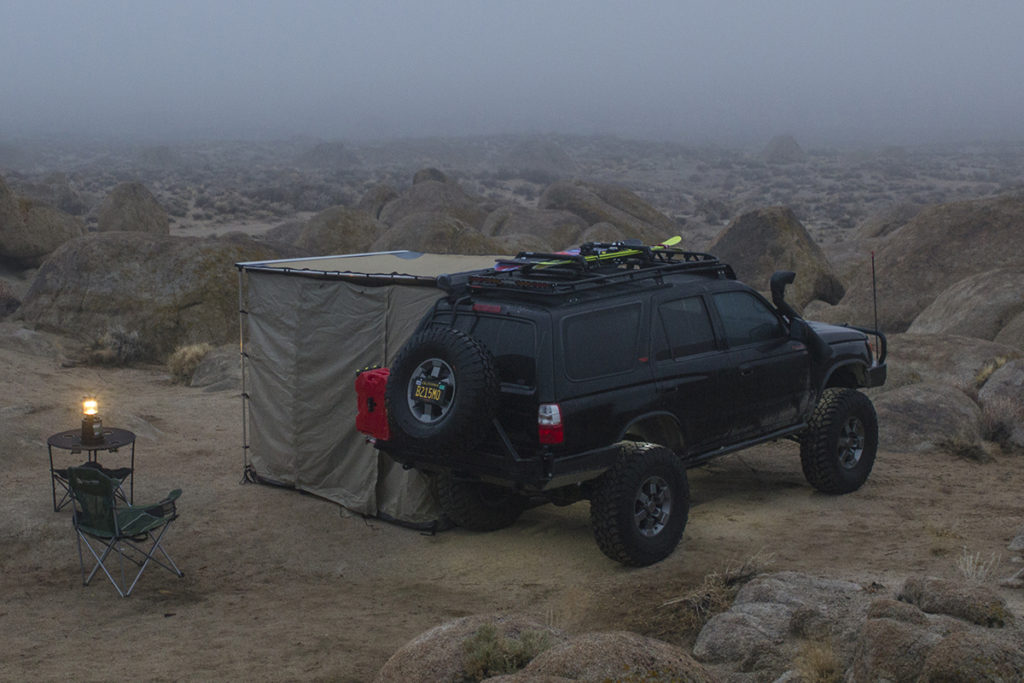 We woke from a surprisingly good sleep and our camp spot was blanketed by rolling fog. It was amazing watching these fast-moving cloud formations giving us a different view of the landscape every minute. One moment we're closed in, and others we have a pinhole view all the way to the mountains. As the sun rose it became somewhat clearer, but the forecast showed cloudy skies throughout the day and the view seemed to confirm it. Hiking up to the highest rocks near our camp, we saw sunny skies to the north, and after successfully checking off of Alabama Hills packed up camp and headed for the light.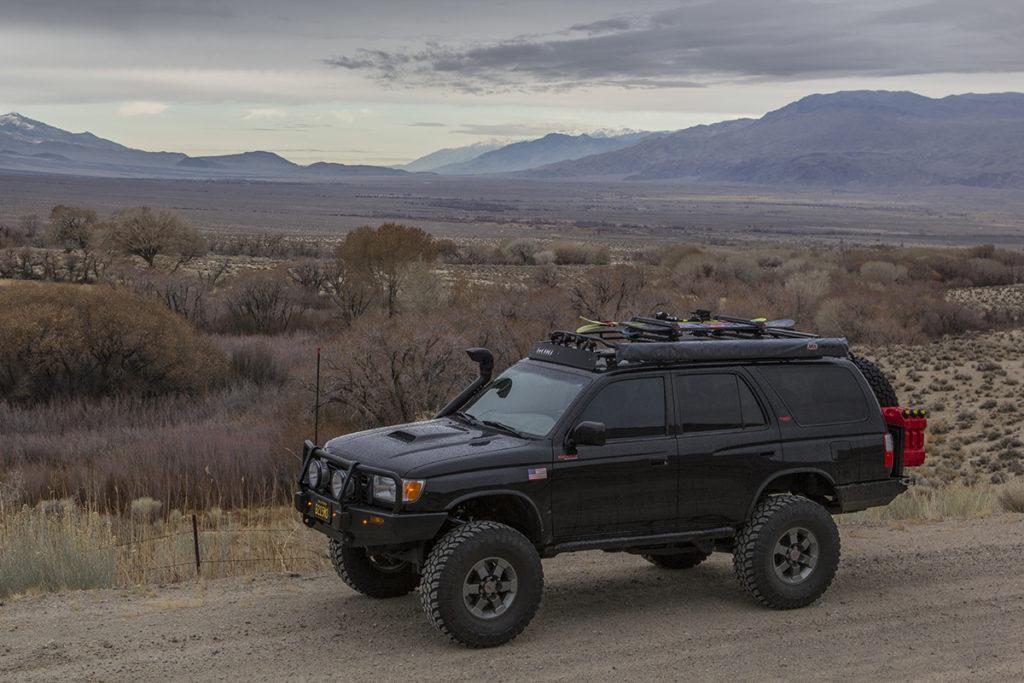 Into the Inyo Wilderness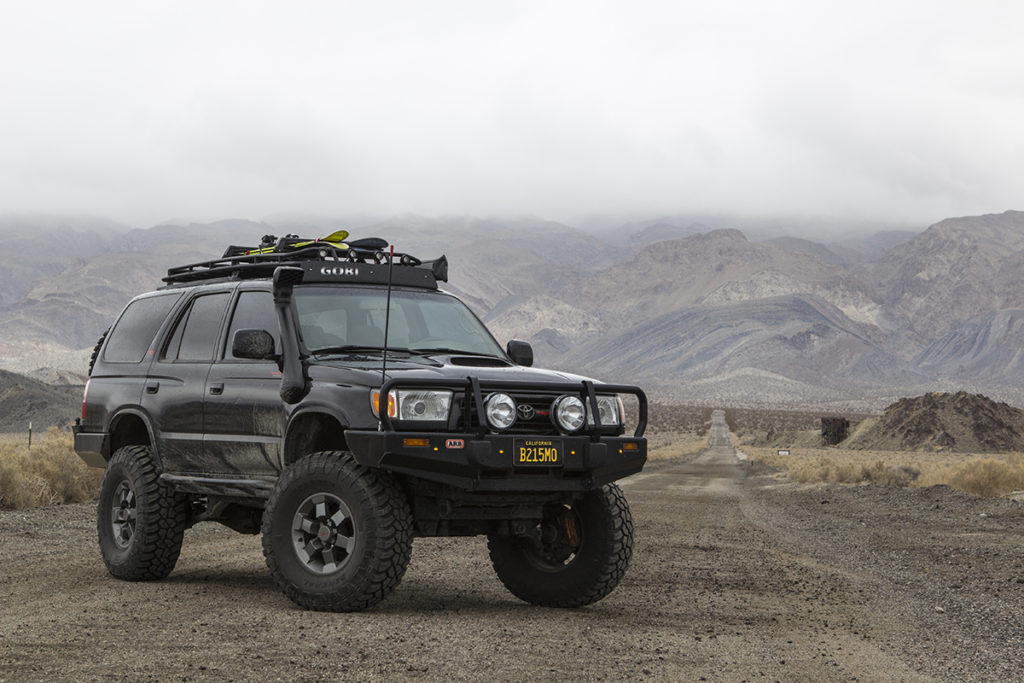 As much as I love research and planning, the root of my fascination with exploring comes from a 'point and shoot' approach. Highway 395 gives drivers glimpses of endless trails sneaking up to the eastern Sierras to the west and the Inyo/Mono County wilderness to the east. Taking our route out to the highway, I noticed a switchback trail in the distance leading directly into the Inyo wilderness. With time on our side, we pulled over and consulted our maps to figure out a) what the hell we were looking at, and b) how we could get there. We marked our location and hopped across the highway, heading for the opposite side of the valley and into a range I'd never visited.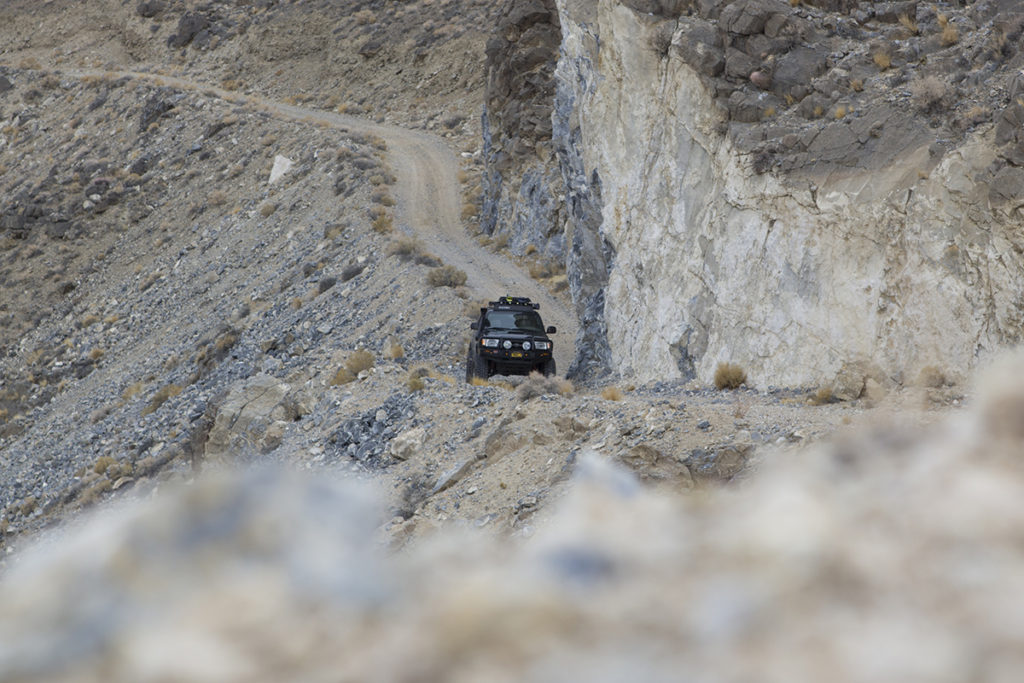 Eager for the ascent, I turned off the highway roughly 15 miles too early, and unknowingly traded a kush highway drive for another hour of traversing over washboards and the unforgiving terrain of past landslides. The map showed a main road running parallel along the foothills, but in reality that 'road' was a rock-sprawled wash no wider than a standard lane. We finally intersected the main road I should have taken, and took more washboards east until we finally came up to the trails I had spotted from the Alabama Hills.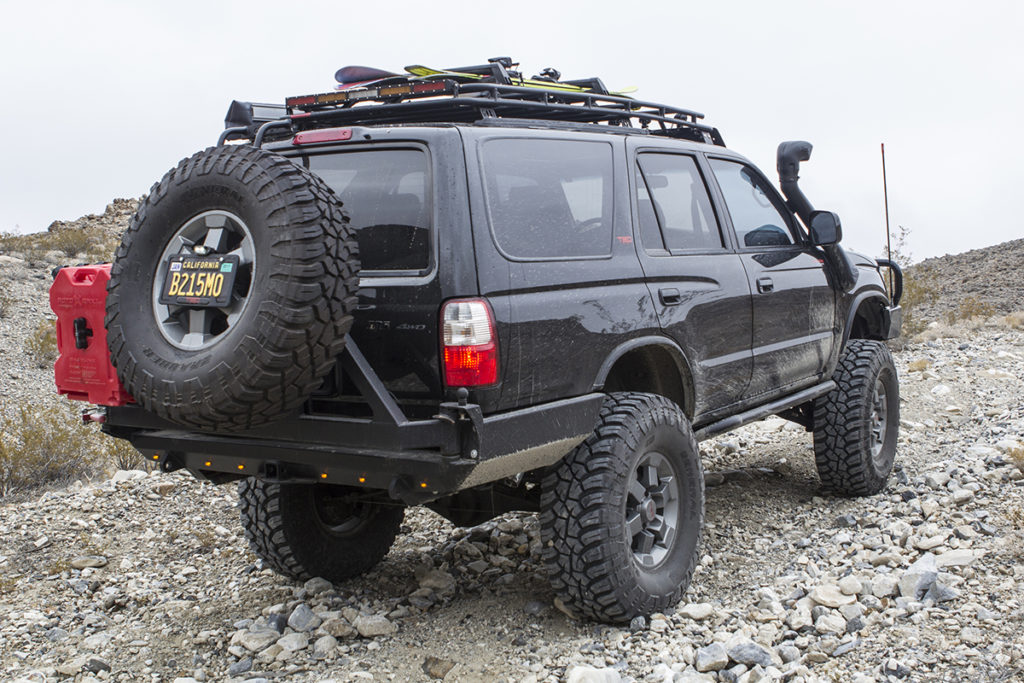 These trails have a way of enticing you at a distance then intimidating you up close, and here was the latest instance. The trail began with a 40° incline littered with jagged rocks. Even with beefy General Grabber X3s in 4-low with the trusty rear e-locker engaged, traction was spotty and demanded my full attention. Considering our situation of being the only vehicle in the middle of nowhere, and another 600 miles to go, I chose to play it conservative and backed down back to the wash. I regret not being able to finish the trail as it looked amazing, but in times like this nothing beats the comfort of having a working vehicle.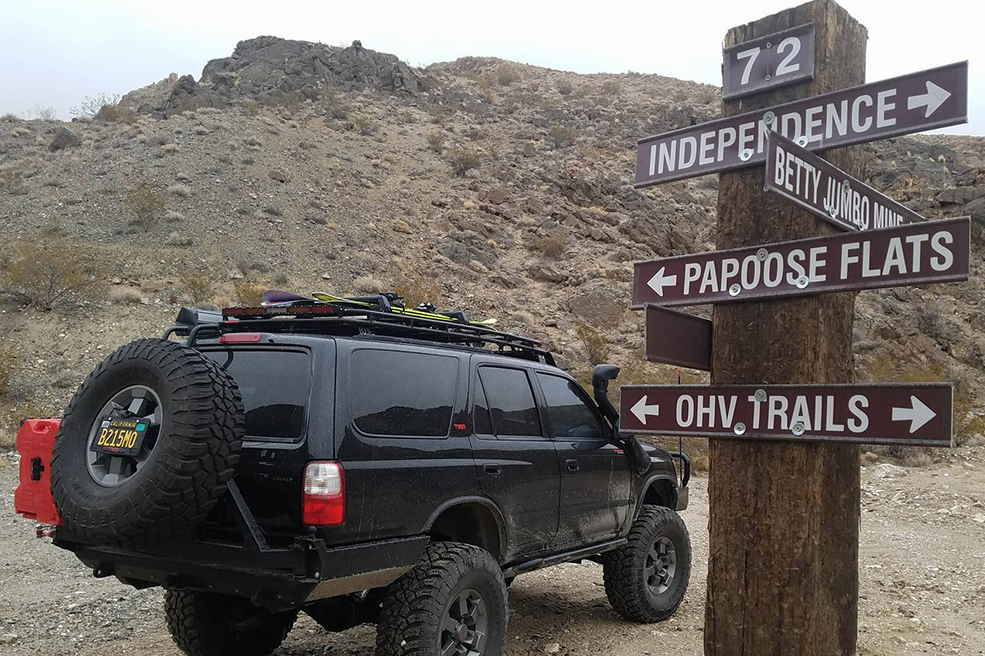 We continued up the main trail which led us to an intersection. Plotting our location and wanting to be in Mammoth before night, this is as far as we'd go before continuing north. An old mining trail traveled up into the clouds, and after crawling up the first leg I eventually backed down once again to play it safe.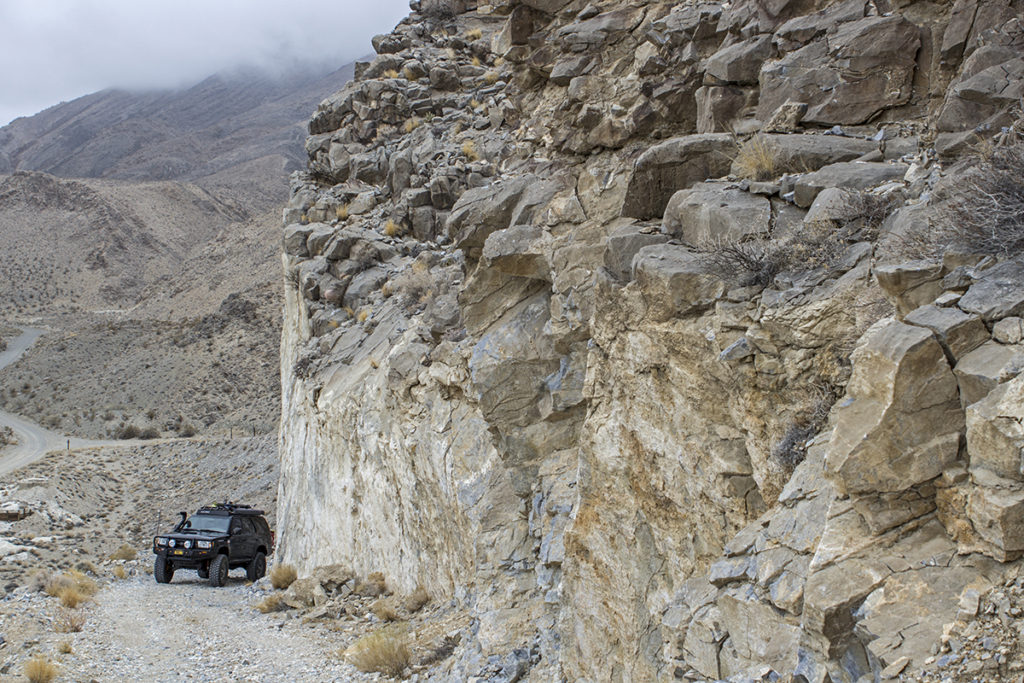 We walked the remaining leg for a breathtaking perspective of both mountain ranges and the valley between. Looking down on the trail, we spotted a possible cave on the side of an adjacent mountain. Having tucked my tail between my legs on the last trail, exploring on foot was fair compensation.
The cave entrance was twenty feet above the trail, and the way up offered the same loose, jagged rocks we had come to expect in this area. Fifteen yards in, the path either ended or became much smaller, and animal droppings and a curious distribution of debris told me this was being used. In the interest of time and our life expectancy, we turned heel, hopped back in the truck and headed north to the Minarets.
Riding Mammoths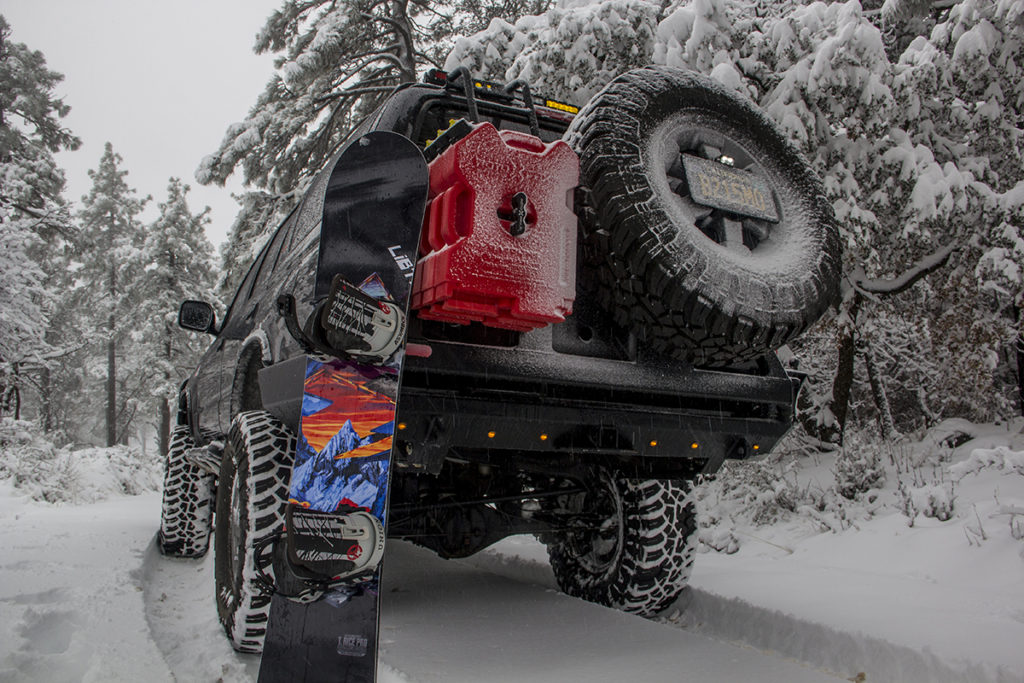 We rolled into Mammoth Lakes Saturday afternoon tired, hungry and in need of a good shower. Hotels were booked as backup in case of extreme weather, and although we were in between storms chose to keep them and treat ourselves for the new year.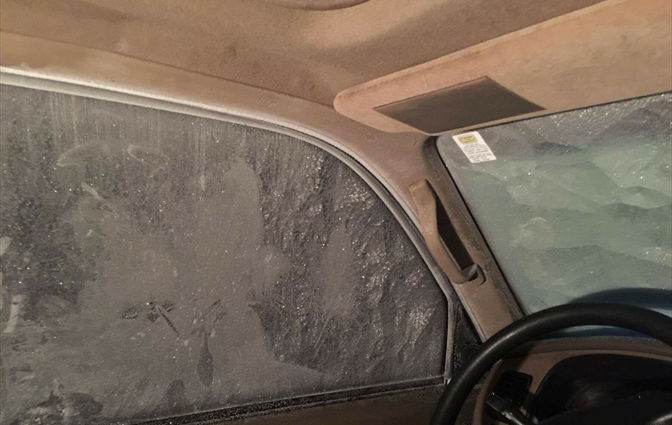 When the clock struck midnight January 1, 2016, 3 of us were huddled in my truck, stuck and broke down in a trail 3 miles from Mammoth Mountain. It was -5° and we were denied a tow truck until the next morning. That trip ended on a good note as I fixed the truck and pulled myself out minutes before the tow truck arrived. We've earned our stripes in trips past and had no issue bringing in this year with a bed and heat.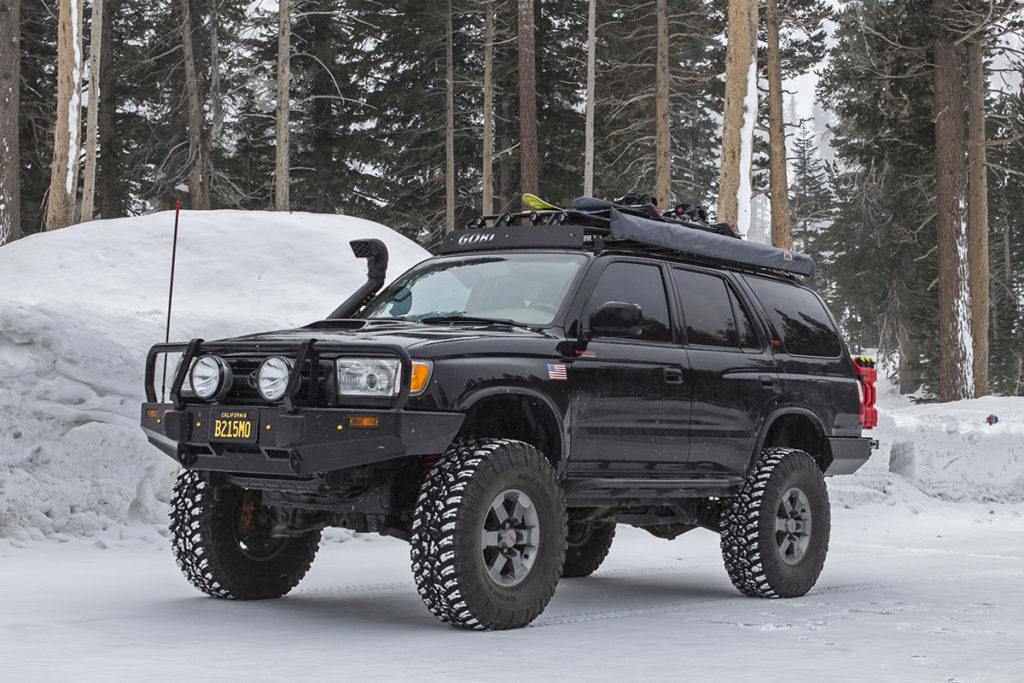 New Year's festivities around town were tempting, but our goal was first lift of the year and a full day of skiing. For us, that meant an early dinner, a double Makers on the rocks, and lights out before the ball dropped. The morning rolled around, and true to form we were out the door by 630am and claimed one of the first parking spots at main lodge.
This was my first day on the mountain with the new board setup and I couldn't wait to test it out. The newest addition to the quiver is Lib Tech's 2017 T-Rice Pro – 161.5cm with Union special edition Asymbol bindings. Slightly longer than my other boards and pointed tips, this deck is a powder hound's dream. Unfortunately, we were six days from the last dump so we'll have to test its true prowess our next time out.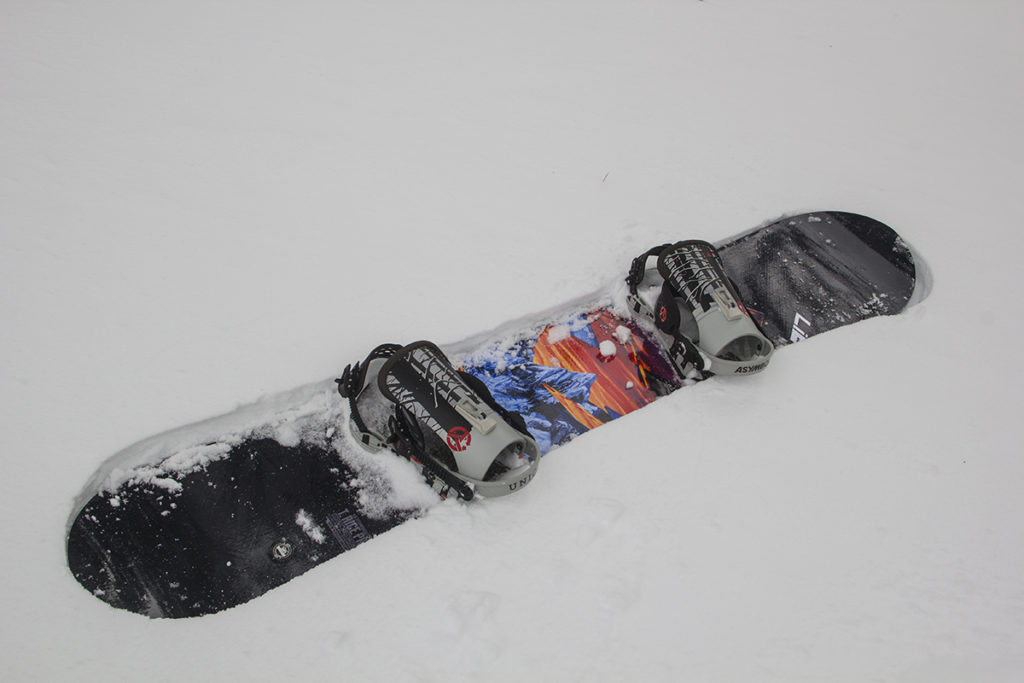 Arriving two hours before the lifts open, we had our own wakeup routine at the lodge and beat the traffic all the way to the gondola. As soon as we walked into the entrance we confirmed our goal: first chair of 2017! The lifties were happy to take in the moment with us while they prepped the lift systems. This was a rare opportunity for a photo op in front of the gondola without pissing off the rest of the line.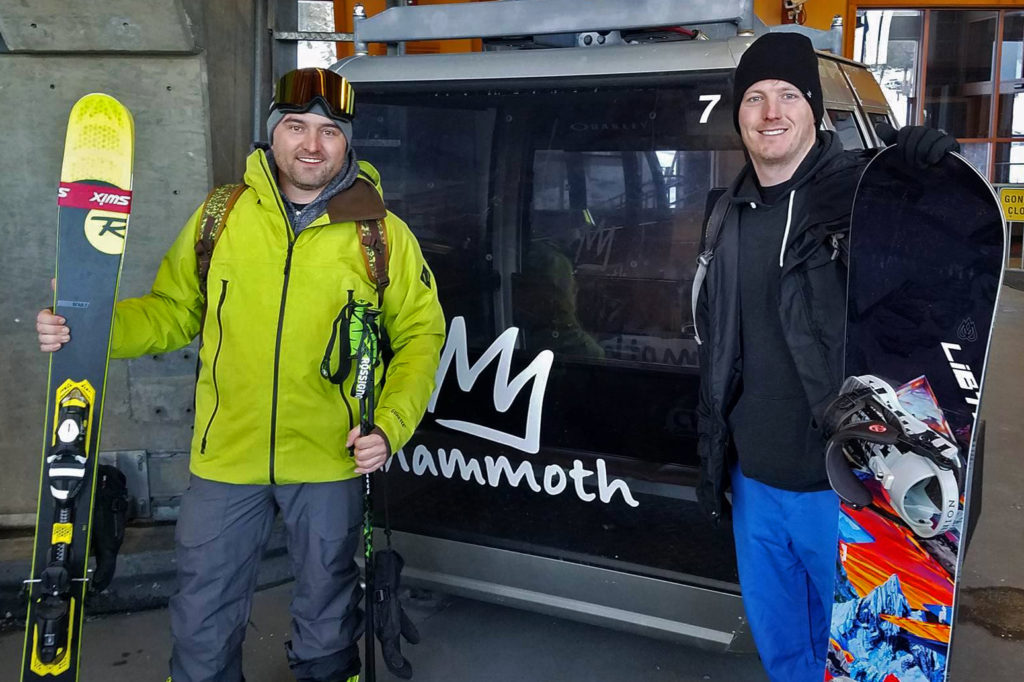 The summit was on weather hold when we left the main station, but as we entered McCoy we were given the all clear to stay on board. We were welcomed by a gorgeous bluebird day with bearable winds. The snow was hard packed with icy spots, but coverage was massively improved over our season opener.
We had three successful runs down Cornice and Dave's. Our fourth descent brought our day to a screeching halt.
As I had hoped, the sun softened the hard pack on Cornice, gracing us with a thin layer of soft-serve powder. This is a dangerous double-edged sword. The soft layer can improve your carving traction, but it can also cover up ice patches and give false confidence in your turns.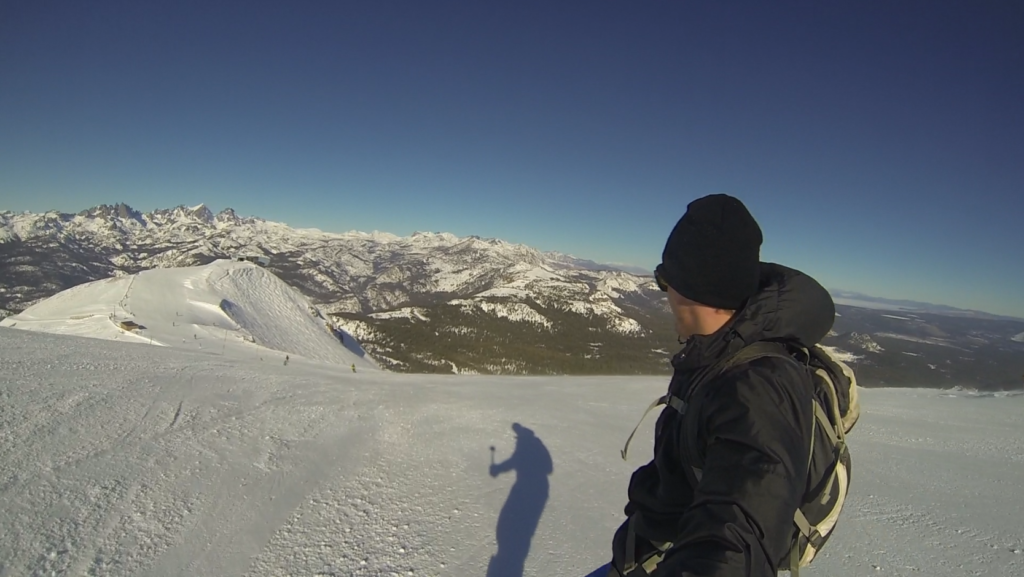 Ben is a long-time skier and two-time captain of his high school ski team, so even as a speed-loving snowboarder it's difficult keeping pace with this guy. As I began the descent, I saw Ben's ski pop out from his boot and send him sliding down Cornice's 40° chute for nearly 600 feet. Halfway through his slide he attempted to dig in and stop his slide. This broke his fibula immediately and flipped him backwards, finishing his slide all the way to the bottom.
I thought it was a shake-off injury until I saw him motionless at the base of Cornice with people coming to assist, and that's when I realized his day was likely done. I collected his poles and ski and went to assess the damage.
Big ups to the Mammoth ski patrol and our fellow skiers. Skiing is a very individual sport, but the community shares a bond like no other. And when trouble arises, the response is quick and passionate. It took me all of thirty seconds to reach Ben, and by then he had 5 skiers tending to him and calling for patrol.
Not knowing the severity of his injury at the time, he declined a first aid transport and wanted a few minutes to see if the pain wore off. Regardless, someone had called for a toboggan and Josh from ski patrol arrived within five minutes of the accident.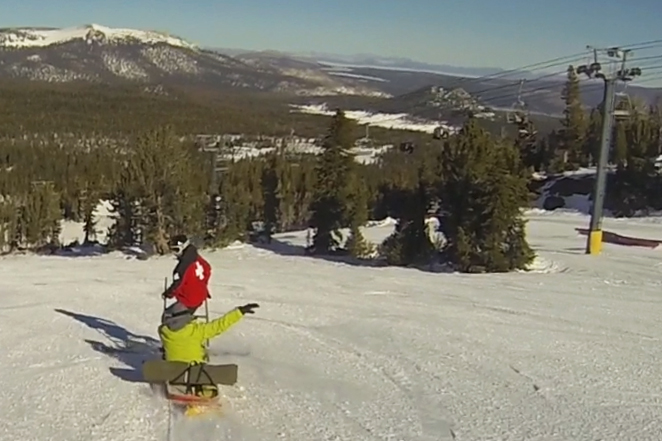 Despite the unfortunate terms, Ben enjoyed his first guided tour down the mountain. After a quick brace and ice pack, we were off to the emergency room which confirmed the broken leg. A big thanks to EMT Debbie and the rest of the staff at Mammoth Hospital for a quick and friendly visit.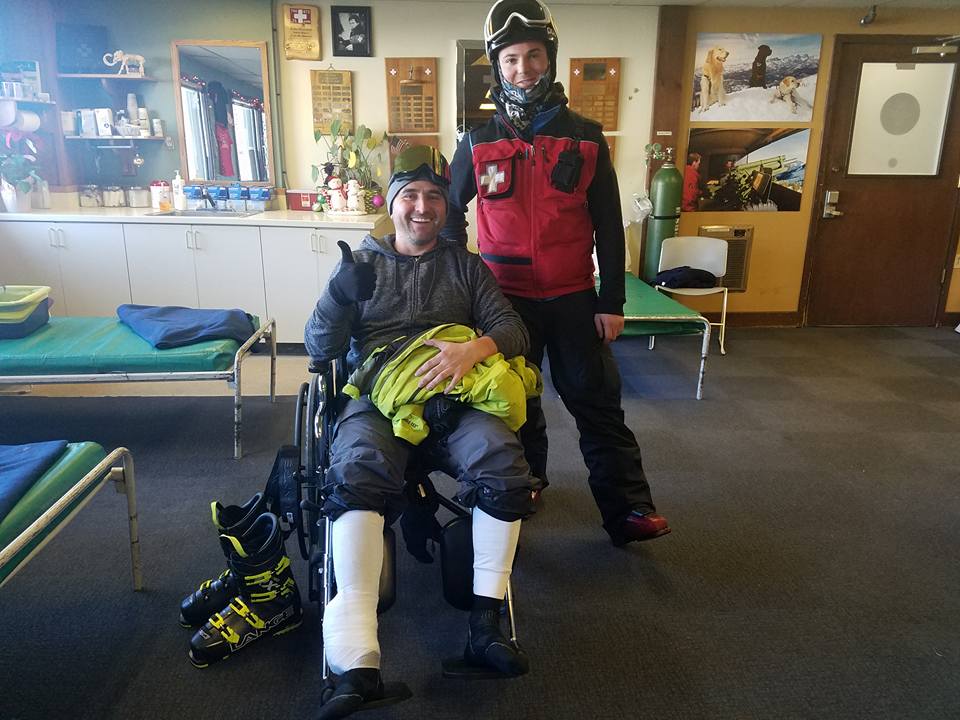 A brutal way to start the year, but Ben's attitude throughout the injury and the remainder of the trip speaks volumes on his mentality in the face of adversity. A promising sign for an action-packed year and validation of the right mindset required for these kinds of adventures.
The remainder of our time in Mammoth was spent with a bottle of Jameson, finishing Westworld and getting him started on True Detective season 1, another classic. No complaints out of this guy.
We headed back to San Diego Monday morning, and built in enough time to make some quick detours. First was Convict Lake for a quick view of the snow. Stopping in November, there was barely any coverage so it was worth the half hour to get a new view of the same place.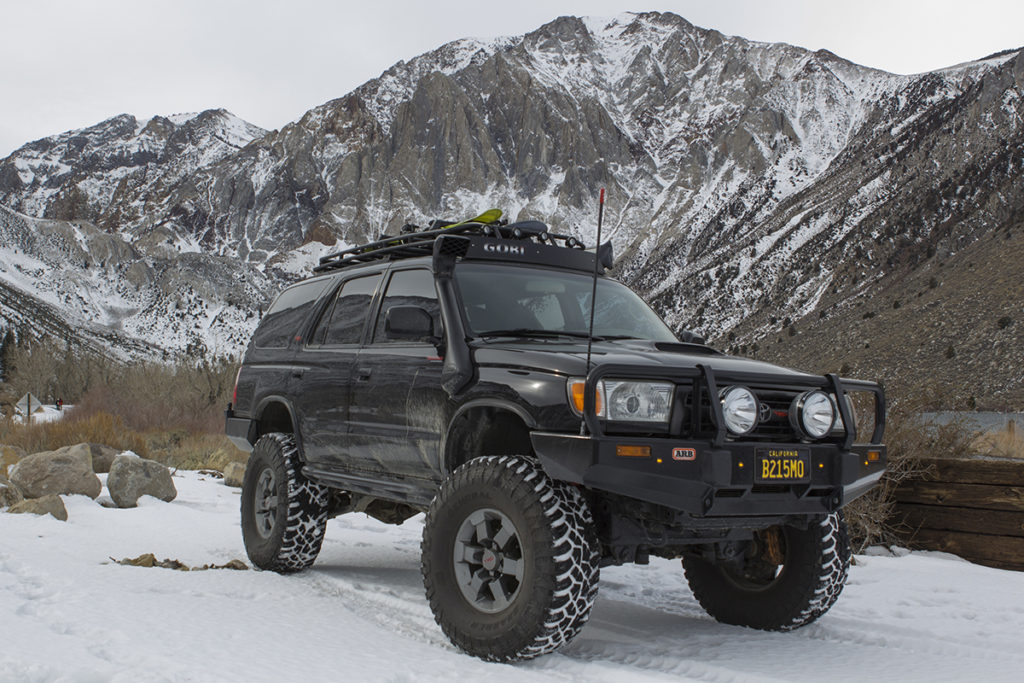 An hour into the drive home, we came across another alluring line going straight up to the mountains. As usual, it was a constant back and forth between following the map and your natural sense of direction. Eventually we came to the track we had seen from the highway, and once again it was far less inviting as it appeared in the distance. It was a semi-primitive campground, nothing but toilets nearby.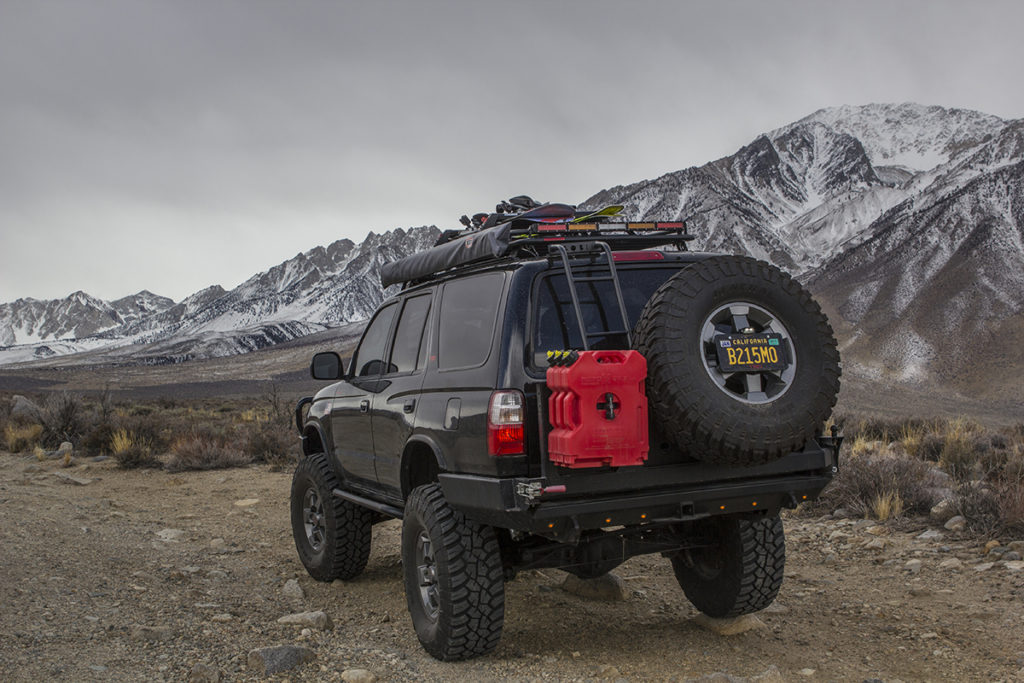 A storm was racing into town as we left, and it stayed on our heels the entire time – pushing my high-centered block of a truck back and forth on the highway. When we pulled into this campground, I was dealing with 80 mph gusts and I'm honestly surprised they have marked camping spots so exposed by what has to be constant high winds.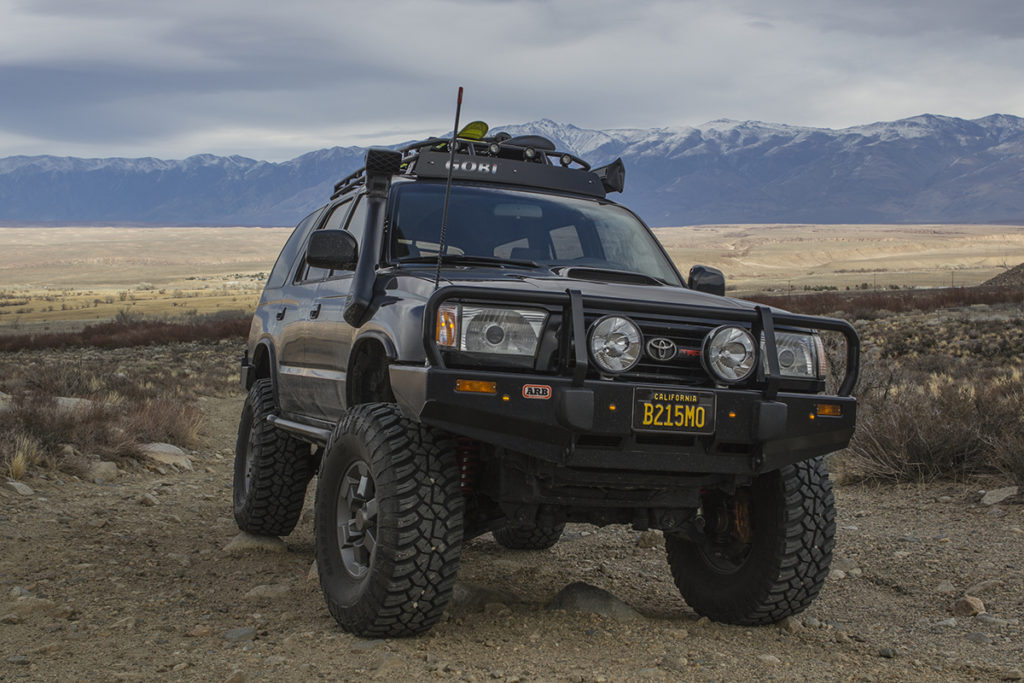 Finally, passing Lone Pine once more, we decided to trek it to Whitney Portal as a bigstorm was rolling in, but the road was closed before the final climb. I settled for getting blasted by snow and sleet in 80 mph winds for a few minutes and called it a day.

Keep Ben in your thoughts – he sees an orthopedic surgeon next week to see if surgery is necessary. Looking at roughly a six-week recovery, putting a healthy operations manager back in action just in time for our insane March expedition, being revealed soon.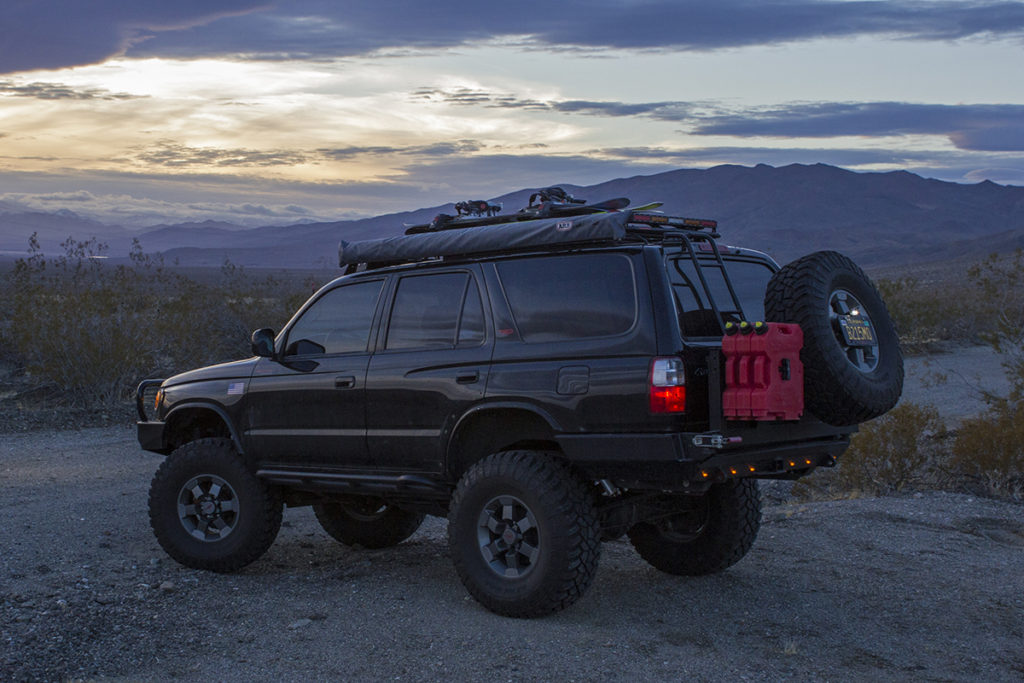 We hope our friends and families are off to an excellent 2017. Whatever your resolutions may be this year, add 'more exploring' to the list and Outworld Overland will continue filling your cup with ideas.
Stay tuned for our big announcement!