The American southwest is an adventurer's paradise. With world-class features, parks, mountains and beaches all within a day's drive, the bucket list compounds continuously and the hunger tends to be insatiable. Because of these vast options, potential destinations fall into one of two categories: "I'm going there next" or "One day, if the stars align".
I'll admit, Sedona was in the ladder. The photos I'd seen were amazing, but admiration from afar seemed like enough. There was simply too much on the list from previous trips. Finding that new route on a map after getting home, hidden gems recommended by friends, and other temptations almost urge you to revisit familiar territory yet again. It was going to take a perfect storm to make Sedona a reality, and the opportunity came last week.
Our media director Matt was in search of a solid weekend getaway with the dirt bikes, and subfreezing temperatures at Grand Canyon and Zion had him looking south to warmer climates. As soon as the word Sedona left his mouth, I knew my original plan of a plan-free weekend had just been blown up. We recently swapped in AFE Control's Sway A Way 2.5 series coilovers on the 2000 4Runner, and after completing the road and light trail tests the truck was primed and waiting for a real demo.
The plan came together quickly: dispersed camping through the weekend, hitting the famous Broken Arrow Trail, dirt bikes Sunday and head back home. There and Back Again, an Overlander's Tale.
After a late start Friday, we cruised through Glamis and southeastern California as the sun set. Our first camp was a popular Forest Road just outside of Sedona's Red Rock State Park. There is no dispersed camping within the park, but campsites on the outskirts can still make you feel like you're front and center. Rolling into town just after midnight local time, we started down FS525, and one occupied spur after the next had us pushing back for miles. We finally found a worthy spot and deployed a minimal camp, having no idea what kind of view would treat us in the morning.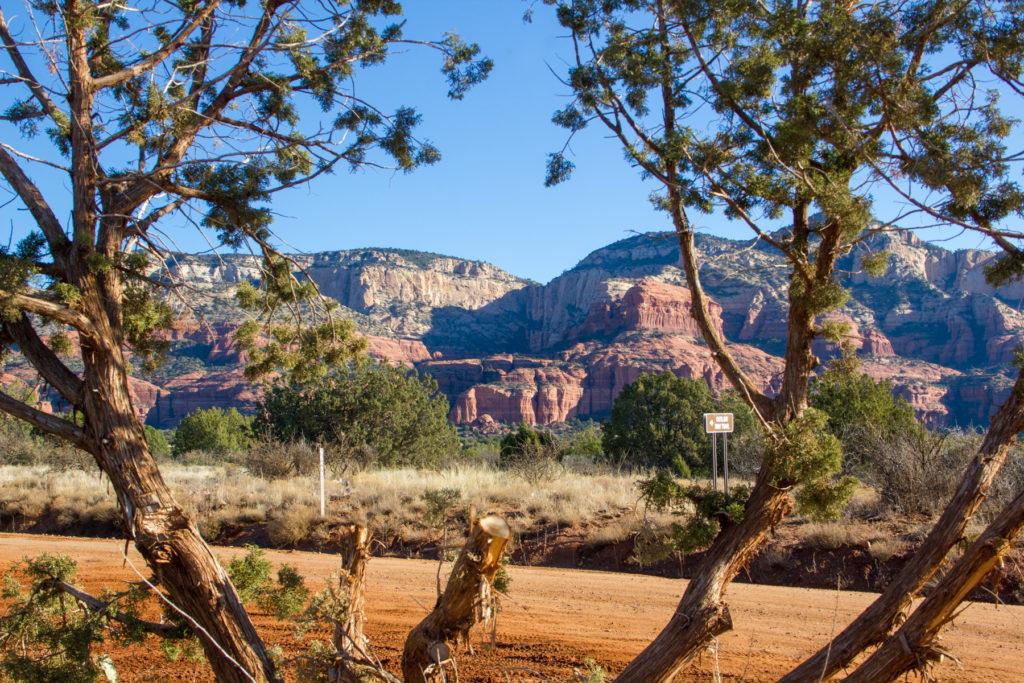 First light hit like Christmas morning, and I unzipped my ARB Swag tent for a peek of our surroundings.
Not. Too. Shabby.
With a packed day ahead, we slowly worked up breakfast and broke down camp. A Jeep tour pulled up next to camp and gave their passengers a quick history lesson on the area, and we were happy for the free narration. Our first mission was Broken Arrow Trail, and pulling into the trailhead it became obvious that we were far from the only people out here. We saw a dozen of the infamous Pink Jeep Tour rigs pass by while we aired down.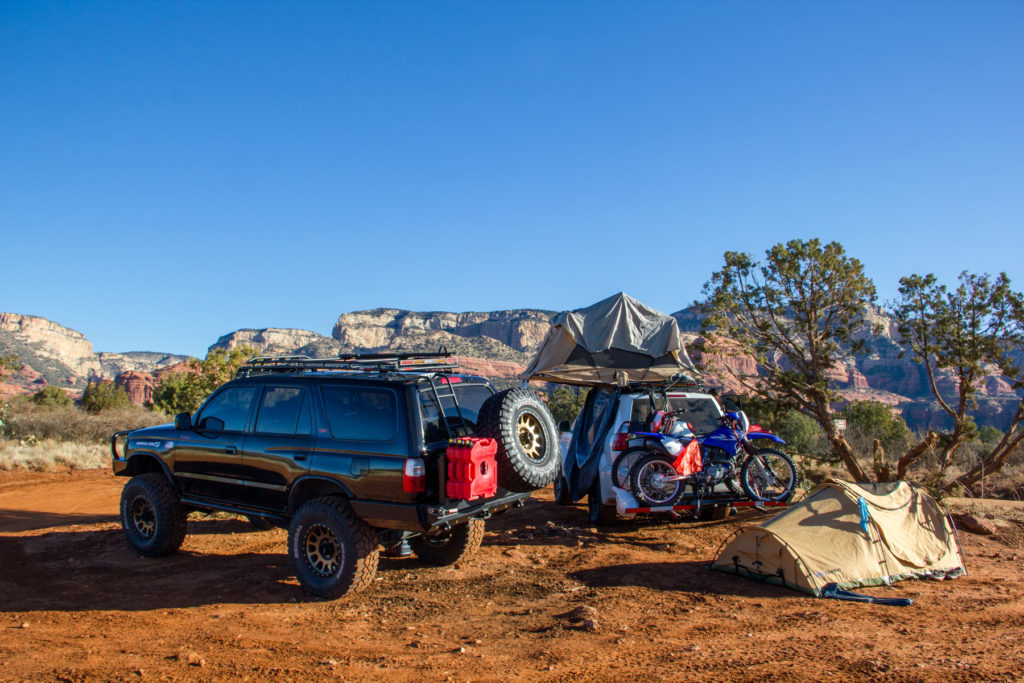 Sedona, and Broken Arrow specifically, is one of the posterchildren of the guided tour 'debate'. It's more of a mutual distaste between some private off roaders and local tour companies. The general gist is that these experienced guides have become perpetually annoyed by the nuances of consistent newcomers, and those newcomers are similarly irritated by the traffic and attitudes of these corporate caravans.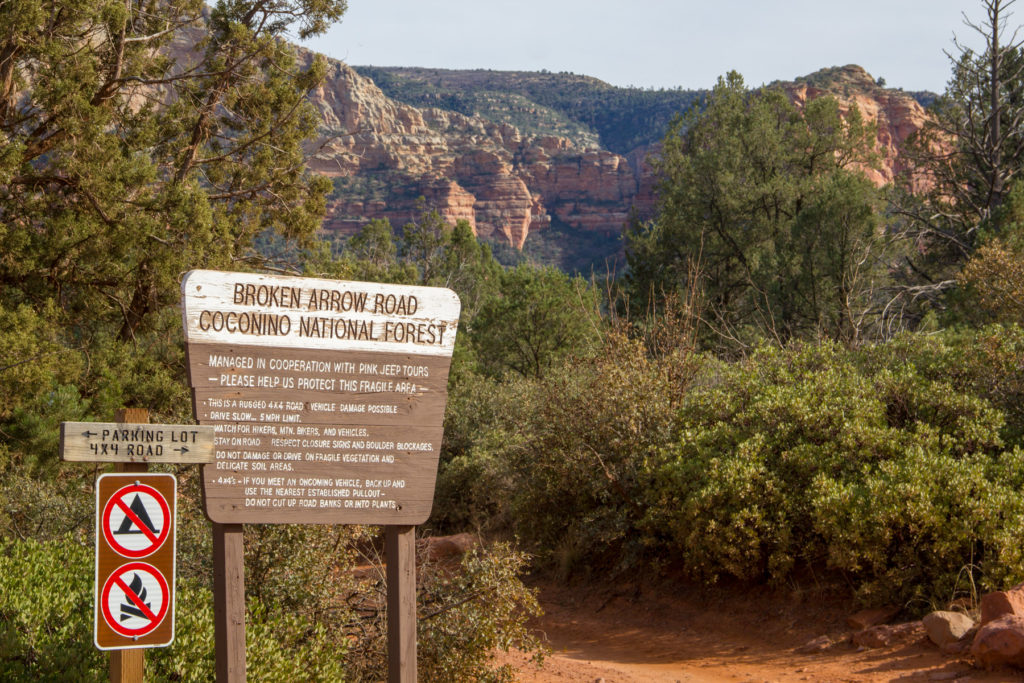 Broken Arrow Trail is rated as difficult, but it's deceptively moderate with only a few sections where 4×4 high clearance is helpful. As a 3.4 mile mostly out-and-back trail it's quick but packs an intense visual punch with a great mix of technical features. The exposed slick rock, towering mesas and peculiar formations are all reminiscent of Moab. What makes Sedona unique is the addition of lush vegetation, creating one hell of a contrasting scene. Broken Arrow is easily one of the most beautiful trails I've ever ran.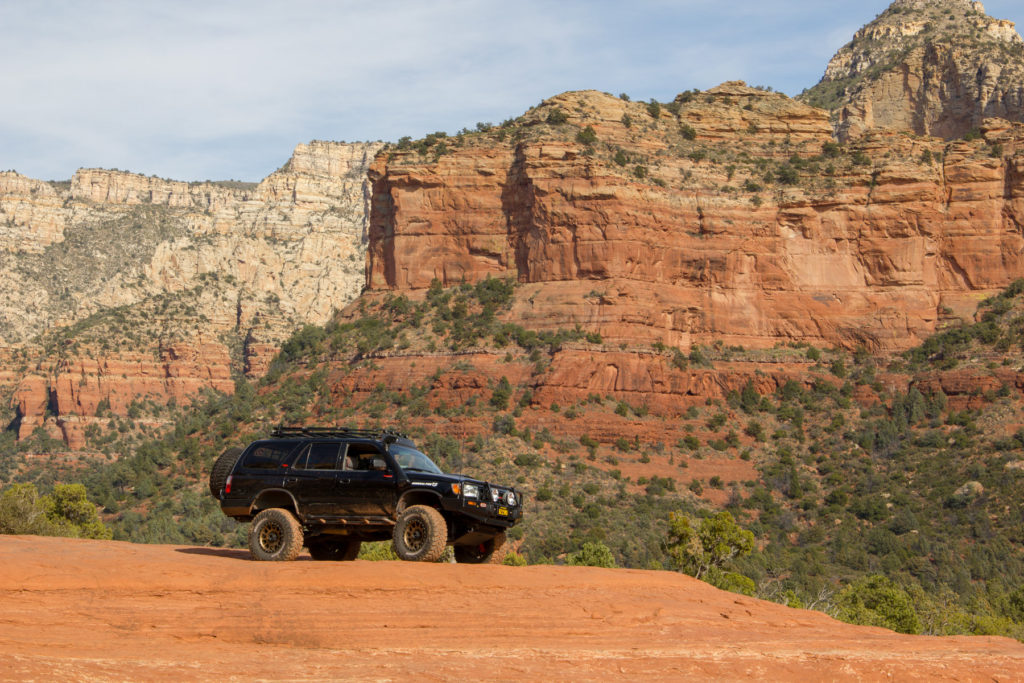 The trail ends at Chicken Point, and you can't help but park and soak it up. Since Broken Arrow appeals to hikers, bikers and off roaders alike, this point was consistently packed. But there were nothing but smiles. We're all here to have a good time, and we've all succeeded.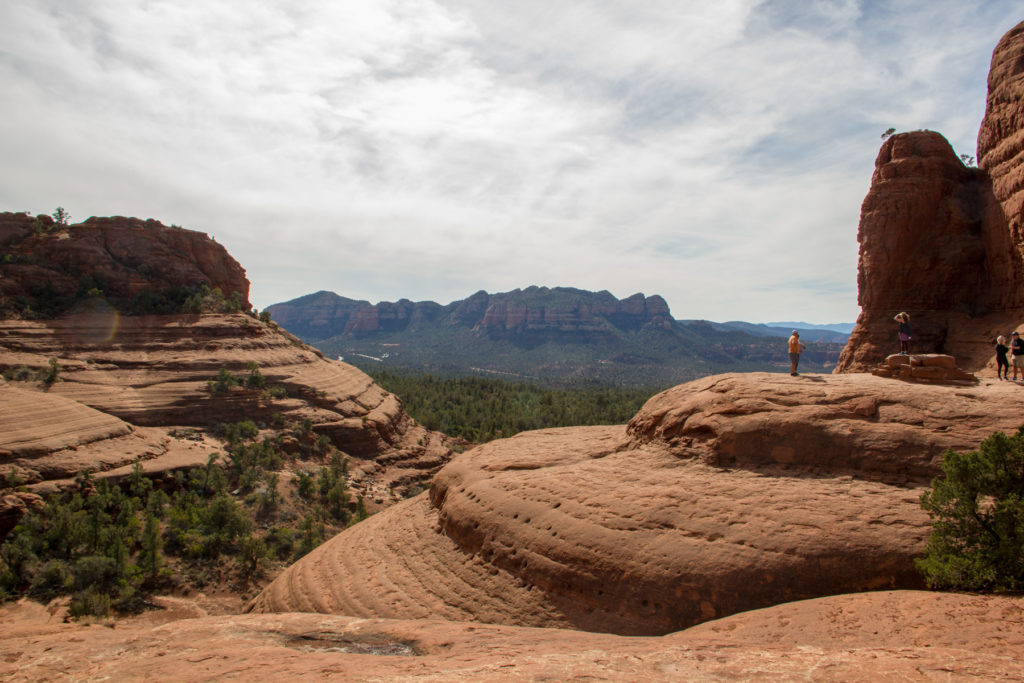 After exiting we decided to get an early lead on the night's camp site, but my 4Runner had other plans. Multiple cylinder misfires brought us to the parking lot of a local bar, and the ladies went inside for a round while we changed spark plugs and cleaned sensors and valves. Success.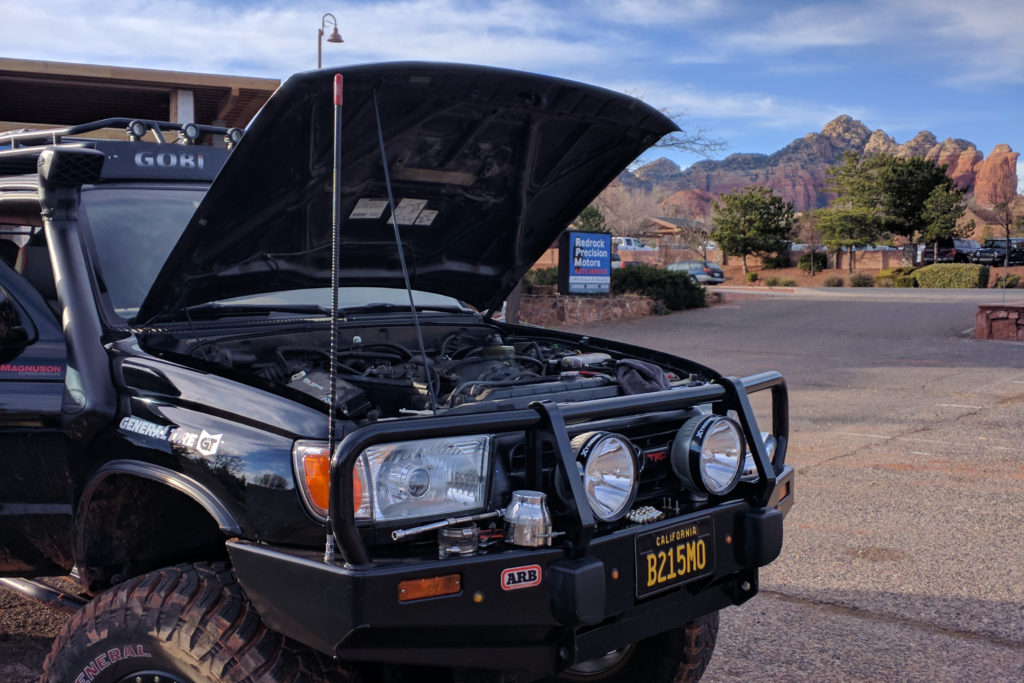 This little setback had us looking for camping sites at night once again. To switch it up, we headed east of the last night's camp to Beaverhead Flats road, featuring more generic ranges blocking the northern view. What it lacked in trademark Sedona views, however, it made up for with remoteness. After a long day and dodging a bullet with the truck, the only things left on the menu were apple pork chops and Jameson.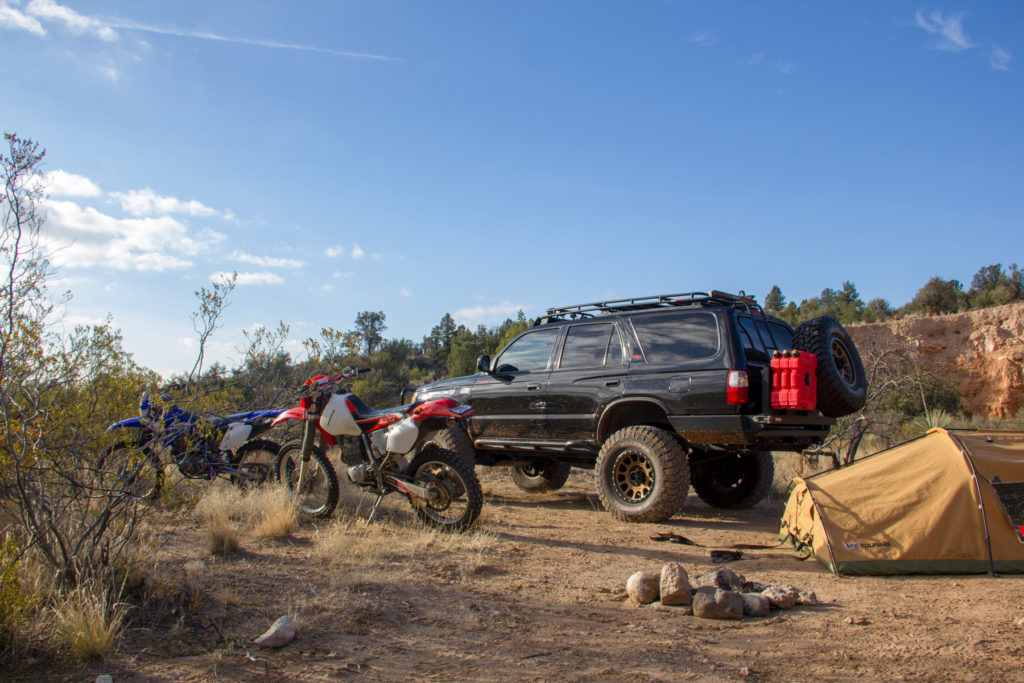 Our camp was slow to move the next morning. After breakfast, we took off on dirt bikes and explored the remainder of the forest service road. It was a challenging and uncomfortable ride up the mountain, but the views at the summit were totally worth it.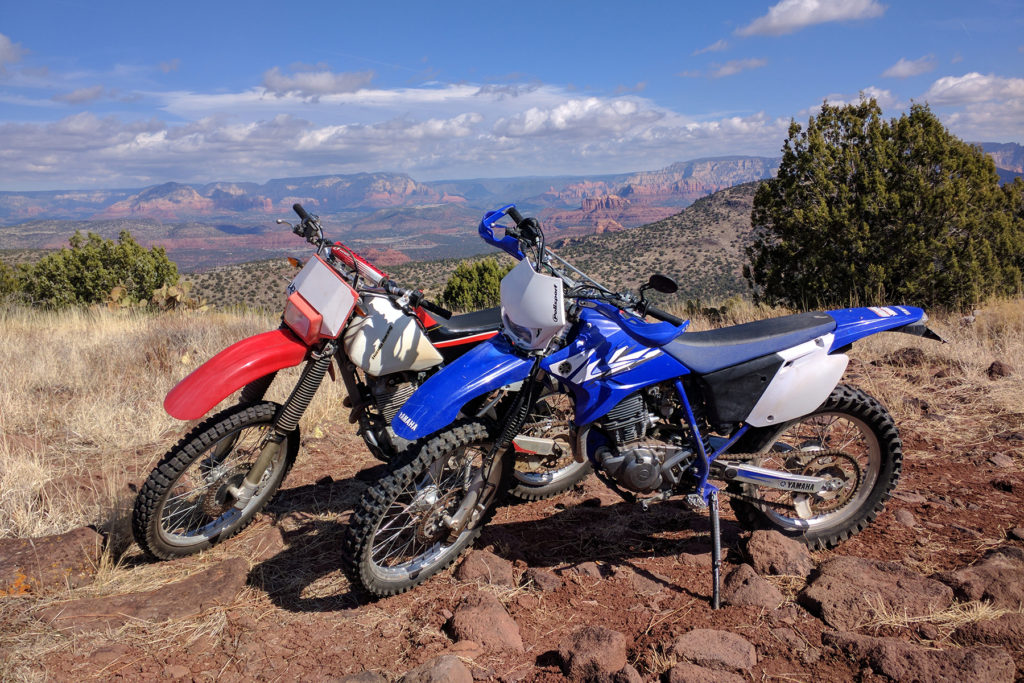 After packing up camp, we headed back through Sedona and decided to take one last detour. Schnebly Hill is an easy 4×4 trail that starts right at the east end of town, and quickly gets you up close and personal with some of the more impressive mountains in the area. The vista is approximately five miles from the start of the trail, but we drove for two and decided it was finally time to head back.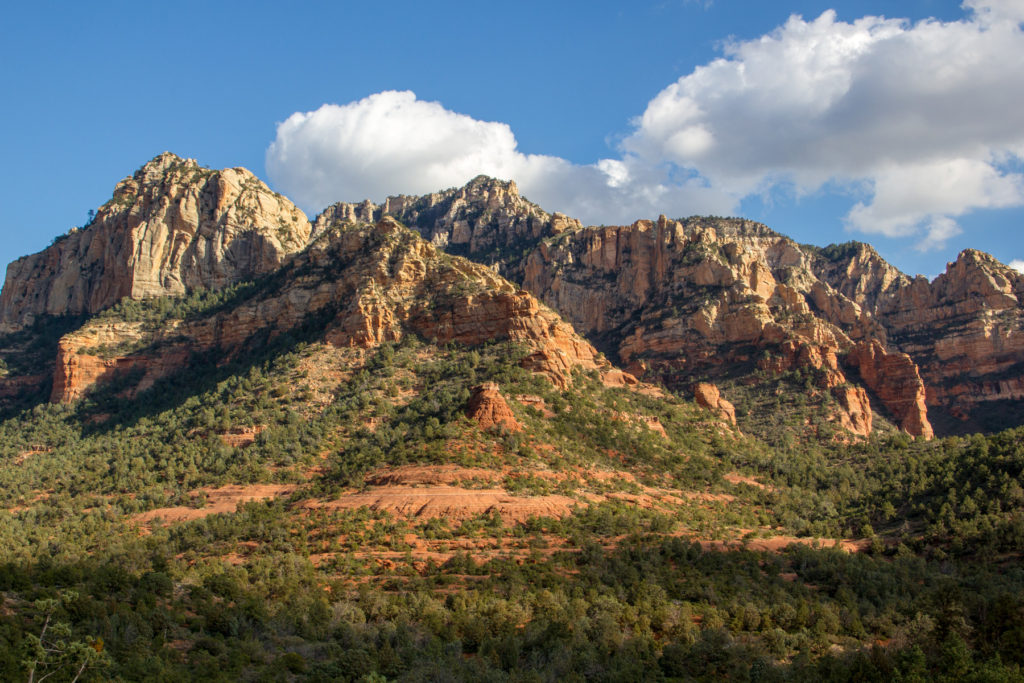 Sedona stole my heart in under 48 hours. There were so many recommendations for trails and points of interest we barely scratched the surface. The drive to and from San Diego is far from desirable, but boy did it pay off. We're already looking at dates for a return trip before the summer heat rolls in, and you can bet we're staying for longer than a weekend this time.