We love sharing trips that are actionable – places our readers could experience with minimal barriers. That typically means sticking to the continental US. However after a recent trip to Maui, we have to put this on your radar. I've driven tens of thousands of miles in the lower 48, hitting many of the must-see places on my bucket list. The Road to Hana is easily among my all-time favorites. This route features jaw-dropping views, alien landscapes, hikes and hidden gems at nearly every turn.
A brief background
Aside from a few protected preserves, Hawaii's entire coastline is public access. They define the coastline as below the high-water mark, so obviously that brings the rest of the land into question. From what I've seen, it's a gray area that's better to err on the side of caution. It's common for landmarks or gems to be open to the public, but the route may pass through private land. Some land owners don't mind you passing through, others do, and it could change at any time. My advice would be to check recent reviews and your guidebook to get the best idea of what's acceptable.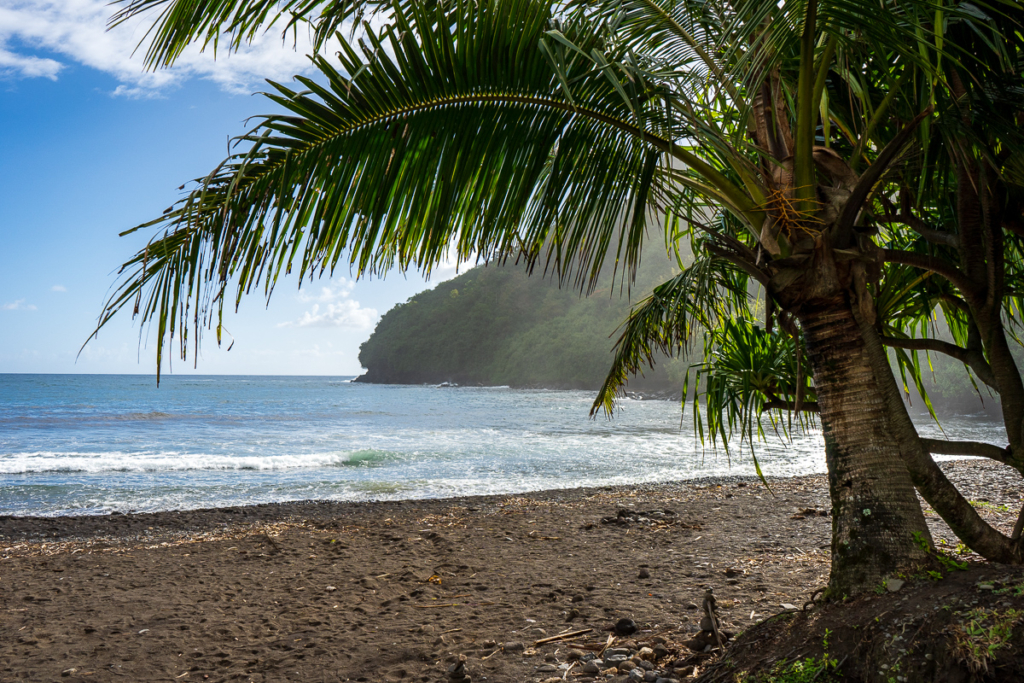 As tourism increases, so do the annoyances, disrespect, and unlawful actions of visitors. Hawaii has a rich culture which is intertwined with the land itself. Trespassing and littering aren't just illegal, they're the epitomes of insult. Leave no trace, yield to locals and you'll be ahead of the herd.
Overview
The Road to Hana is a 34-mile stretch following the southeastern coastline of Maui. It's a narrow road filled with steep drop offs, hairpin turns, and one-lane bridges. The occasional fearless local driver and timid tourists can compound the difficulty. If you're experienced in mountain driving, you'll be just fine. You need to budget a least a full day for this trip, and I recommend starting the route by 7am.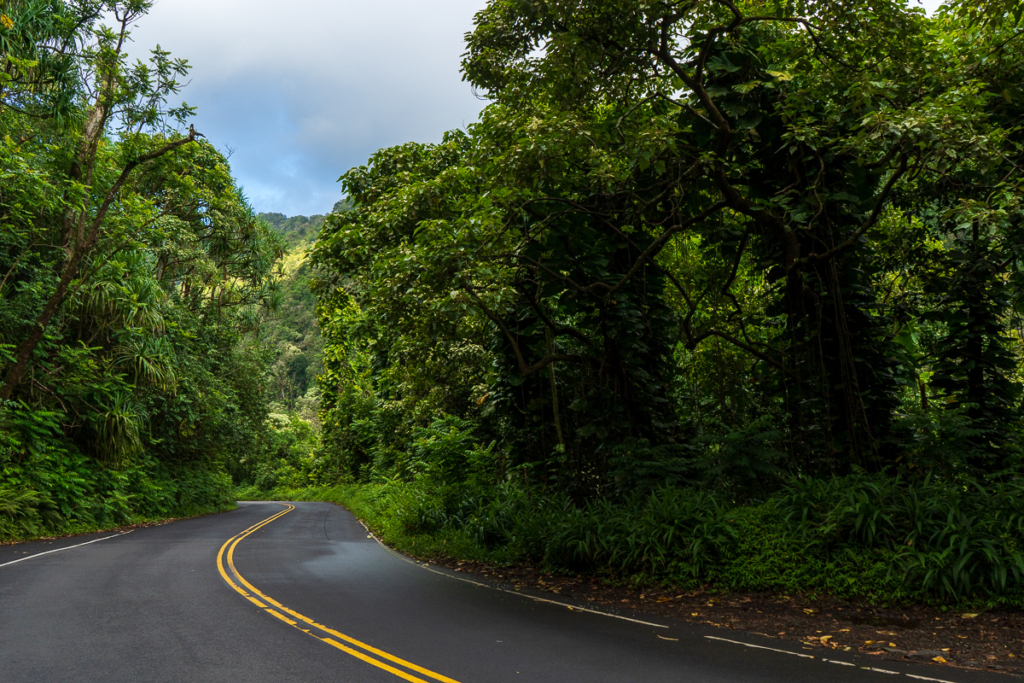 There are three ways to experience the road to Hana. The most popular is out-and-back – starting and ending in Kahului. The other option is to complete the loop of the southern coast, driving the backroad through Kaupo to Pukalani. You can go clockwise or counterclockwise, but I'd recommend clockwise to stay with the flow of traffic.
You can take any car on the out-and-back route. You could also make it on the loop, however rental companies typically forbid it because of the road conditions past Hana. We rented a soft-top Wrangler and did the route twice on different days. If you have the time, I'd recommend 2 days to make the full loop, either camping along the way or even an AirBnB for a bougie overnight. Use resources like HipCamp to find out the best camp spots.
Recommended loadout
– Any SUV or Jeep (hard top with rooftop tent or soft top recommended) with a full tank
– Snacks, lunch, water and cash for the stands (some take cards)
– Maui Revealed guidebook (get the latest edition if possible)
– Road to Hana mobile app (Gypsy and Shaka are the two most popular – we used Gypsy Guide and enjoyed it)
– Rain jacket or poncho
– Towels, snorkel gear, sunscreen, waterproof bag
– Sand shoes, sandals, hiking shoes
– Change of clothes
PRO TIPS
– Read the guidebook's section on Road to Hana prior to embarking, and use the app while driving as a digital tour guide. Between the two you can create your own itinerary based on your interests.
– Don't leave valuables in your car during stops. Break-ins are rare but documented. For what it's worth, we left the top down on our Jeep for nearly the entire trip with no issues.
Here are just a few highlights of our trip. The Road to Hana starts at mile marker 0, and locations are referenced by the nearest marker.
Bamboo Forest (Na'ili'ili Haele)
Mile marker: Between 6-7
Activities: Hiking
There are two loops to choose from, a short and long. We chose the short and were back at our Jeep within 30 minutes. This is a great intro into the local flora and the perfect leg-stretcher to kick off the trip.
Halfway to Hana
Mile marker: 17
Activities: restroom, food and drink
If a bathroom break can't wait another 6 miles, take this stop. While you're at it, grab some delicious banana bread or shaved ice! This stand is cash-only!
Pua'a Ka'a State Wayside
Mile marker: Between 22-23
Activities: swimming hiking, restroom
This rest area is worth the stop. Facilities are few and far between on this trip, and there are some good waterfall and pool opportunities right across the street. The first is visible from the road. The second is a ten minute hike. This waterfall is larger and the pool is more secluded. This is in the more tropical area of the route, so rain can come and go at any time.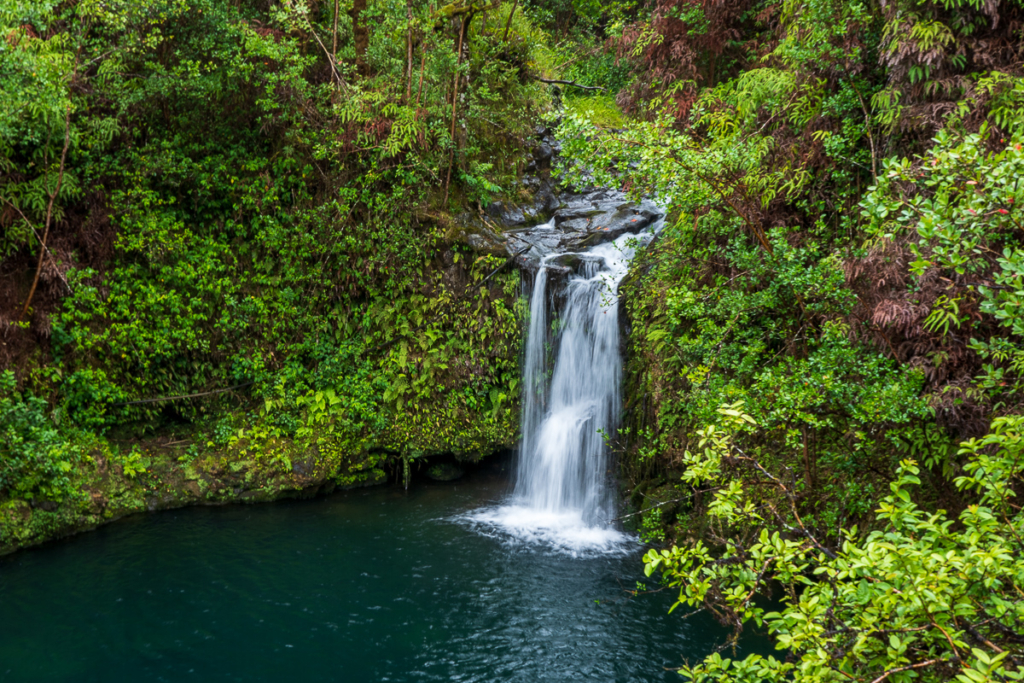 Black Sand Beach (Waianapanapa State Park)
Mile marker: 32
Activities: Hiking, swimming, lounging
One of my favorite stops and among the craziest scenery I've ever seen. Black sand beaches, dark volcanic rock under vibrant green Naupaka plants provide a contrasting landscape that looks more like a Dr. Seuss story than anything you'd expect to find in reality.
Black Sand Beach is immediately accessible, but adventurous minds will want to continue to the other side of the cove to hike the volcanic rock trail. We highly recommend subbing the sandals for hiking shoes, or at the very least sand shoes as the rock is sharp and unforgiving. This trail snakes around the neighboring coves and eventually arrives at another, more secluded black sand beach.
Red Sand Beach (Kaiahalulu Beach)
Mile marker: 34. In Hana Town, at the end of Uakea road)
Activities: swimming, lounging, snorkeling
This hidden beach requires a ten minute hike from the road which can be done in sandals but can be slippery in places. You'll head north around the bluff to witness the rocks near the cove absorbing the wave break to create a calmer pool. The reddish sand with the black lava walls create a darker cove floor that makes for a different snorkeling experience than I found on other parts of the island.
Venus Pool (Waioka Pond)
Mile marker: 48
Activities: lounging, swimming, cliff diving
My other favorite stop. Look for the honor-system fruit stand on the coast side of the road. The path is just behind it. A brief 5 minute walk through grass takes you to a row of brush, and the electric blue water cuts straight through the clearing to reveal the final steps to this amazing pool.
Calm, crystal clear waters are harbored from the breaking waves just beyond the rock, cliff jumps from 3 to 20 feet with adequate depth, plenty of space on the rocks to relax, and a pebble beach on the opposite side of the pool. If all that wasn't Maui enough, one local brought his pet goat who practiced parkour on the rocks while he went for a swim. Keep an eye on the clock here because your day can easily slip away in this slice of paradise.

Hamoa Beach
Miles marker: 51-52
Activities: Surfing, swimming, lounging
Known as one of Maui's prettiest beaches, Hamoa is a great spot for surfing and swimming. Decent snorkeling opportunities in the northern cove, but the open ocean access limits the sea life sightings you'd expect in calmer areas. There are plenty of areas to set up on the sand under the shade. If you're into boogie boarding, body surfing or shortboard surfing, this is one of the best places on the island to take advantage. We left the gear in the Jeep, so you'll have to Google photos of this gem.
Warning: Strong rip currents are prevalent here and we were caught in one on our visit. Only venture past the break if you're a strong swimmer familiar with these conditions.
The backside
If you choose to continue the loop instead of turning around, you'll catch a completely different side of Maui – albeit with much less stop-worthy attractions. With dryer grasslands and treacherous shores, this section is referred to as the Backside of Haleakalā.
You're driving around the southern foothills of a massive 10,000 ft. dormant shield volcano that spans 75% of the entire island. The road deteriorates after Hana for several miles – at times straddling the edge of the rocky coast but nothing overly too dangerous. You'll eventually return to paved road and ride it out back to civilization. There are no facilities or official stops.
If you have the time and resources, I definitely recommend this route as opposed to turning around since you'll likely be fighting oncoming traffic and may not make it out before sundown.
We spent about twenty hours total on the Road to Hana, and I could easily spend another twenty revisiting the favorites and exploring the rest of the stops.
10/10 – would do again in a heartbeat.
Some unchecked destinations on our list to consider:
– 7 sacred pools (Pools of 'Ohe'o)
– Jaws (Pe'ahi)
– Ke'anae Arboretum