I'll be the first to admit it.  Last week's 'snow trip' was kind of…light.  But come on, we're in San Diego – you can't expect us to get a real dump, right?
Wrong.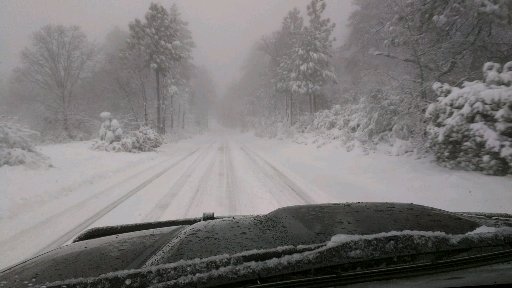 I mentioned in the last article that despite the proximity to a city synonymous with summer, our local mountains are good for one or two legitimate dumps a year.  I know, a lot of you are reading from Idaho, Colorado, Alaska, and for you a foot of snow is just another Tuesday.  But for someone who is used to long drives to get their powder fix, I'm jumping on the opportunity to stay local.  The rest of the team is away on holiday so it's time for a solo outing.
This storm moved quick and confident, and every day I checked the forecast the news got better.  Friday night I reviewed the latest and saw snow from 5 am Saturday to 3 am Sunday, with accumulation between 5-17".  This area attracts plenty anytime it snows – Christmas Eve on a weekend sounded like a nightmare.
I packed the gear Friday afternoon, and to help induce an early night cracked a Pizza Port Kook IIPA.  It was gifted by a neighbor and was surprisingly good – even with my IPA bias.  Out the door at 5:20am I was confident in beating the rush.  The rain started about 20 miles out, and as I climbed in elevation the rain changed to sleet, then big fat flakes.  The snow accumulation usually sticks to the higher elevations, but not this time.  Within 5 miles of my exit, the freeway was covered, traffic slowed to 30 mph, and I passed two vehicles in the medians who had lost control.  I took an early exit as a shortcut to Sunrise Highway, and cars were sheltering under the overpass getting the chains out.
I carried chains just in case, but I was very interested in seeing how the General Grabber X3's would perform.  After our testing in dirt, rock, sand and mud, snow was the last element to tackle.  We'll save the juicy details for our full-blown review coming soon.
Finally pulling onto Sunrise Highway, I was stoked to see it virtually empty.  The highway had been plowed at least once and the snow was coming down hard.  Most of the fun trails here were closed for the earlier rainstorm, and with no set plan I charged up the highway for higher elevations.
Once in the rec area, the surroundings were completely blanketed and the road was only visible by 2 or 3 previous car tracks.  I decided to take the highway to the end of the rec area, near a popular trail entrance known as Penny Pine.  When we're out mountain biking, Penny Pine marks the beginning of the grueling and unforgiving Noble Canyon trail.
First, I stopped at the Laguna Mountain Lodge General Store to get situated.  They were closed for the day, but I always try to stop here for some of their beef jerky.  Huge bummer.  Not in a rush I took in the sights from the general store patio and chatted with a few other taking a break.  Always a nice plus running into locals who know more of the offbeat paths.  If you're reading this, I'm expecting a message!

The mile of road before Penny Pine offers one of the best views in the entire county.  Mile-high alpine lands give way to the Anza Borrego desert.  Storm clouds enveloped the mountain, but momentary breaks showed a climatic spectrum with green foliage joining snow and sand.  This area is wide open and free of any natural wind shielding, and this storm was putting out 40-60 mph gusts.
Now with a wake up call of blistering wind, I headed back into the rec area's calmer winds in search some open trails to explore.  After some quick detours, I took Morris Ranch to get a taste of undisturbed powder.  The trail eventually led to private property so looked for a good turnaround spot.  Before I could move, 2 rigs came up from behind and I opted to push forward to the next turnout spot to let them pass.  As I was setting them up to pass, a truck came from the opposite direction blocking everyone.  This forced us to back up on steep grades which was a tricky feat.
We eventually backed out to a wide-open area and brought the DSLR out to photograph our new trail team.  Kids making snow angels, snowballs to the face, sledding, charging through snow – this is what it's all about.  In a bout of sound judgement, I decided to leave early to catch the second half of the Chargers game – only to have them lose to the previously 0-14 Browns.  Awesome.
The freeway had improved, but apparently not enough.  Passing five wrecked vehicles on the way down I remembered just how unfamiliar southern Californians are with winter conditions.  Now a quick 6-day rest and maintenance turnaround until we're trekking to the Sierras for NYE weekend.
Pictures can only do so much justice, so here's a quick glimpse at the day's conditions:
Merry Christmas and Happy Holidays to all of our friends, family and fans!