Welcome to the Radical Sabbatical – Outworld's completely nonsensical route to SEMA 2019. Over the next two weeks we'll be zig zagging up the west coast in our 2007 4Runner – rightly dubbed Bullhorn Edition. From Outworld HQ in San Diego, we're hitting Big Sur, Santa Cruz, Yosemite, Tahoe, Downieville, Lost Coast, Redwood, Bend, Mt. Hood and Portland. Then, because we realized we're nowhere close to SEMA, we're taking a plane to Vegas just in time for kickoff.
We'll have daily updates right here on the site. Be sure to follow @outworldhq on Instagram for more footage!
Big Sur
Much of our 8-hour trip was spent getting the hell outta Dodge, with front-row tickets to traffic from San Diego to Los Angeles. Once we hopped on the US1, it started to feel like a vacation as the views changed. Tomorrow is all about downhill mountain biking in Santa Cruz, and Big Sur was an excellent break in this leg of the trip.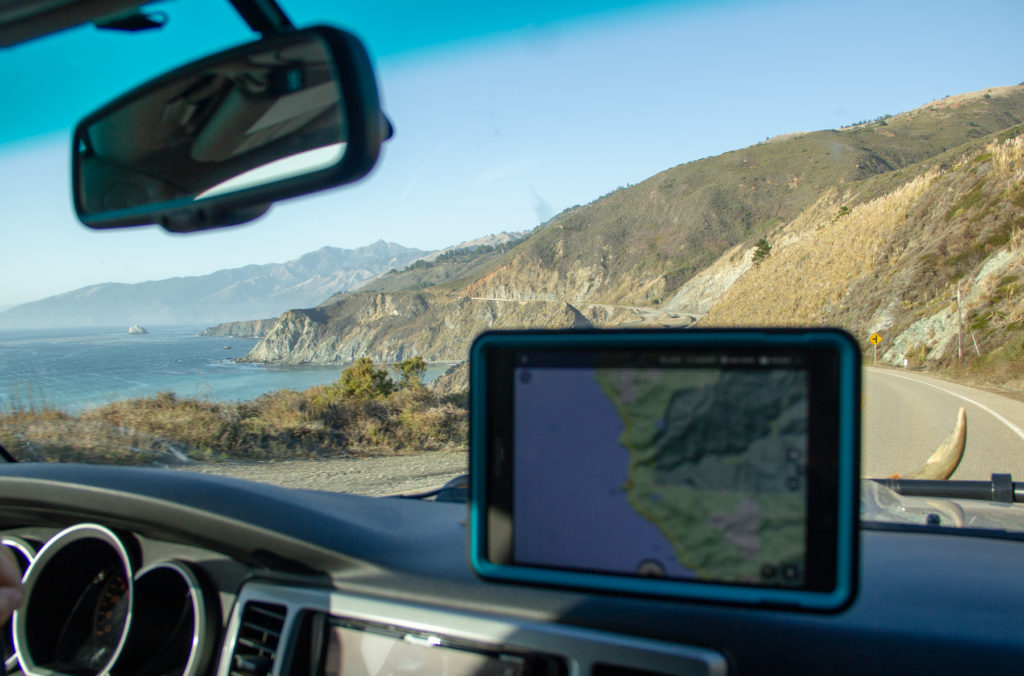 Our target campsite was Prewitt Ridge, just south of Big Sur. This is a rutted dirt road recommended for 4x4s but most high clearance and/or AWD vehicles should be fine in dry conditions. The views from our campsite were all-time, overlooking the Pacific Ocean from a high-altitude ridgeline meadow. After dinner and a few beers, we turned in early for tomorrow's festivities.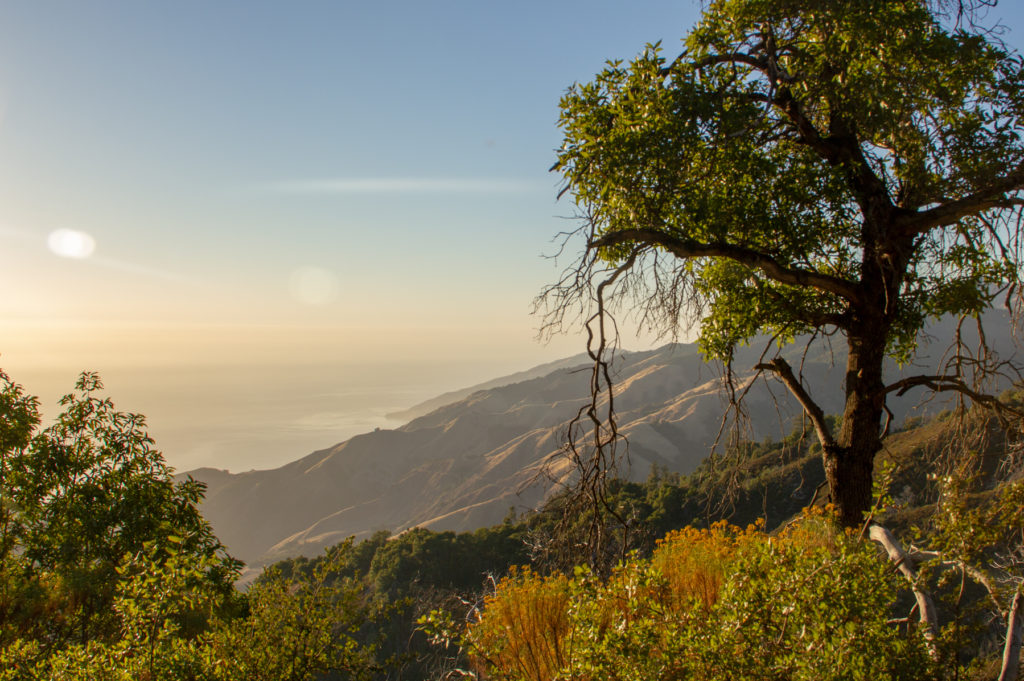 Santa Cruz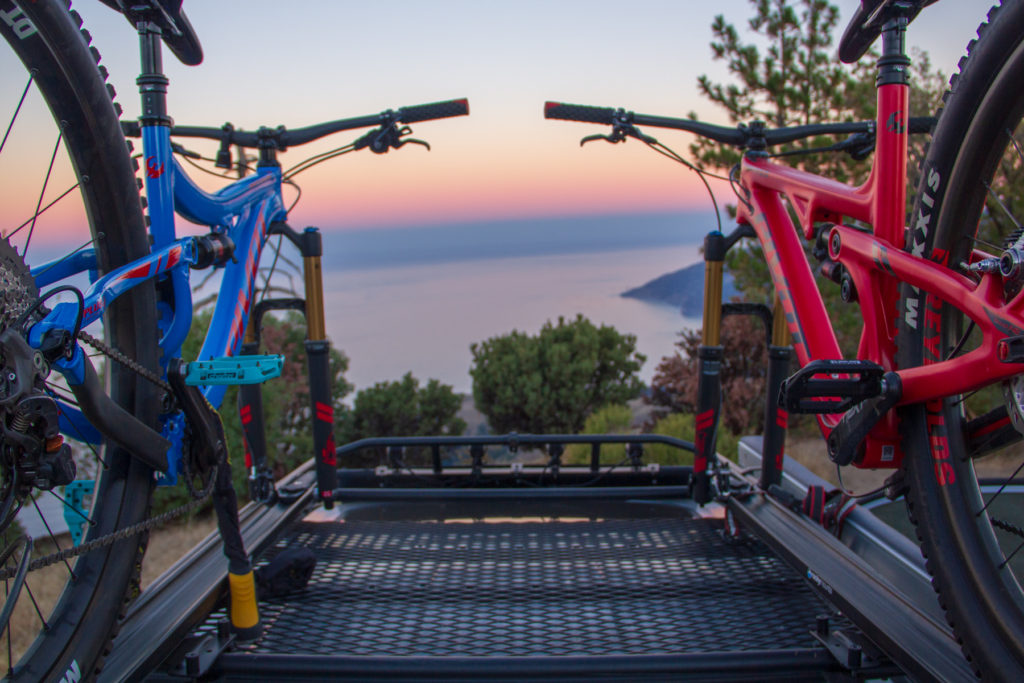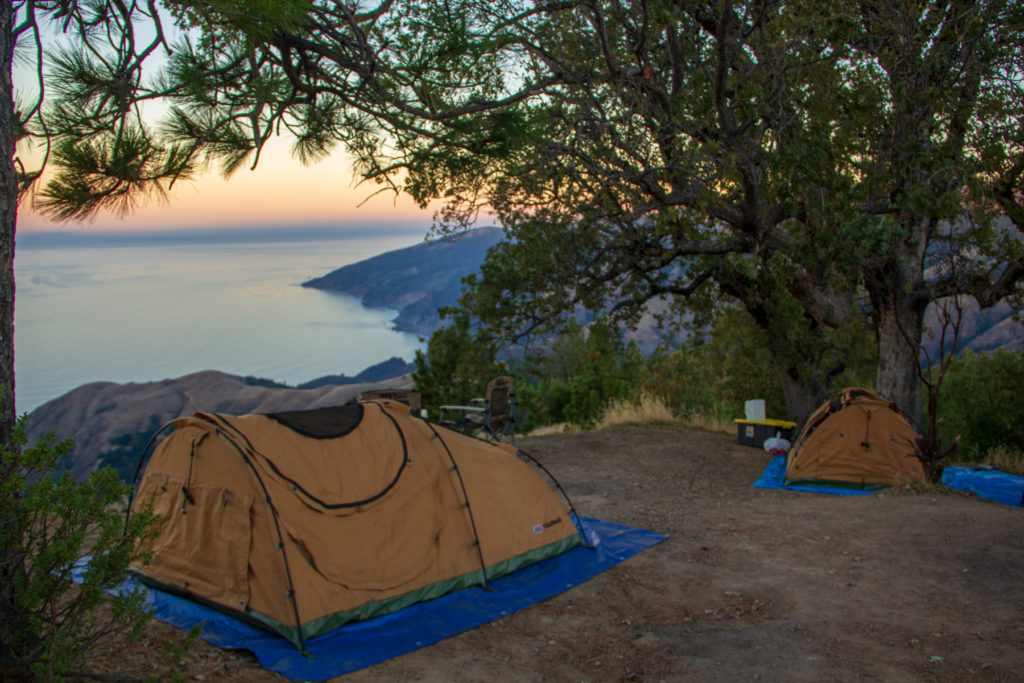 Today was all business. Woke up around 7AM to make the hour-long trek back down to sea level and continuing up the coast to Santa Cruz. We're coming up here specifically for mountain biking their famous flow trail, and to avoid the 17-mile climb to Soquel Demonstration Forest we hitched a ride with Dave at Shuttle Smith. Dave is a Santa Cruz native and bikes the route we're taking three times a week. On a hardtail. Simply put, Dave is the man.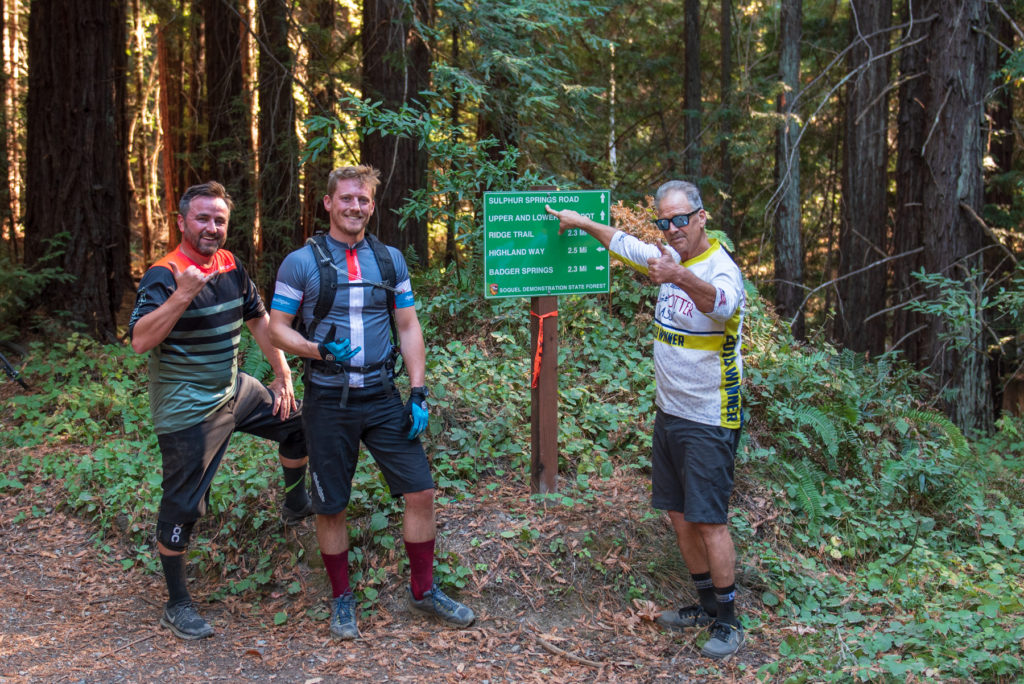 Soquel's flow trail is among the best in the world. And as much downhill goodness this area boasts, she makes you earn it. Even with the shuttle we totaled over 3300 feet of elevation gain over our 27-mile ride. The flow trail dumps you onto the backside of the mountain, and to get home you pay back every foot you just descended before riding the front back to town. This 4.5-mile constant uphill includes a grueling section called Sulfur Springs, better known by locals as Suffer Springs.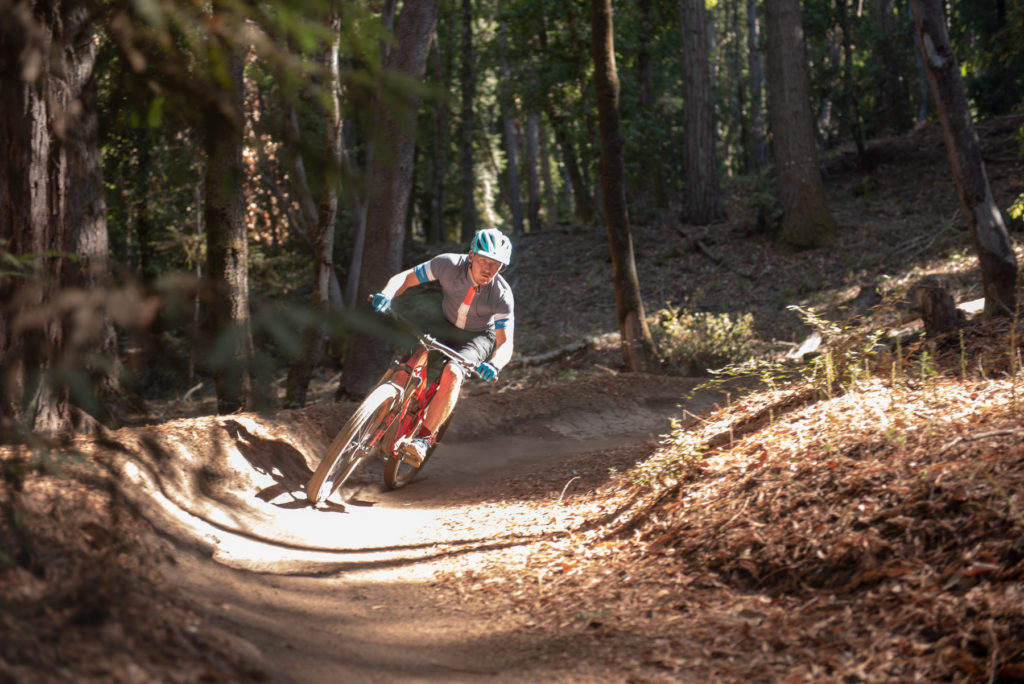 After a nice break at the ridgeline to cool off the quads, we opted to take the fire road all the way to town instead of deviating along the parallel single track. Despite locals recommending the single track for a better experience, this truck trail would rival many areas' feature trails. By the time we got back to the car we were exhausted, and after some much deserved beers and groceries we were off to find camp. We headed north out of town to a nondescript dirt road across from Shark Fin Cove. We had just enough energy to get two tarps down and two swag tents set up, and it was lights out.
We woke up this morning to the sounds of crashing waves and passing traffic. Not our best spot but our standards were low last night. Before heading out, we hopped across US1 and had breakfast on the cliffs of Shark Fin Cove. Now it's back on the road!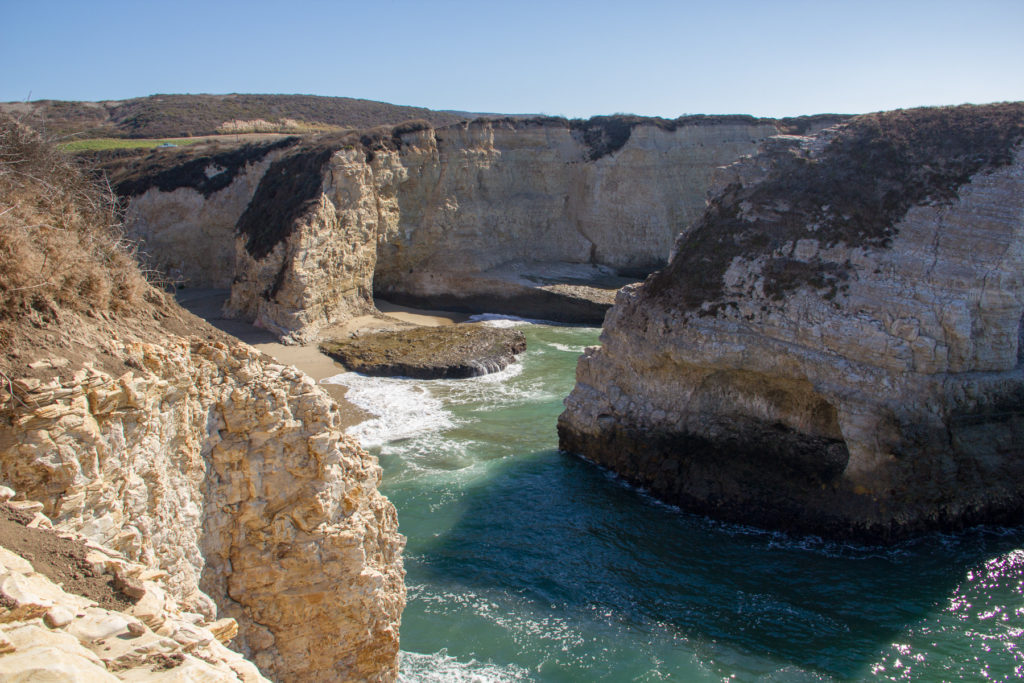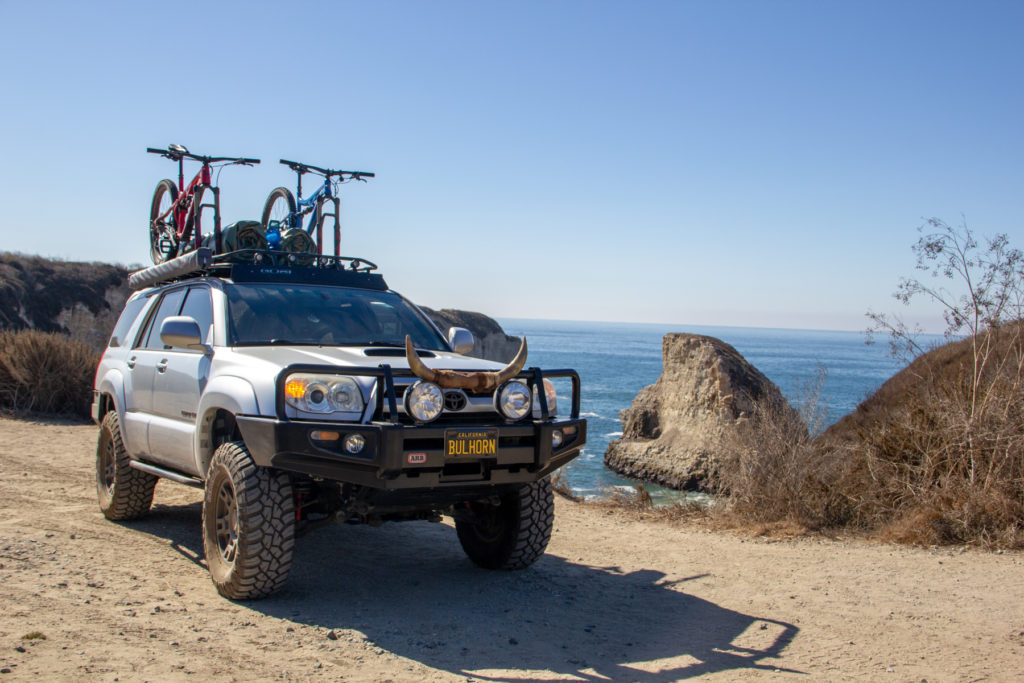 Yosemite
Against our preference of totally dispersed camping this trip, Ben decided to book a camp site for the first night in Yosemite. National Parks are rather stringent when it comes to camping, so it made sense to have a something locked-in inside the park. We rolled into Yosemite around 4:30 and found our campground. All four sites were taken, and the camp host had seemingly deserted her post. After two hours of confusion, we set up camp in the one site whose reservation sign was expired but the occupants were nowhere to be found.
We are winding down for bed around 9:30 when we see headlamps bobbing our direction. Three guys approach and kindly wondered what the hell we were doing in their site. From what we gathered, our host overbooked the site, then took her trailer and left camp. Awesome. To make things easy, we decided to pack up camp and look elsewhere before it got too late.
I loaded up our GPS and started looking for options. Yosemite straddles Sierra National Forest, and the maps showed one decent possibility 45 minutes away. After an eventful two hours, we came up on the truck trail that led us out of the park. Once I saw we were out of park boundaries, we threw up the swags twenty feet from Yosemite and passed out immediately.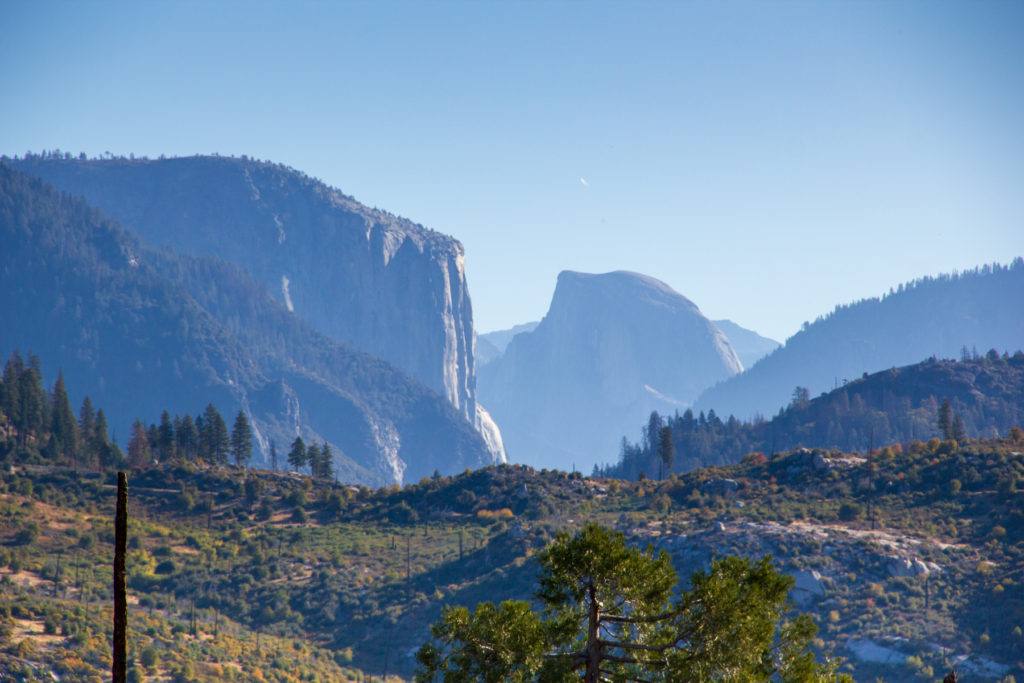 Things went right back on track. Woke up and headed to Yosemite Valley to get up close and personal with the main draws. Cooking breakfast on the footsteps of giant domes while watching climbers gearing up for their ascents was alone worth the trip. Afterwards we headed to Bridalveil Falls for a quick hike. The first segment of this popular attraction is paved walkway, then turns into jagged rocks and large boulders. The pavement contains nearly all visitors, so those wanting to brave the climb can leave the crowd behind for an isolated, up-close view of the falls.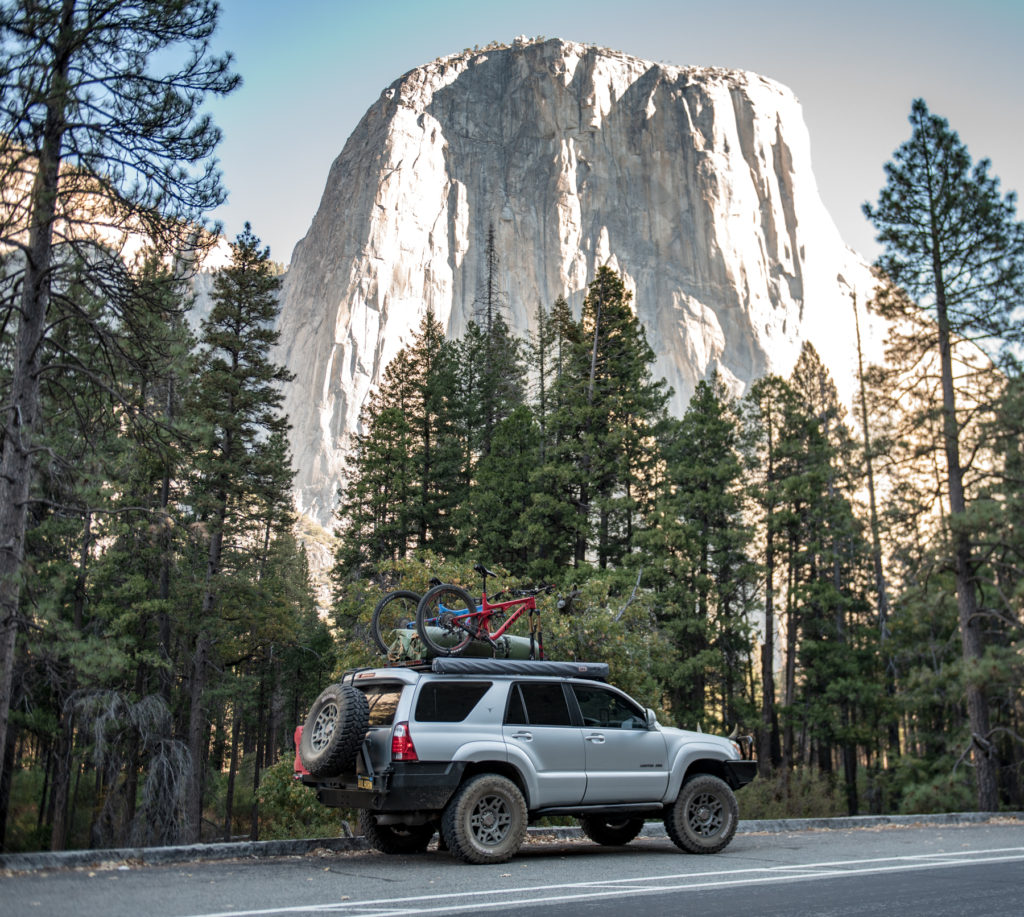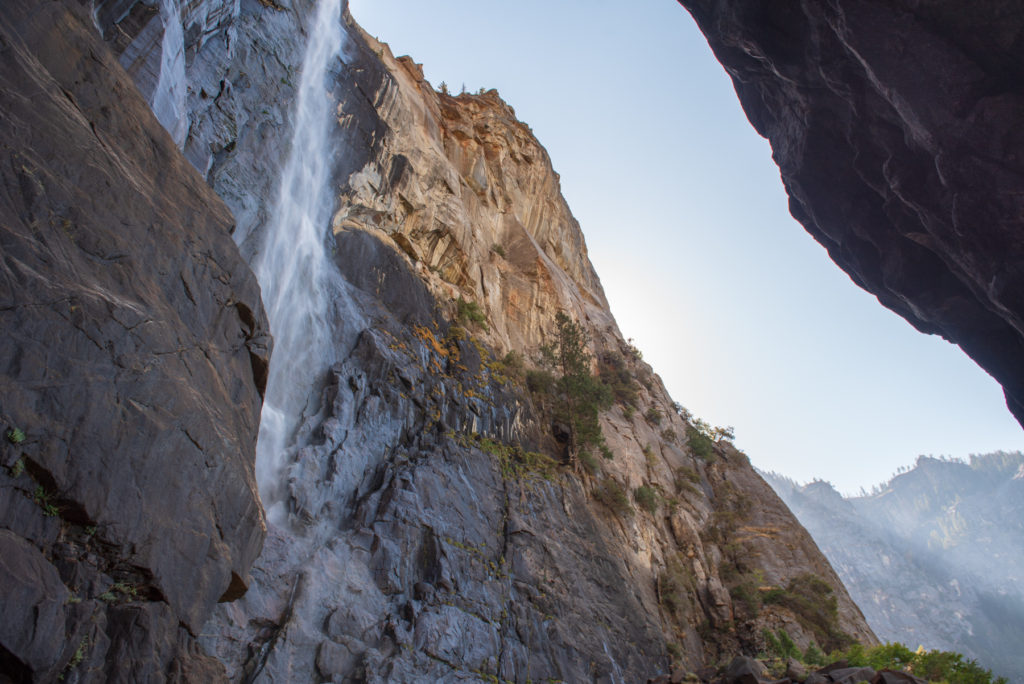 We left Yosemite for a new camp site and decided on familiar territory outside of Mammoth Lakes. Set up camp in front of our favorite natural hot spring tubs – totally making up for the previous night's camp situation.
Mammoth Lakes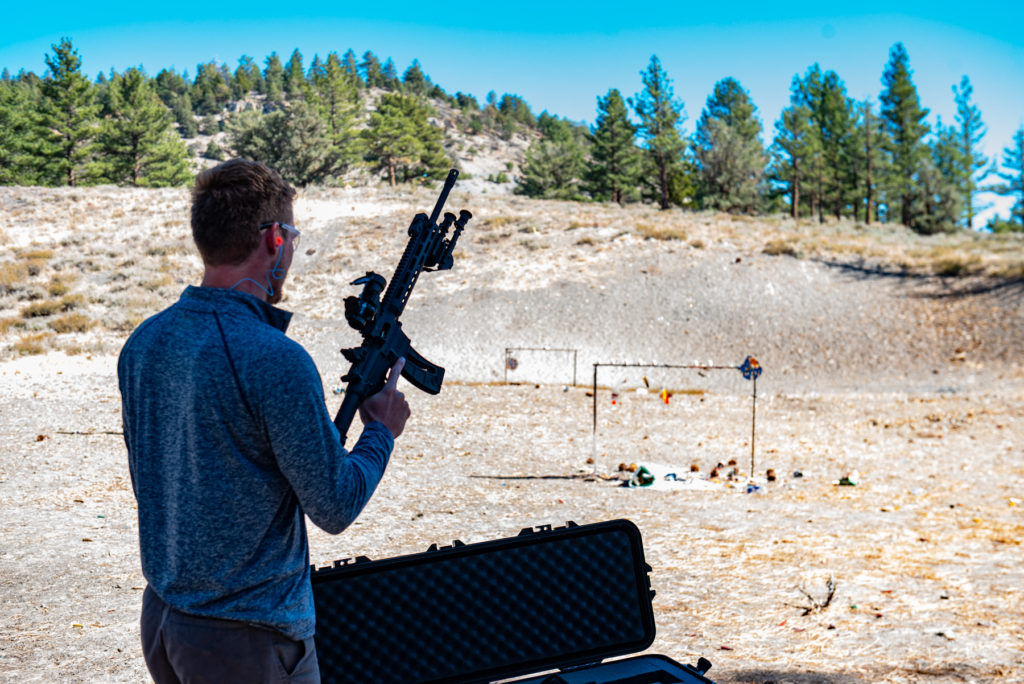 It was nice being able to wake up and not pack up soon after. This morning was all about chilling – I poured a cup of coffee, went to the hot springs and watched the sun slowly envelop the Owens River Valley. Breaking down camp was a slow process, and on our way into Mammoth Mountain, we stopped at a turnout-turned-shooting range and pulled out the rifle for some target practice.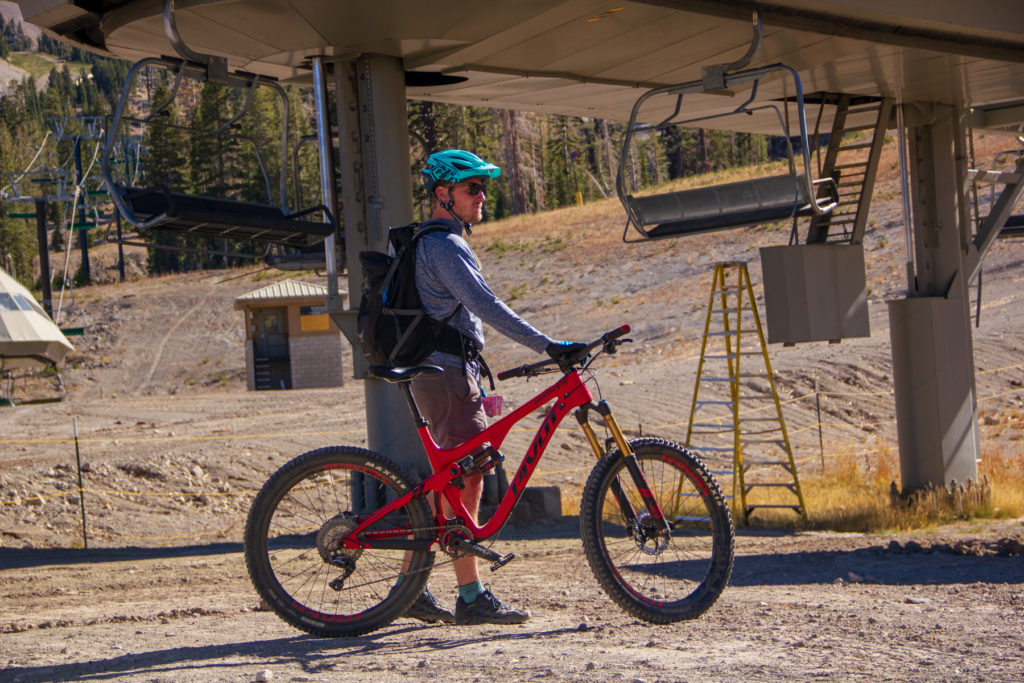 Mammoth Mountain's bike park is officially closed for the season as they gear up for their winter opening. Nonetheless, a few trails remain accessible if you're hungry enough. So we parked at their deserted main lodge and hopped on Downtown, a six mile downhill run leading us back to Mammoth Village. This was the perfect opportunity to freshen up the legs before Sunday's 17 mile downhill course in Downieville.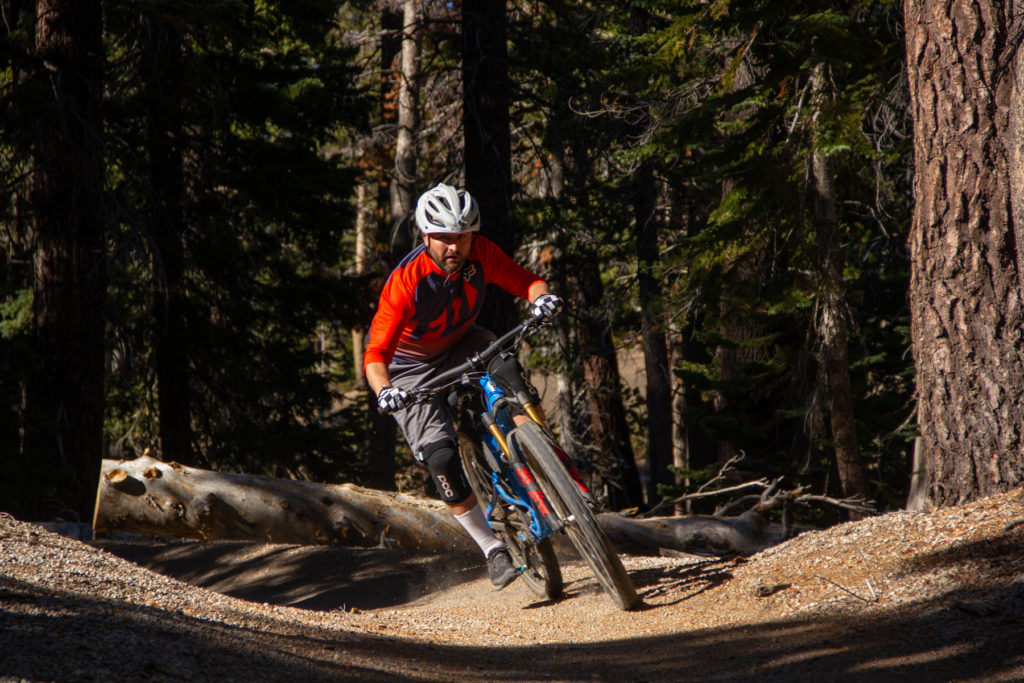 Lake Tahoe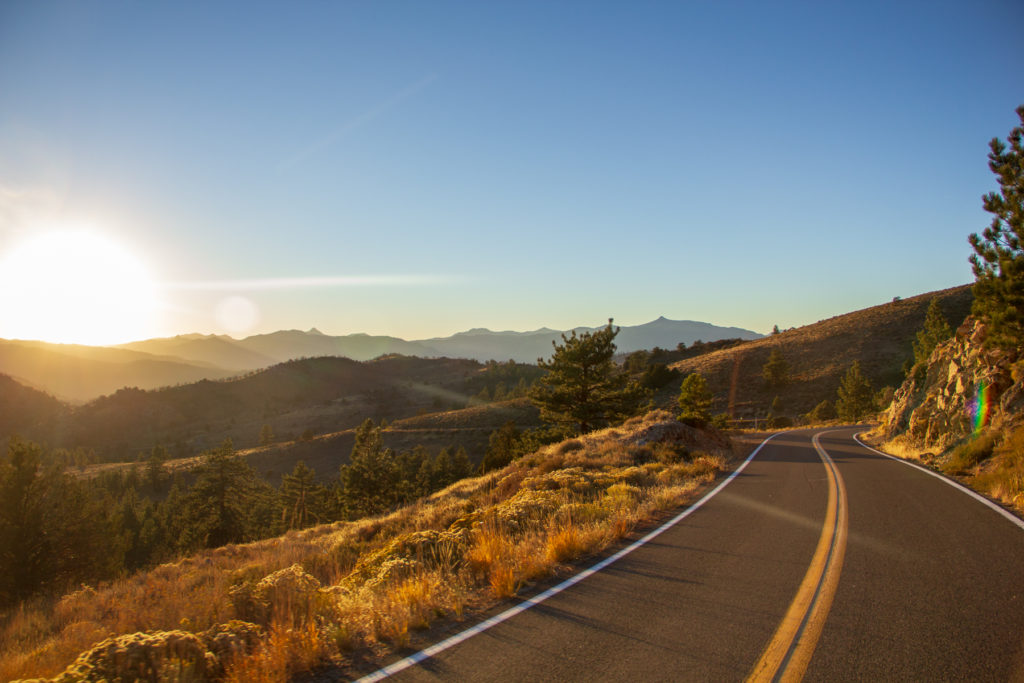 Thanks to friends in the area, we used Tahoe as a recharge point – showering, getting our Goal Zero batteries back to 100%, but we couldn't help but try out of some of Tahoe's trails. We were scheduled to be in Downieville for shuttling Sunday at 1, so Saturday we let our friends show us around their backyard network. We landed on a two-trail connection in South Lake Tahoe: Sidewinder to Corral. The first trail was very reminiscent of the flow trail at Santa Cruz, the second was a jumper's paradise with burms, table tops and other features peppering this entire leg.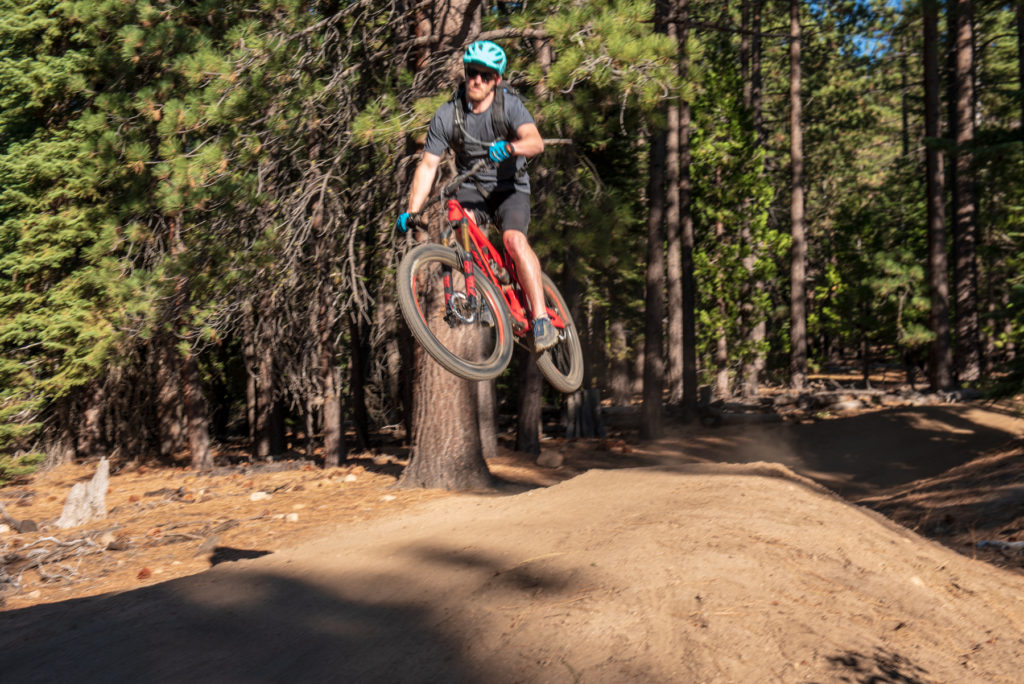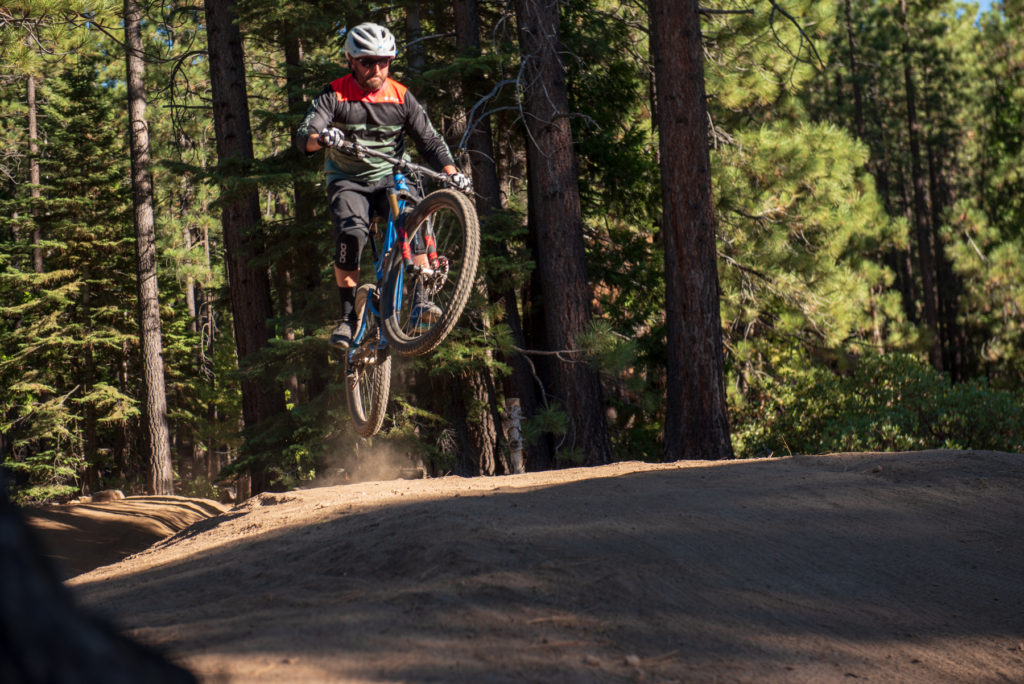 These Pivot bikes were handling everything we threw at them with style and grace. One feature-filled section was so fun we couldn't help but hike back up for another run. And another. Finally, on our third run, we pushed our luck. Ben took a bad line on a table top and came down at a terrible angle, halting his momentum and bike almost immediately with no sliding to lighten the fall. He was able to power through the rest of the trail to the car, but I could tell tomorrow was in jeopardy. Downieville is long, ruthless and requires your A-game to successfully ride it out. After some bourbon, rest, and more bourbon, his slow movements told me all I needed to know. I called our shuttled and cancelled the trip, opting to press West for the next leg of our journey.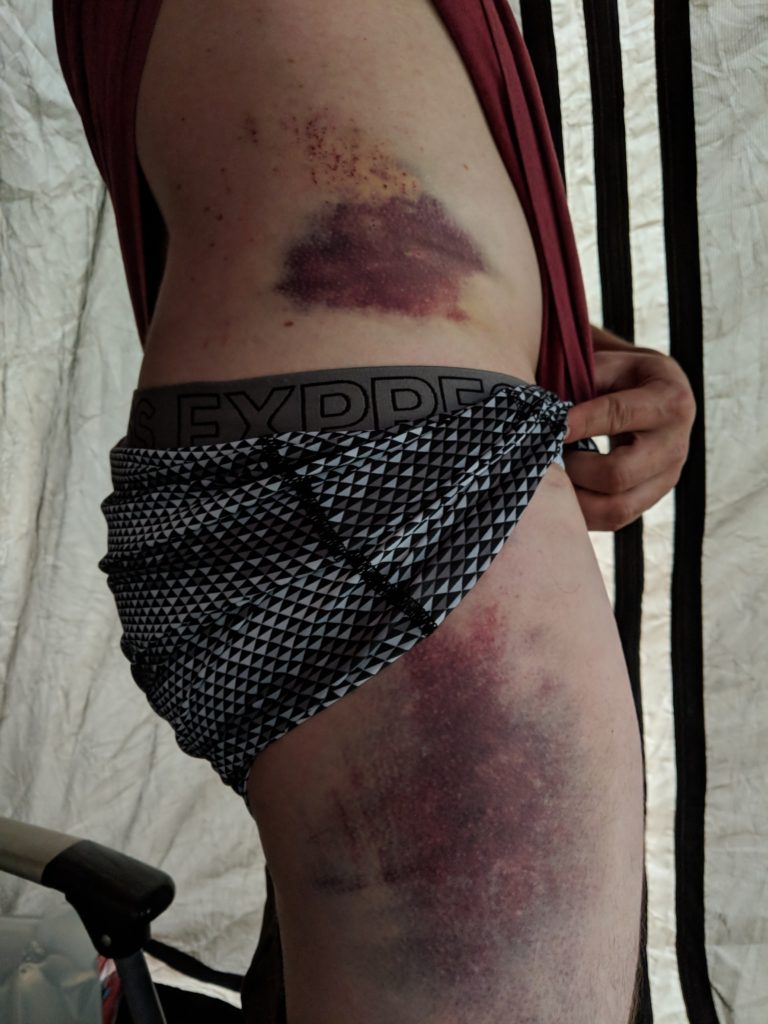 Mendocino National Forest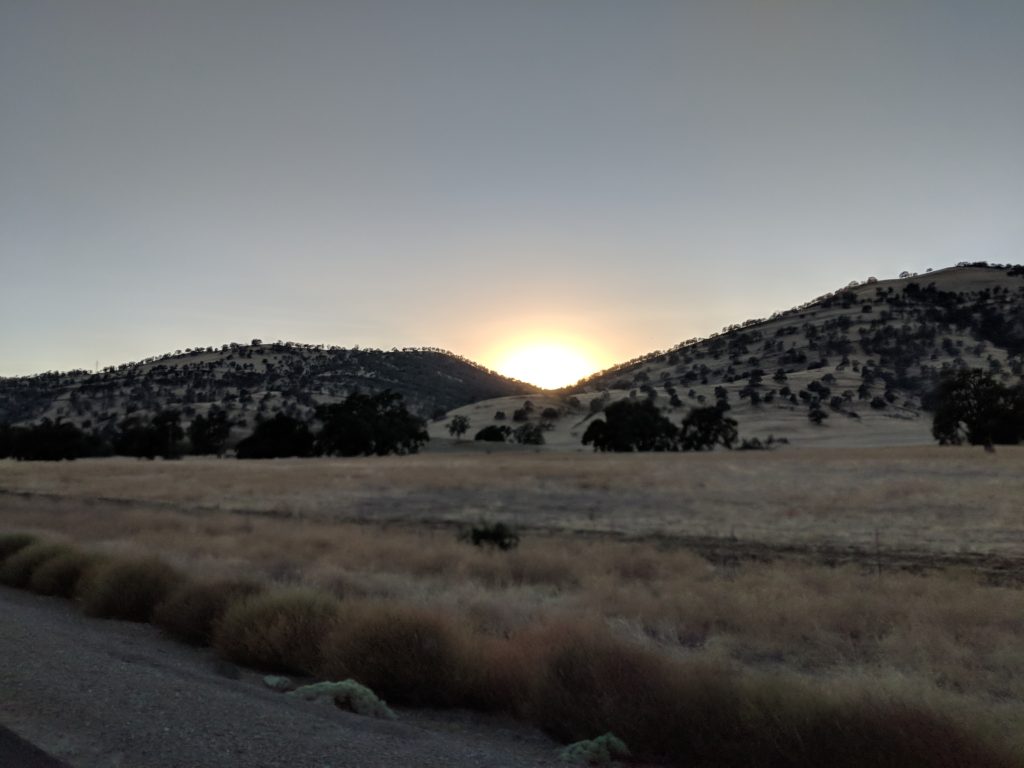 Our next destination was Lost Coast, and we wanted to break up the 6-hour drive with a camp in between and decided on Mendocino National Forest. Mendocino is known for two things: a massive trail system, being one of the only forests with no paved roads, and illegal marijuana grow operations. We had no idea at the time, but we were about to get a crash course in both.
We rolled into the Clear Lake area around sunset and locked in on Pinnacle Rock as a destination, located in the southern tip of Mendocino. After consulting GPS, and confirming our route with Google Maps, we headed up the foothills and into the wilderness. Halfway up, the Forest Service had a warning post with a map showing which trails had been closed from a recent fire. Our route was still open, so we decided to forge ahead. The map showed us driving through both national forest and private land, but unless otherwise posted these fire roads are public access, and again was the suggested route given to us by Google Maps.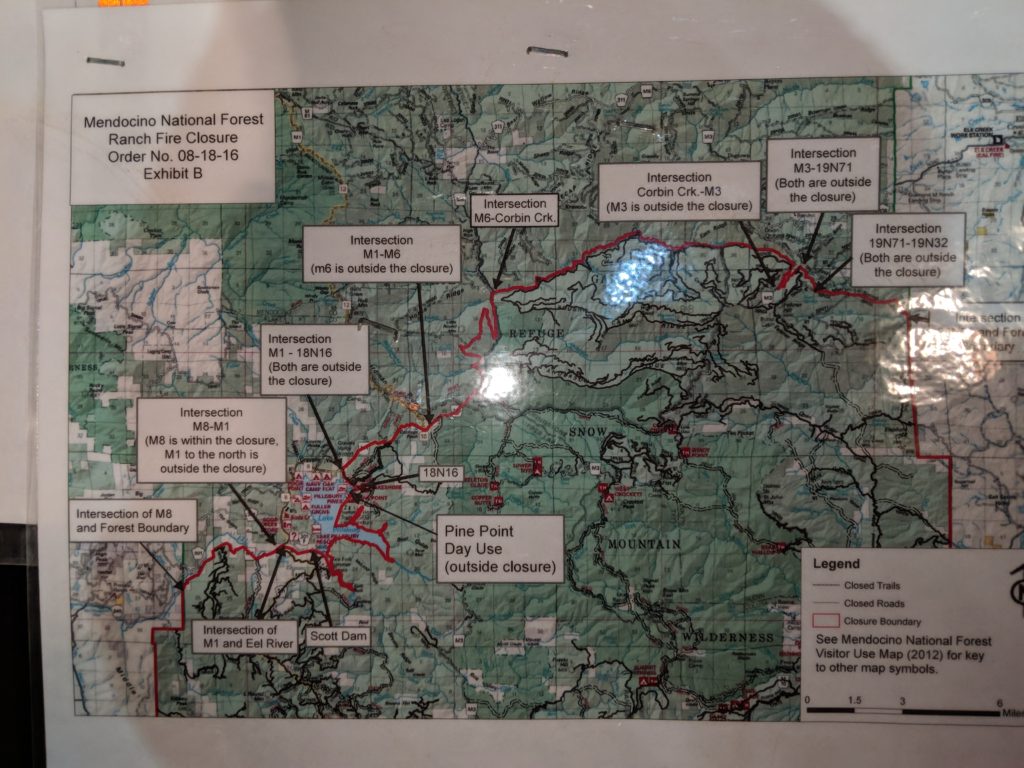 Shortly after we ran into a stop sign nailed to a tree with a couple logs in thrown over the road. There had been tractors and other maintenance equipment most of the trail, so we assumed it was for construction operations, and our main intersection was less than a mile away. Not seeing any other warnings or indications, we moved the logs and went ahead.
Around the first corner was a man sitting next to a fire he made next to his car – assuming this was just another camper. He walked to the vehicle waving his flashlight as we drove by, so we decided to stop.
"Who the fuck are you? What are you doing up here?"
The next ten minutes were some of the most intense in my life. He was screaming at us about how bad of a mistake we made coming up, told me to keep my hands very still, kept reaching for his pocket, mentioned grabbing his guns and shooting us, and if we were to drive any further we'd be met with gunfire from a group of guys. It was very clear at this point we had driven into an illegal grow op and serious trouble. We were on a windy, dirt, cliffside trail with no idea what laid ahead. Reversing or gunning it out of this situation didn't seem wise, so we sat still and tried to deescalate the situation. There was no reasoning with this man though. He didn't seem like a tweaker and if anything was clean-cut, but his eyes were crazy and his attitude was psychotic. He continued rambling about this area being devastated and how morons, like ourselves, kept on coming through and stealing, and he was tired of it. Finally, he started to see we were legitimately looking for a spot to camp – at one point even laughing at the bullhorns on our rig. I honestly think that helped his mood a bit. We kept telling him we would just turn around and never come back, and finally he agreed.
We flew down the mountain and called the highway patrol to give them a report and ask if there were any safer areas to camp. While waiting for a call from a deputy, we decided to crash at a motel because neither of us felt comfortable setting up camp in this area again.
The rest of the night and morning were spent on the phone with police and, at their suggestion, the Department of Fish and Game.
Once the deputy heard of our plans to leave for the Lost Coast, he warned that we may have a similar encounter this time of year and walked me through some suggestions to keep our firearms legally within reach. After deliberation, Ben and I made the decision to skip Lost Coast entirely and head directly to the Redwoods. The risk was probably low and we're being paranoid, but we ultimately decided it wasn't the smartest time of year to explore this area. Plus, a night or two in a developed campground sounds like a good way to reset and get back to enjoying the trip.
Redwood National Park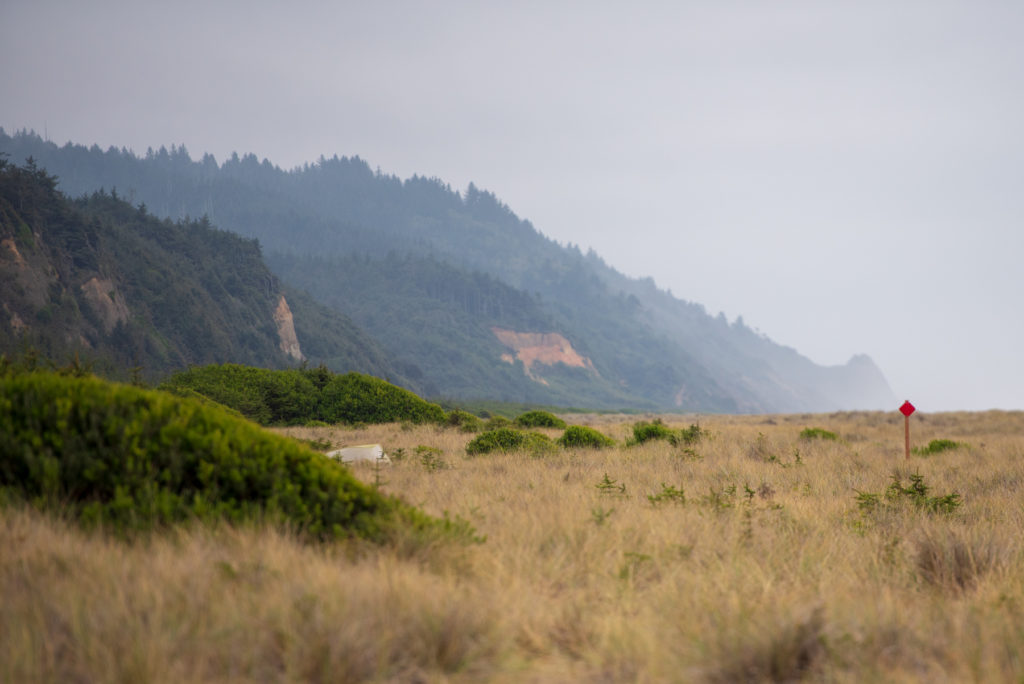 Tails between our legs, we drove north for Redwood National Park. Like Yosemite, camping is restricted to established grounds, but we weren't fighting it this time. We decided on their two most popular camps: Bluff's Beach and Jedediah Smith. Both campgrounds were packed, but the views were fair compensation. The first night was spent near the beach, with enough service to stream the Monday Night Football game. The second was spent under massive redwoods overlooking the Smith River.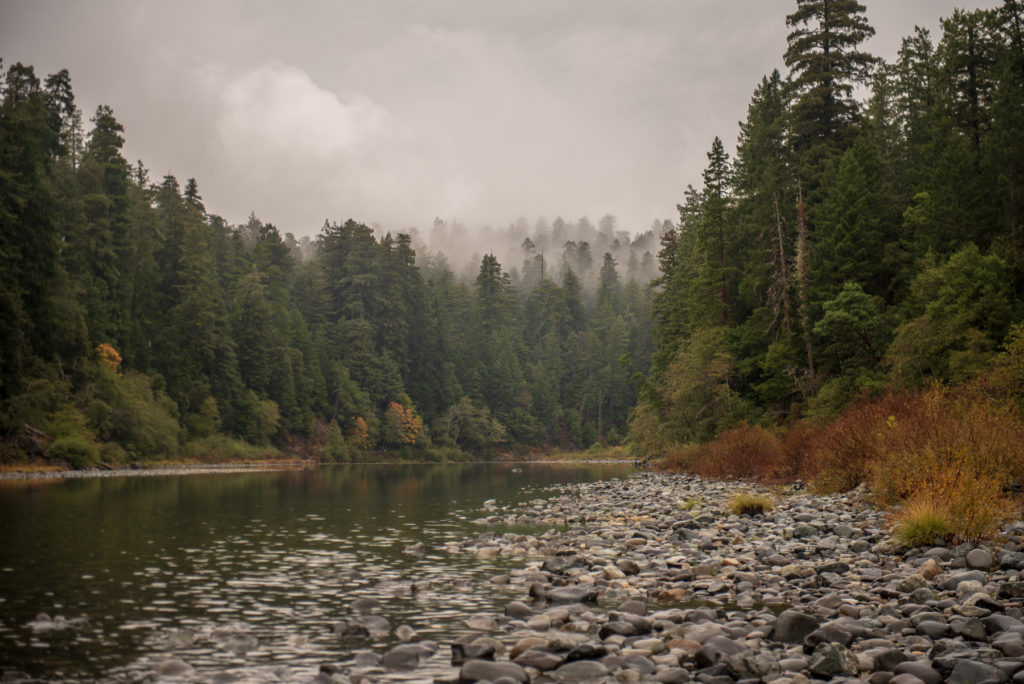 Cell service was scarce, but the times we had it we spent trying to figure out how to fill the two days with Lost Coast off the menu. An old friend saw our story on Instagram and asked if he could help. We love getting local input when available, so we gladly accepted. The next morning, he got back to me with coordinates under the agreement we wouldn't share it. Once we input the coordinates in our GPS, we saw it was right on the Rogue River. Perfect.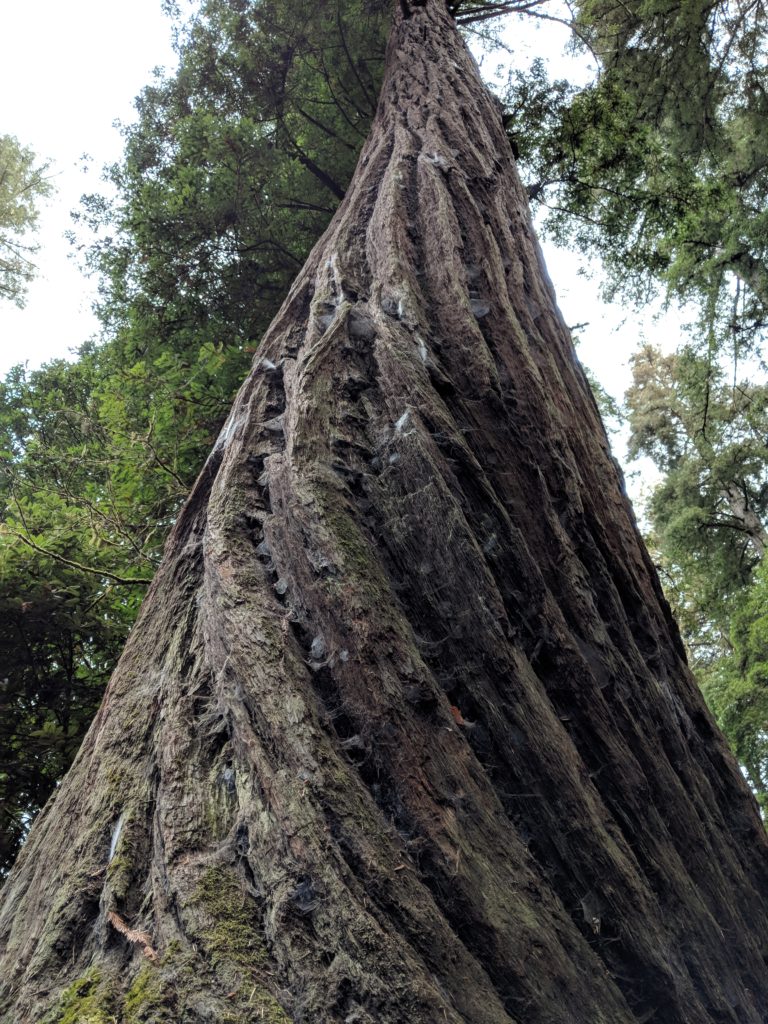 Rogue River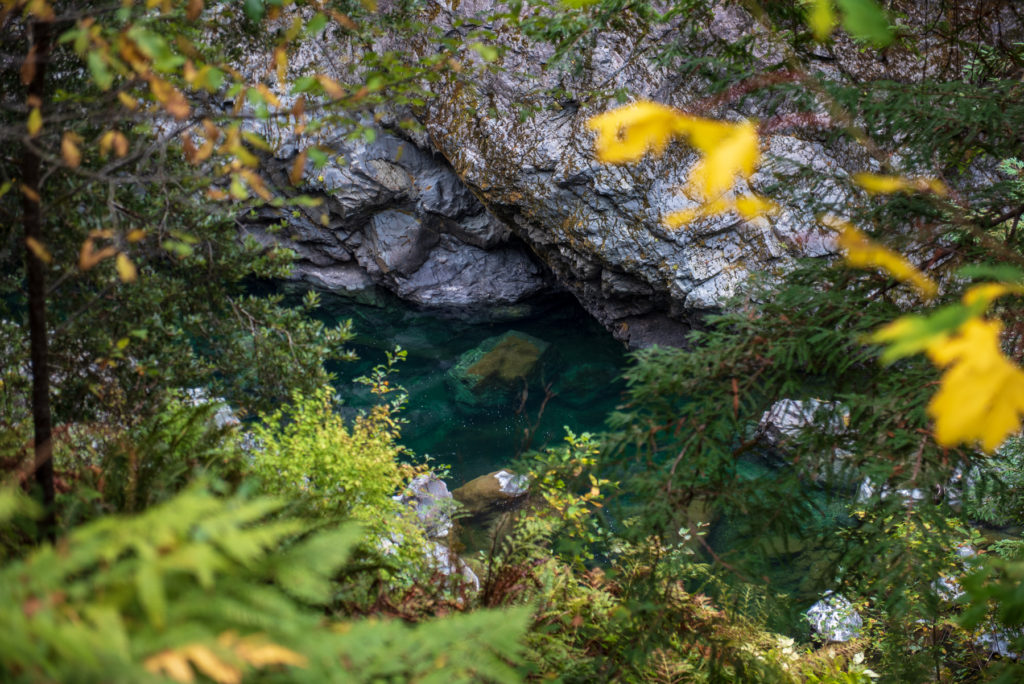 Recharged and extra motivated, we packed up camp headed into the unknown. Once we lost service and saw how far we had until arriving at camp, we realized this was going to be the most remote spot we've hit yet on this trip. This spot better be legit, because we've got to backup plan and no service within 50 miles to create one. Finally, after turning down the last dirt road – we saw it. Nestled against a magnificent bend on the Rogue River was one of the coolest dispersed camping spots I've ever seen.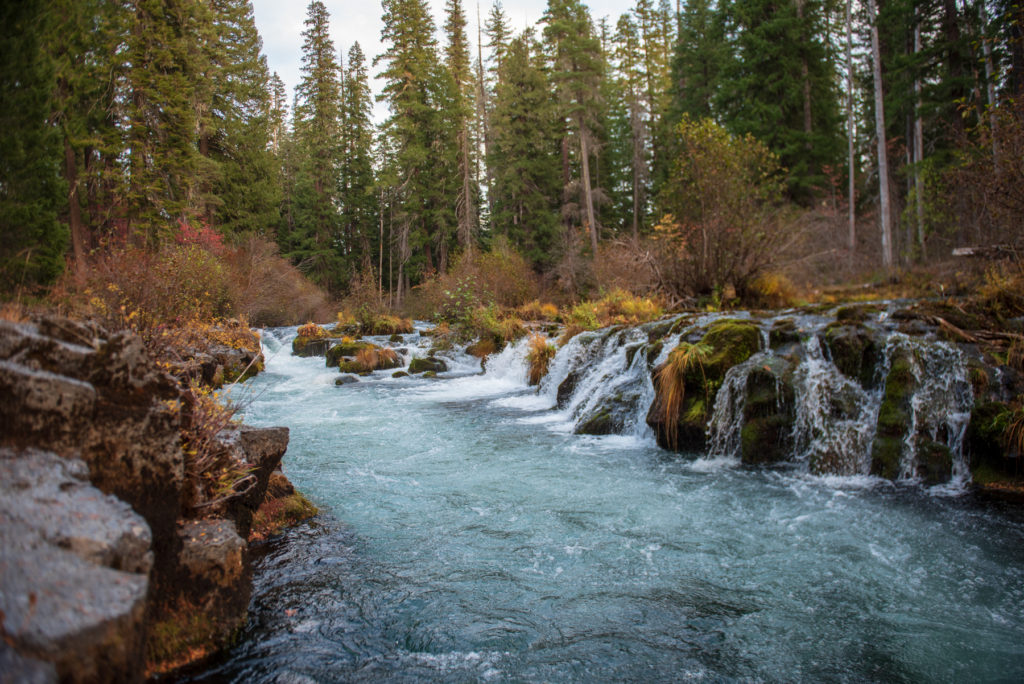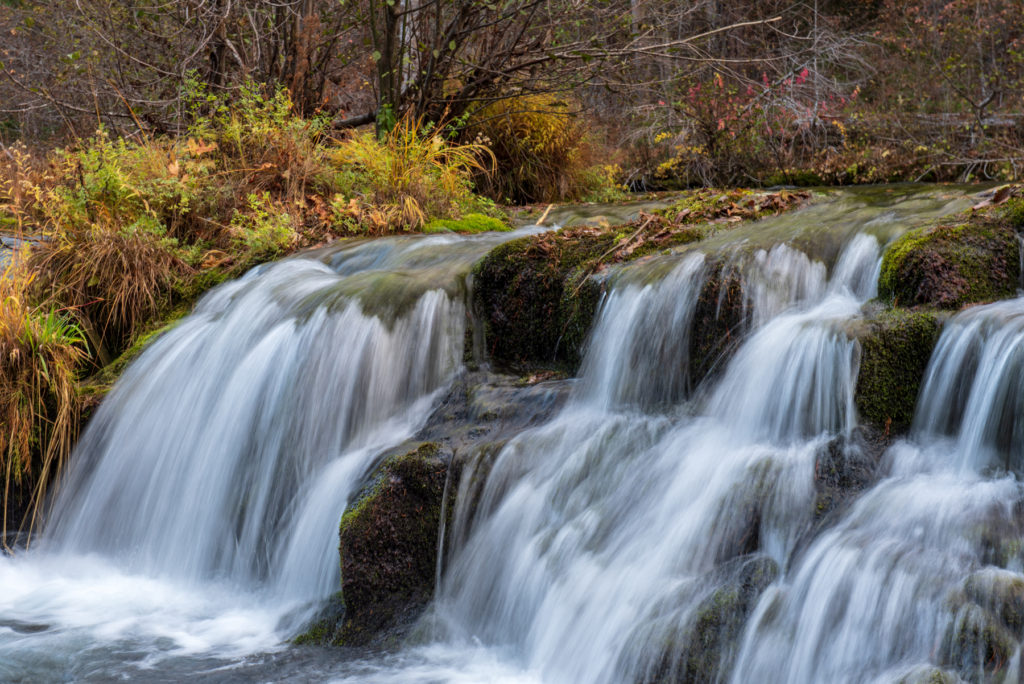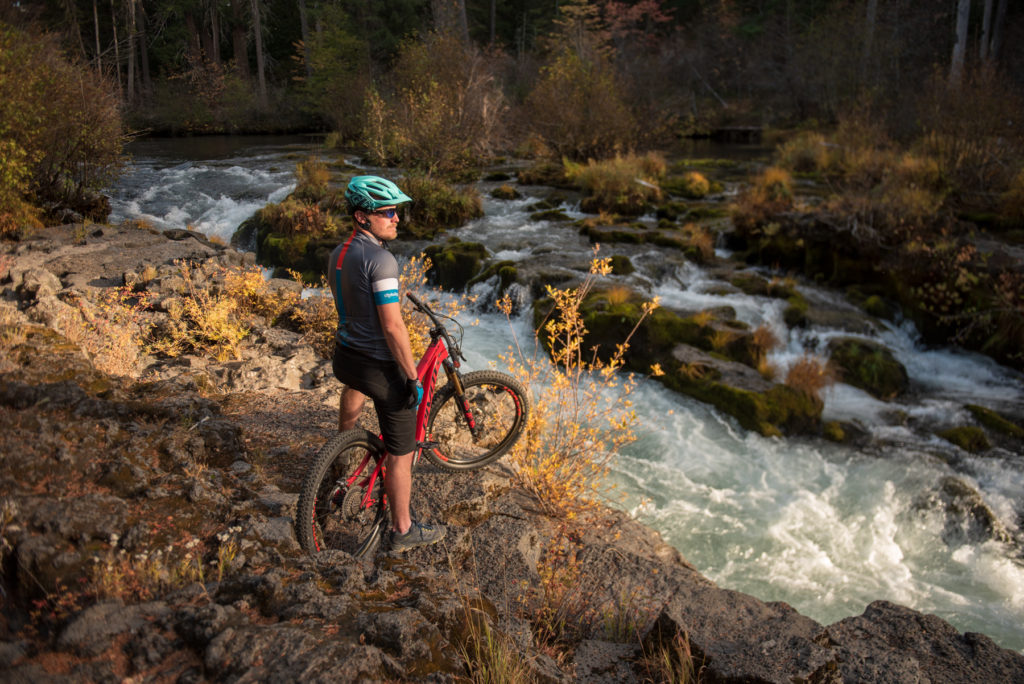 We decided immediately this was worthy of two nights. This is the first time we didn't have to break down camp in the morning. Having this area all to ourselves made up for any adversity earlier in the week and got our mentality right back on track. The day was spent sharpening our photography and drone skills, drinking whisky, moving slow and just enjoying the moment.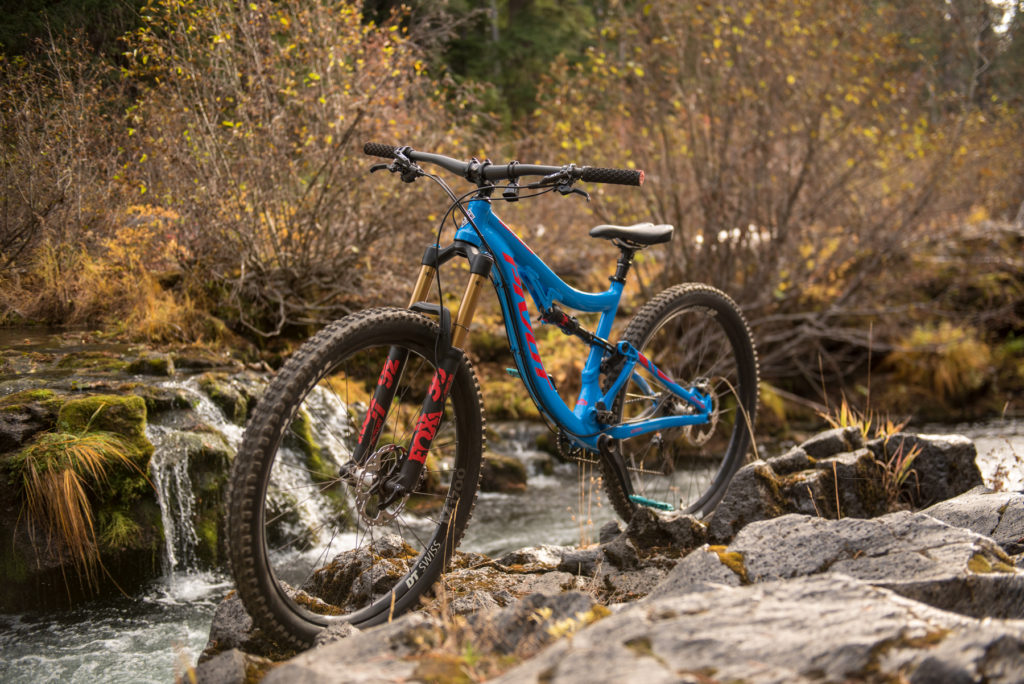 We woke up the second morning to light rain and decided to pack up quickly while everything was fairly dry. Totally refreshed and fulfilled, albeit a bit smelly, we continued to Bend while making a quick drive through Crater Lake. The cloud cover was low and masked nearly the entire lake, but the few quick views that opened up were breathtaking.
We're in Bend for the weekend, then stopping in Mt Hood on the way to Portland. Then we're off to Vegas for SEMA!