Outworld requires substantial planning. Logistics, camp and film permits, coordinating schedules – it can take lots of effort behind the scenes to appear effortless on camera. Sometimes a spur-of-the-moment solo trip is just what the doctor ordered.
This past Friday I was sitting at work with every intention of a lazy weekend. The Saturday prior, we had to cut a dirt bike trip short due to high heat, low water and overall exhaustion. The next day I was back out mountain biking in Mount Laguna. All week long, lounging sounded like the perfect agenda.
Nonetheless, I opened my Facebook news feed, and the first post was our favorite unofficial Mammoth weatherman shredding the slopes…in late June. If you haven't heard, Mammoth had a season for the record books and could be open for skiing into AUGUST. This season has been unforgettable and full of powder, but our last trip was in the middle of a blizzard, and ended the day after only 2 runs in whiteout conditions with 70mph+ winds. A part of me was determined to end the season on a better note.
As I weighed my options, I saw a fellow adventurer on Instagram was leaving Orange County for skiing and camping. That's all it took for me to commit, and there was no better time to attempt the California Roll.
The California Roll is an embodiment of this region's outdoor potential – all rolled up into one weekend. California is one of the only places in the world where you can access world-class ski and surf in such a short time frame. And if your body can keep up, it's an awesome bombardment of the elements. This weekend was setting up to be the perfect storm: San Diego's forecast was calling for trademark beach weather, and being so late in the ski season meant some of Mammoth's mountain biking trails were also open.
I jetted home, packed up the gear and hit the road. A weekend in the High Sierra meant earth and fresh air, and returning to Outworld HQ was my dose of water, but leaving San Diego on a Friday afternoon brought another unwelcomed element: the fire of 1000 suns. The 2000 4Runner is currently without an AC belt due to laziness, and boy did I pay for it this weekend.
Hitting peak traffic in San Diego, into Temecula and through San Bernardino added an extra 3 hours to an already grueling drive. Southern California wasn't letting me out of its grasp without some sort of toll, and this one was paid in buckets of sweat.
As I finally escaped to the Sierra foothills, dusk wasn't offering its normal reprieve of cooler temperature. Passing through Lone Pine, the sun had set over an hour earlier and it was still a solid 90 degrees. Maybe the skis and boards on roof racks were just a mirage. Chatting with the local gas station employee, the heat was made even worse by a brush fire in the hills – caused earlier in the day by an Air Force drone that crashed.
I had kept in touch with the fellow 4Runner adventurer and found out he was less than 20 miles ahead. We linked up at the same gas station and headed for camp.
The heat lingered until the final ascents past Bishop and into the Mammoth Lakes area. By then it was midnight and we still had to find a camp spot. We opted for the hot springs outside of town. This was once a well-kept secret that's been exploited by the internet, and as a courtesy to the OG hot spring veterans you'll have to do your own detective work for this one.
The temperature rose with the sun, and that was reminder enough to get my ass out of the swag to pack up. Speaking of, these swag tents are something else – very popular in Australia and just coming to the states. ARB's rooftop tents have elevated our sleeping expectations, but for a quick up-and-back solo trip it was a bit much. The Swag features the same durable canvas covering and surprisingly comfortable sleeping pad as the rooftop tent – except it rolls up like a sleeping bag. Perfect for this weekend.
Rolling up to Mammoth, you'd swear it was mid-season. Most of the mountain is still covered in snow, and Mammoth's epic terrain parks are still rocking the superpipe and big-air jumps! Bikinis, board shorts, Hawaiian shirts were out in full form, and it was a nice change being able to rock a tee. Even after being spoiled from this past season, the snow quality was surprisingly good in the morning, and the lack of lift lines helped us crank out most of the runs before it turned to slush. I really wish I had a GoPro or some sort of camera that would allow me to film myself coming down the slopes. It would make for some awesome footage. Even better would be a 360 camera. I always thought they were really expensive but actually there's some for a pretty reasonable price on https://chouprojects.com/best-360-camera/, so I'm going to try and save up for one. I've endured some ridiculous lift lines in my life, and Mammoth's popular season produced the longest I've ever seen. We've all been there, and we all know there's nothing quite like skiing right into an empty lift.
After getting our fill of runs we were off the mountain to recharge. At this point I wasn't certain there were any open mountain bike trails, but a trio of bikes rolling past our trucks put the doubt to rest. We grabbed food and headed to a nearby forest service road that led to an abandoned ski lift. Hunger overcame our mission and ended up stopping randomly to chow down.
This was my first time in Mammoth this late in the season, so I consulted the mountain bike trail map to learn a whole different set of routes. Thankfully, two of the open trails were the uphill and downhill lanes that straddle the road from the village to main lodge – cleverly dubbed Uptown and Downtown. Easily accessible and crosses mtb off my list without making a day of it. My new buddies dropped me off at Main Lodge and took the trucks back to town close to the trail end.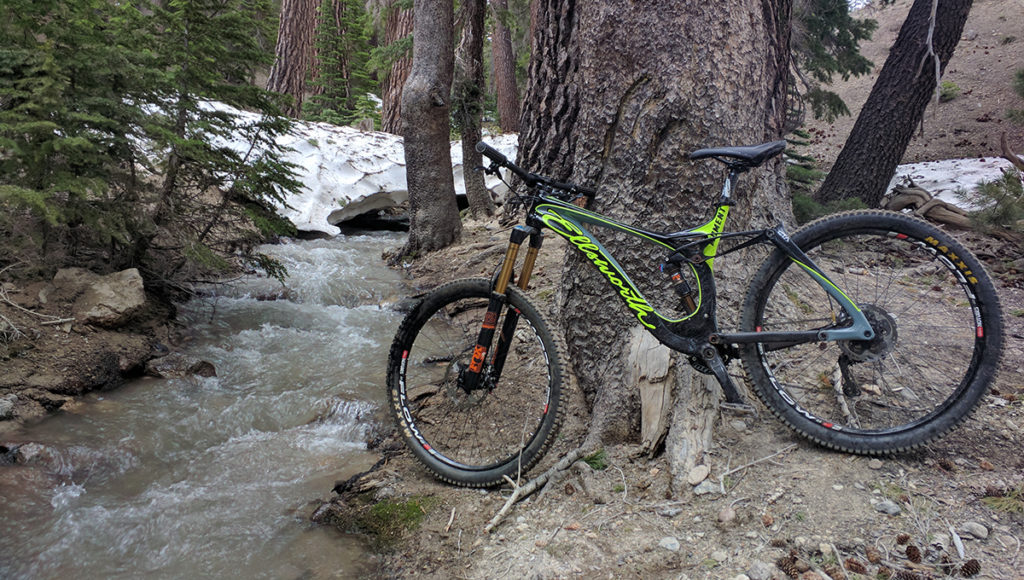 Downtown is an easy-rated 5-mile trail with nearly 1000 feet of elevation drop. Spending most of my time on Southern California trails, the dirt composition and overall construction here were very different than our local tracks, and I was loving every minute. Nice grabby soil, a few puddles from the periodic rains and snow runoff. Biking over creeks and through 6-foot snow embankments on either side of the trails were a big change from the norm, and screaming down single track overlooking the south range was enough to sell me on Mammoth's summertime appeal.
We packed up and headed back to camp, meeting another 4Runner in the process. The next few hours were spent wandering BLM trails and making up the next turns on the fly. The mission was finding an open hot spring, but it was a fool's mission as every spot was full. Close to throwing in the towel, we decided to check one last spring. Full.
However, we found a camp spot overlooking the natural tub in the distance, and decided we'd keep an eye on people leaving and cruise down when it emptied out. After a couple hours of waiting at the rate of two mosquito bites per minute, we saw an opportunity and pounced on it.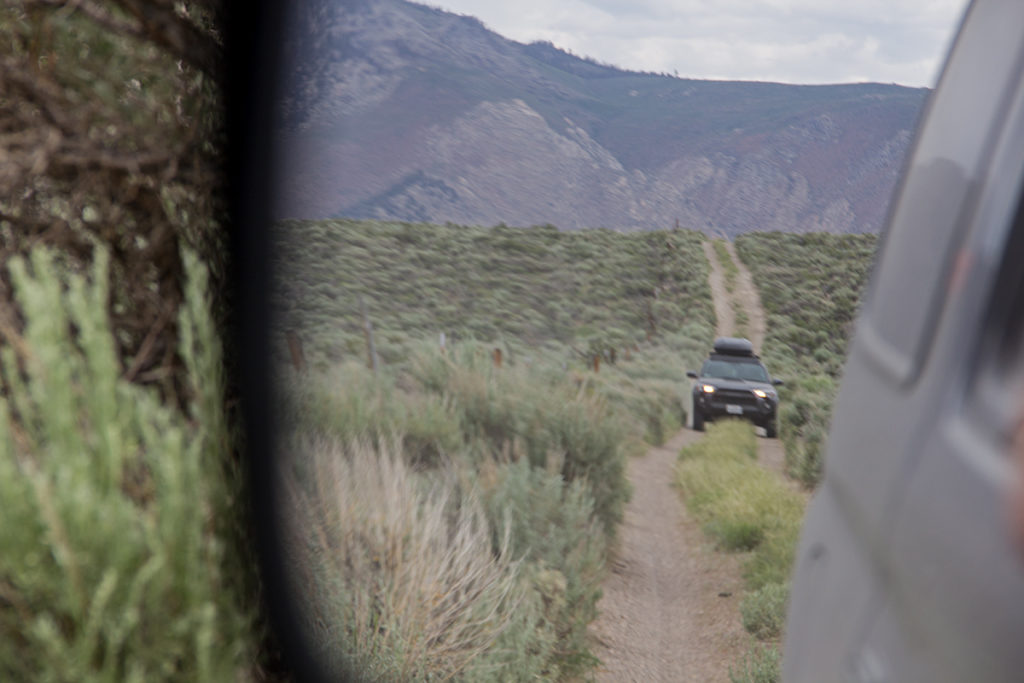 Each hot spring has a different size and temperature, and this tub sat 5 comfortably at about 110?. After a full day battling the elements, it was the perfect night cap.
You meet the most interesting people in the wilderness, and with them come the best stories. A group of four joined us for a dip, an older couple and younger couple. The younger couple came from Vancouver, Canada and started in the southern part of the Sierras, and from there were hitchhiking their way back home. Their latest ride took them to Mammoth Lakes, and with no plan for the next leg of their journey went to the grocery store to refuel. Walking down the aisle they passed the older couple, who just so happened to be from the same small town in Vancouver. The couples knew each other but were completely unaware of the other's plans. The older couple were road tripping back to Canada and just happened to have two empty seats.
Funny how those things tend to work out.
With full souls and energy on reserves, we drove back to camp and hit the sack. The other rig was sticking around the area the next day, but I was destined to be back in San Diego by sunset to close out the California Roll. With the heat wave still gripping the region I left early morning and started bombing my way down the mountains back home.
Like a spiteful ex, Southern California welcomed me back with open arms…right into a traffic jam. After another two hours in 90? stop-and-go traffic, the ocean seemed like a godsend.
At last I made it back, and with my legs feeling like Jell-O opted to leave the board at home and body surf. As high tide was creeping back, waves at Tourmaline began firing – taunting me to close out the weekend on a high note. With every ounce of remaining energy, I swam to the back sets hoping for a big betty as my coup de grâce. A few underwhelming waves and late catches later, I was gassed. Right before throwing in the towel, a hefty hump started rolling in and I was in perfect position.
Body surfing has its own draw – even for surfers. When your body is the board, the feeling is totally different. The first few seconds I was being propelled by the wave, and it dropped me like an anvil as it crested. Those few seconds of weightlessness to washing machine was all I needed to fill my cup. After a shower, a beer and some Benadryl for the bites, I was done for.
Mission. Completed.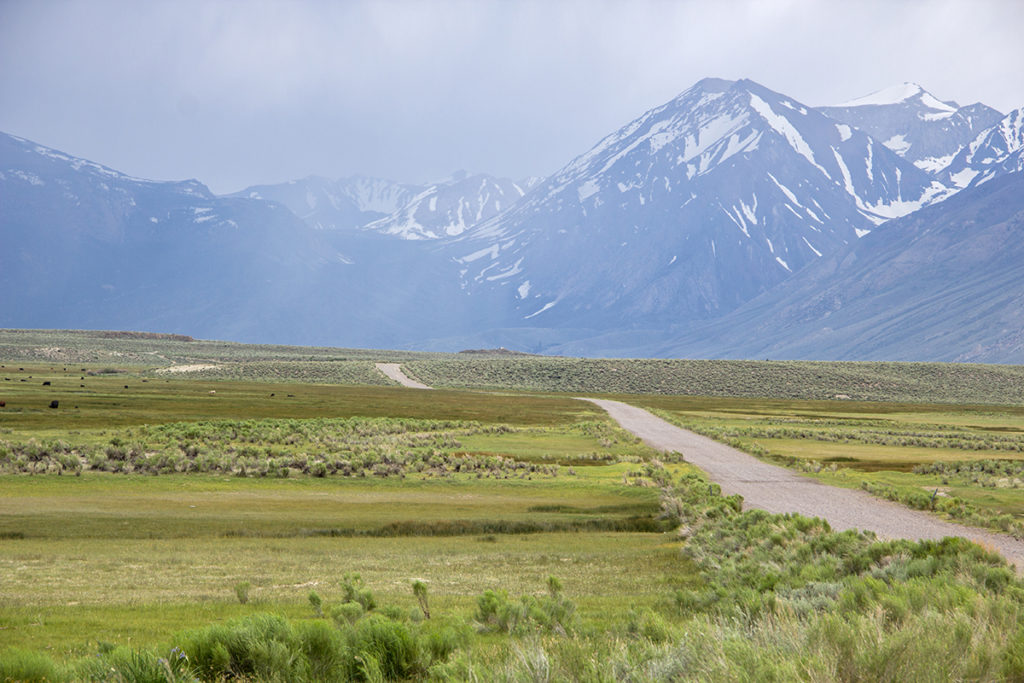 For many out there, this is just another weekend, and simply don't feel the need to share it. Those are the real explorers, the true stoke seekers. No thought to impressions or likes, only pure, unadulterated, personal gratification.
You'll constantly hear Californians talk about all the things you could do living here, but far less are they acted out. Once our media director moved to San Diego, he'd tell his east coast friends that "you can just drop what you're doing and head to the mountains when the snow rolls in". Easier said than done, but true. So, when a huge winter storm came out of the blue in May 2013, he knew it was time to make the experience his own. Near sundown and still wet from surfing, we were in the car and Mammoth-bound in thirty minutes.
This is what it's all about, taking advantage of the opportunities that present themselves. I'm turning 30 next month, and this is apparently when the body's recovery beings to slow. I'm chalking the knee and shoulder issues up to coincidence. I'm fine – really. There may come a time where I'll calm things down, but it will only change my itinerary for the outdoors, not eliminate it.
Whether it's wingsuit flying or canoeing a lake, it's all just different flavors of experiencing this world. Circumstances may dictate which ones you're better off enjoying, but the concept is the same: get off your ass and get out there. The outdoors are waiting for you – in one way or another.