The Outworld crew is constantly on the road. Let's be real: we all strive for legitimate overland and off-road expeditions, but it's not like we're crossing the Darién Gap to get there. The reality is the concrete jungle we aim to escape also facilitates a significant portion of our trips. So unless you're trailering your rig to the road's end, it's safe to assume the quality and control on the street is just as much a consideration as time spent in the rough.
Enter the Grabber A/T X – General Tire's latest off-road installment and further evidence of their commitment to the segment moving forward.
Our 2007 4Runner and 2005 GX470 builds were designed from the onset with on and off-road balance in mind, and all terrain tires have been standard since day one. How would these match up to the former BF Goodrich K/O2 we've run the past two years? Our 2000 4Runner is the bruiser, but even it deserves a bit more comfort on those long hauls. Would we be sacrificing off-road command in exchange? These were some of the questions we had going in, and they couldn't be answered overnight.
Product reviews are something we take seriously. Part of establishing Outworld was our commitment to due diligence in testing, so that readers can have a more realistic sense of what to expect when making these bigger purchases. No one can get a full picture from a one-hour demo event, so we again opted to delay any news until we had adequate time with these tires.
After a few thousand miles of testing through the gamut of weather and terrain, on three different platforms, with direct bases of comparison from both leading mud terrain and all terrain tires, we're ready to share our thoughts.
---
Overview:
Sizes tested:
35x1250R17
285/70R17
Testing locations:
Eastern Sierra Nevada Mountains
Cleveland National Forest, CA
---
Aesthetically, The Grabber A/T X combines the familiar tread pattern of their longstanding AT2, a mild but dependable all terrain, and an aggressive sidewall reminiscent of other segment leaders. There's been speculation that the AT/X was replacing General Tire's AT2, so we reached out to Brian Beierwaltes, Senior Manager Marketing, Passenger & Light Truck Tires for General Tire, for confirmation.
"Yes, the A/T X will replace the AT2," said Beierwaltes. "The AT2 has been a highly successful tire, but it has been in the market for quite some time. We took what made the AT2 so good performance-wise and improved upon it to create the A/T X. We made the sidewall more aggressive and added a raised white letter option."
For those die-hard AT2 fans looking for something more modest, General Tire has you covered. "At the same time we have introduced the APT, which complements the A/T X, for someone looking for a tire that is primarily driven on the road but also has off-road capability," Beierwaltes added.
Looking at General Tire's off-road portfolio, an aggressive all terrain tire was the missing puzzle piece. Their original Red-Letter Grabber, first featured on the 2010 4Runner in the Baja 1000, has been replaced by the Grabber X3. And with its strong grasp in the mud terrain segment, the A/T X is General Tire's next logical step. After a rather lukewarm reception from the BF Goodrich KO2, the all terrain king-of-the-hill currently has no decisive ruler.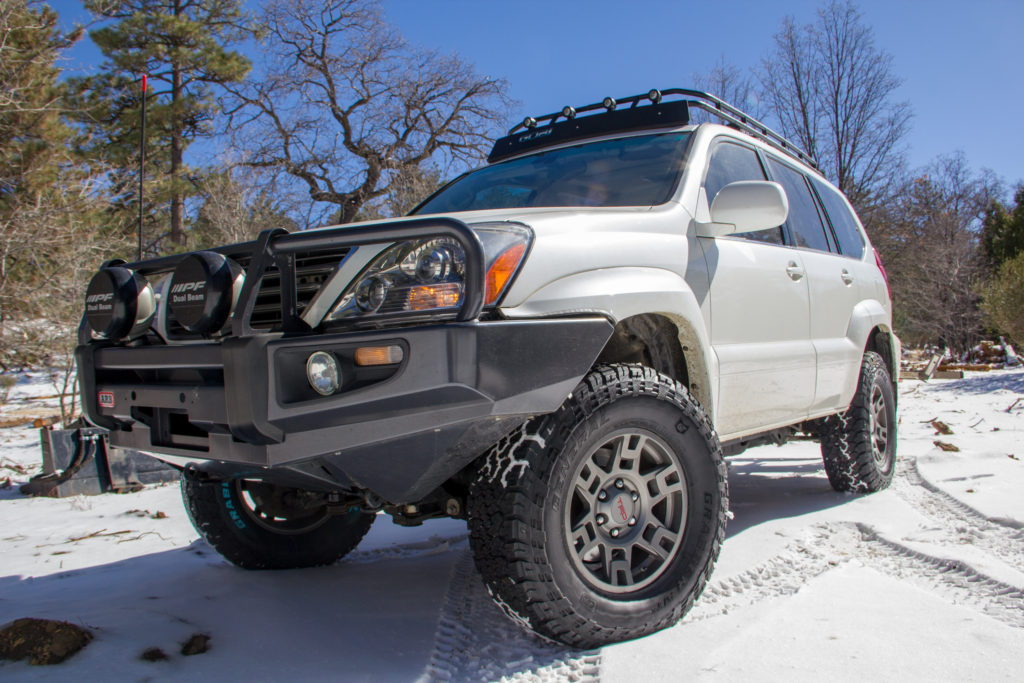 As the tires were being mounted on our test rigs, a snow/ice storm descended on our local mountains. All terrains spend plenty of time on the roads, so commuting scenarios are just as important as trail testing. We spent the morning bouncing between slick roads and icy trails, and we quickly acclimated to their decisiveness in handling. This was our first glimpse of inclement road behavior before heading north for more extreme conditions, and this quick up-and-back trip made us eager for the next challenge.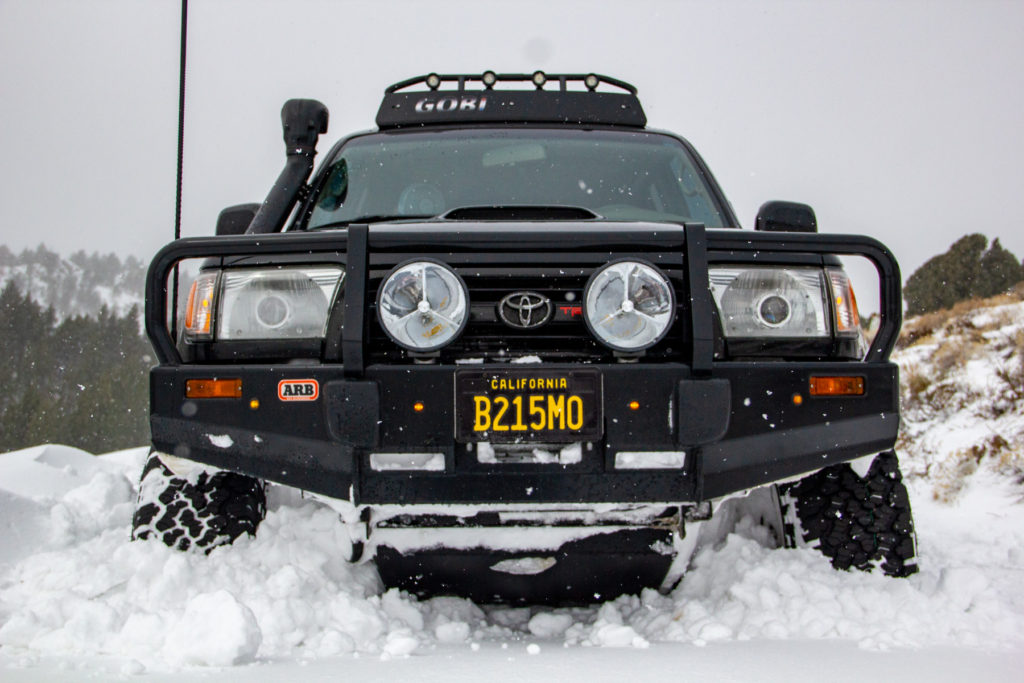 We took to the Eastern Sierra for deep snow testing, and we were met with a blizzard yielding several inches per hour. Perfect. The storm dumped upwards of eight feet in higher elevations, and stationed at just under 8,000 feet for this testing segment we received the brunt of the snowfall. Deep powder testing started a day earlier than expected after an avalanche forced the Mammoth Mountain ski area to close. We stashed the skis and boards and took off for public lands a few miles east of the city. As we experienced in Mount Laguna on a lighter scale, the confidence on paved roads stood strong. The three-peak mountain snowflake (3PMSF) rating is sported by a few models, and it was amazing feeling this level of assurance on this scale through a literal blizzard. For drivers spending considerable time in wintry conditions, the A/T X's optional studdability enables an opportunity for even better performance.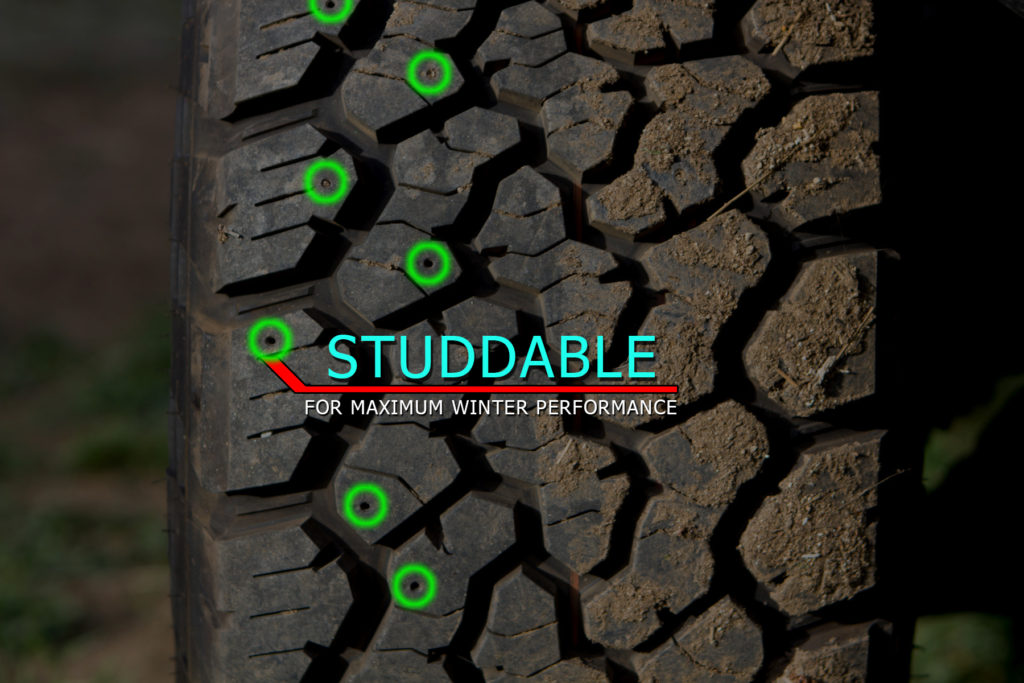 That confidence followed us to the trailhead, where the plow's route had ended and the untouched powder began. One foot of fluffy white stuff quickly escalated to 2-3 feet as we climbed the mountain, with sectional drifts reaching 4-6 feet. Control was consistent and almost encouraged you to find the deeper lines. At times we would drop to 2 wheel drive, and to our delight the trucks continued tracking and trudging with impressive grip.
We met our match on a 4+ foot snowdrift, where a lack of momentum finally halted our '07 4Runner. Anything short of a rubber track conversion system would have met the same fate.
Simply put, this is the best tire I've used in the snow. For total transparency, we only spend a week or two a year in fresh powder this deep (unfortunately), so there may be others with a larger, more consistent sample size. Still, we've had several years of winter testing with plenty of test platforms and we all experienced a tangible increase in control over previous setups.
We put another thousand miles on street to break up the summer and winter portions of testing, and the road manners, tracking, noise and comfort have shown no noticeable decline. And, frankly, you should expect nothing less from any reputable all terrain at this stage. This style is widespread and well developed, and consumers can expect a certain standard of can-do's regardless of the brand. Just as important can be things they don't do: wearing poorly, crumbling sidewalls, and other detriments to overall longevity. Only time will tell for the AT/X, but their history in previous iterations inspires confidence in the miles ahead.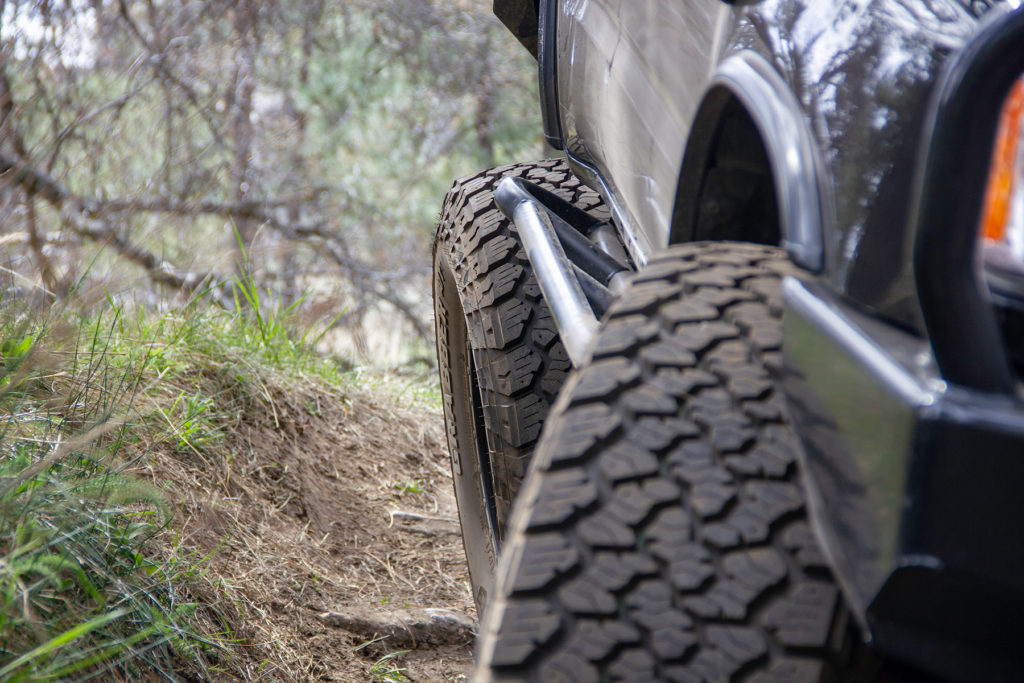 Our next testing phase took us mountains east of San Diego, offering mild trail rides to full on rock crawling. Not only was this a great time to test their dirt manners, but also handling under full load. We threw on the 150 lb. ARB Simpson III rooftop tent along with the full camp setup and headed for higher elevation. As for the Lexus, we strapped two full-sized dual sports to a trailer hitch mount. For the amount of weight at the wheels, on top of the truck, and in the cab, I was surprised at the ride comfort and stability en route to the mountains on both rigs.
We hit one of our favorite weekend trails for a more accurate comparative base, and the results were pleasing. Our 2007 4Runner and 2005 GX470 maintained similar traction to their previous all terrains with a slight improvement in off-road comfort. As for the 2000 4Runner, there were sections where 2 wheel drive was sufficient with the Grabber X3s. This time around it required a bit more momentum to avoid the transfer case. All three drivers came away impressed at the in-cab comfort and smoothness they provided without any noticeable diminishing of performance.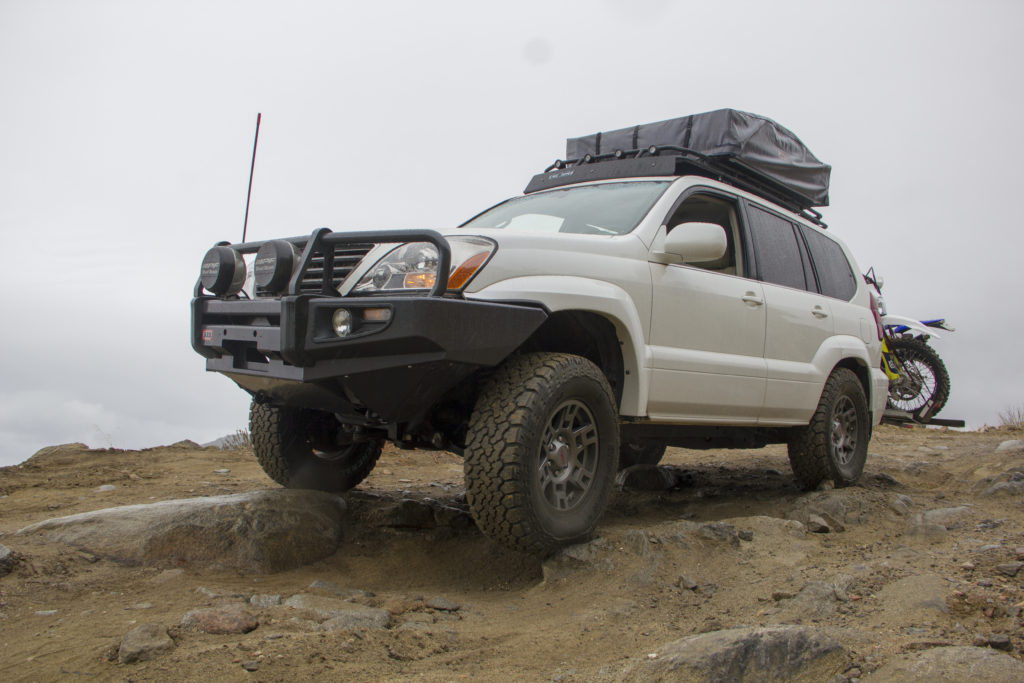 Weightwise, the A/T X comes in 11 pounds lighter than their X3 mud-terrain counterpart in the 35x1250r17 variant – the feeling was immediately noticeable in the 2000 4Runner's pedal. I'm missing the aggressiveness of the X3, but the gains in power and economy are more than making up for it. Aside from mud which I try to avoid these days, the A/T X offers similar capabilities through most other surfaces without the rougher road ride. For the 285/70R17, its weight is right in line with other aggressive all terrains at 57.5 pounds – heavier than the Toyo Open Country ATII at 56 pounds, but lighter than the BF Goodrich KO2 at 58.16.
As for the direct all terrain comparisons, our other two team members are markedly impressed through the first few thousand miles. Balancing on both platforms took less weight per tire, and both reported a softer, quieter ride without sacrificing the abilities they have come to expect. General Tire has invested considerably in ride quality and road noise which was evident in their Grabber X3 – a relatively quiet and smooth ride considering its true M/T design. It's safe to assume they're continuing to build on these investments in the A/T X.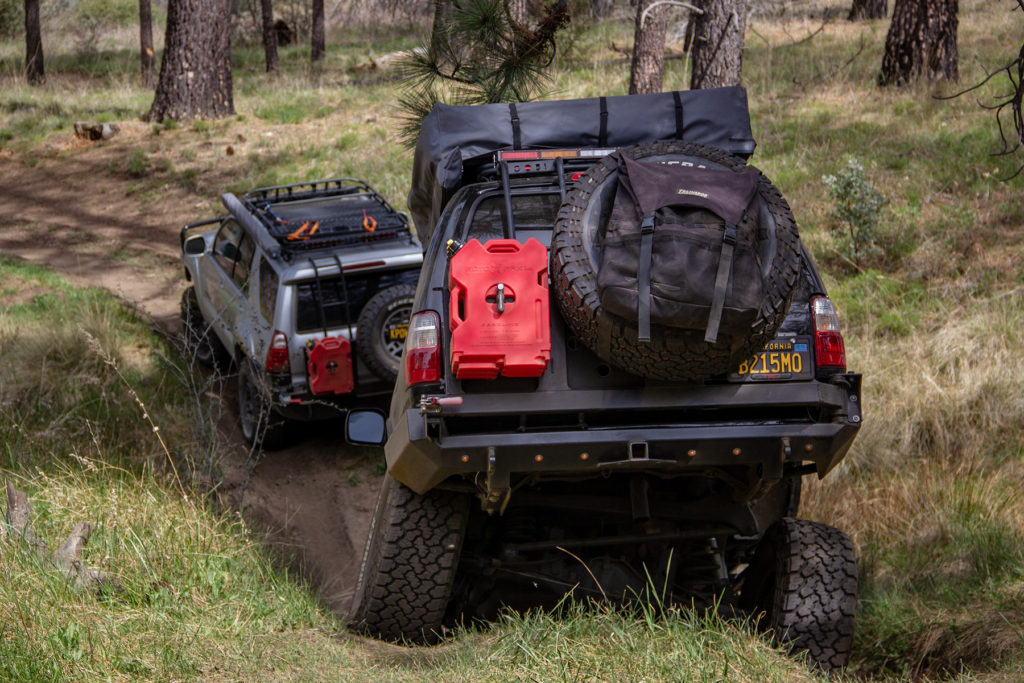 The Grabber A/T X is offered in most of the desired sizes for off-road applications, but some of those specialty sizes like 255/85 are not currently represented. "We currently have 40 sizes available in rim diameter 14-20″, but we continue to monitor the market demand in order to add the right sizes. We are planning to have additional sizes available in the next 12 months," Beierwaltes said.
3,000 miles later, tread edges, sidewall and rubber composition all look like new. The road noise, mannerisms, traction, snowflake rating, and the history of its design instill considerable peace-of-mind. The time we spend with action sports frequently takes us to extreme locales, and it appears this tire is up to any challenge of your choosing, including the road that takes you there.
Bottom Line
The familiar design aesthetics may paint a false picture of following the leader, but General Tire's precedent of longevity and capability in the all terrain category was set long ago with the AT2. It's clear they've evolved an already impressive product in an attempt to carve out a chunk of the highly competitive and flourishing aggressive AT segment. From our experience and other initial reviews, they're on the right track and gaining traction.