It's officially ski season, and we wasted no time in getting up for first runs of the year. This was supposed to be an up-and-back trip, so we decided to task our newest project rig, the 2007 4Runner, and give it one last road trip while it was still stock.
We're used to long-haul overnighters. Driving 6+ hours, arriving in the middle of the night, up at dawn to ski, and making the trek back home that afternoon. It's a necessary evil with full time careers, and you learn to enjoy the ride as much as the destination.
Our destination this time, and many times to come, is Mammoth Mountain. Nestled in the Minarets of the eastern Sierras, Mammoth is a world-class ski resort just within reason for quick weekend trips. We missed the first snowfall by about a week, and borderline freezing temperatures with high winds can easily glass over any remaining powder. Nonetheless, we were committed and just hoped for decent conditions. Contrary to our overland roots, we opted for cheap hotels both nights and had no shame utilizing some creature comforts as we shake the dust of our skis and boards.
Despite the conditions, the early morning crowd seemed to be in midseason form. It was obvious we weren't the only ones itching to get our legs back under us. One of the great things about these communities is the abundance of information, and it's a vital asset anytime you're gearing up for a day on the mountain. Between lift operators and other riders coming down the mountain, you can easily get the scoop on what the mountain is offering that day. We decided to take the gondola to summit and hope for some encouraging news along the way, and if there was none we would hop off at McCoy Station and ride the bottom half. While the lifties weren't sure of the latest summit conditions, our fellow gondola passenger came through in the clutch and provided all the information we needed. As we entered McCoy Sation, we were stoked to point to the top, indicating we're staying on for the summit.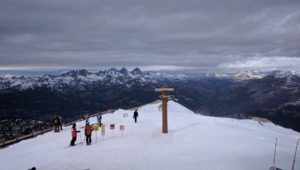 Much of the Mammoth summit is approachable for even intermediate skiers – if the base is there. Between steep angles and wind-blown faces, sometimes a little packed powder is the only thing keeping you from ice skating straight down a mountain. True to our new friend's word, between the brown and ice were signs of soft stuff. We took our time on our first summit descent to find the most fruitful lines, and once we connected the dots we were back on the gondola ready to rip.
Most of our riding was spent in these narrow but fun routes which held up well most of the day. All in all, more than what we were hoping for and enough to tire us out. Right before we left, Lib Tech's 2017 T-Rice Pro arrived, but with the meager forecast decided to take the 2015 series for one last spin. A fresh edge and wax works wonders, and coupled with Lib Tech's patented Magne-traction, all I needed was a slither of soft snow to grab all the edges I desired. Our next trip will have a full feature of the 2017 and I'm sincerely looking forward to testing it.
After an awesome and injury-free session, the remainder of the day was filled with Pita Pit and Jack Daniels. Sometimes it's the simple things. Whilst we were in Pita Pit, we saw a poster about a franchise opportunity with them. I love Pita Pit and it actually sounds like it would be an amazing opportunity for some people, so I thought I would share it with you guys. Anybody who is interested should click here for more information. Hey, the more Pita Pits the better in my opinion.
The next morning we were packed up and back on the way to Outworld HQ in San Diego. For anyone that hasn't driven the 395, I recommend finding a reason sometime this season. Much of the interstate follows a valley on the eastern foothills of the Sierras and offers one unforgettable view after the next. What's always intrigued me is the amount of trails I see woven in between the mountains, seemingly disappearing into the range. With time usually against us, I typically pinpoint parts on the map and research them when we're back. This time, we were ahead of schedule, and our Operations Manager Ben has been dying to properly break in his new rig. We had talked about stopping at Mount Whitney and even set directions, but well short of our turn off saw some of the roads that made their way directly into the mountains, and we decided it was time.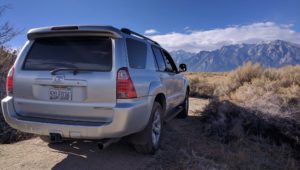 We lost service as soon as we got off the highway, but these trails have been well maintained and decided to wing it. In the distance, we saw what looked like a steep mountain road etched into a cross cut and decided that should be our destination.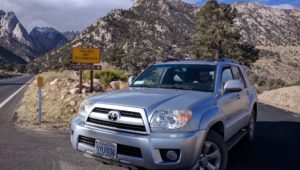 After an hour of sightseeing, guesstimating, and u turns, we were getting closer to the road we first saw from the interstate. Finally rounding the last bend, we realized the road we scoped out happened to be the route to Mount Whitney! A most beneficial detour, we found some awesome camping spots on our custom route that we would have never discovered had we taken the paved route. Expect a more detailed trip report from this area down the road.
Interactive 360° photo (VR compatible!)
Mount Whitney, at 14,505 feet, is the tallest peak in the contiguous US. Hiking the summit isn't done on a whim. Only a certain number of people are permitted to summit every year, and those permits are given out in a lottery starting March 1. Even with a permit, hiking in this elevation is dangerous if not well prepared. Many hikers come up days in advance to acclimatize at base camp, and taking several high-altitude practice hikes in the days leading up to prepare their bodies for the extremities.
Without much time or a permit, we decided to hike towards some of Whitney's southern summits. Steep inclines and lack of designated trails made this one heck of an eye-opener, and gave us a glimpse of what to expect if we decide to sign up for the big dog.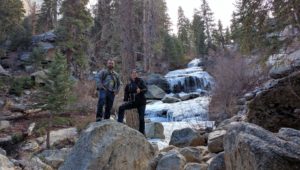 A quick and rather eventless descent, save for a close call with Ben barrel rolling over a downed tree trunk, and we were back at the base. One of the best weekend trips we've had recently, and an excellent way to start our winter season.