Welcoming winter in southern California is more than planning ski trips.  Around this time, the extreme desert temperatures start giving way to moderate climates, and thus the start of desert season. With our latest project begging to be tested, we took off to Anza Borrego for a day trip shakedown.
Our CB radios arrived a couple days before, and we rushed to install all of them before heading out.  We opted for Cobra Electronics' 75 WX ST, a remote mount radio which is controlled entirely from the handset.  This allows for a cleaner, minimal install and keeps valuable dash and 'cockpit' real estate open for future necessities.  Smooth and straightforward install and capped off with the communal standard Firestik antennas.  We stopped short of proper tuning for this trip but were set for short-distance communication.  CB technology is a tried and true means of communication on the trail and we're stoked to have all vehicles equipped.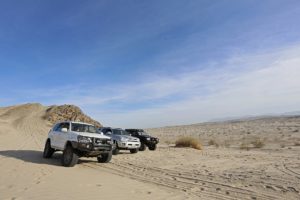 Anza Borrego Desert State Park is comprised of 600,000 acres, the second largest state park in the lower 48.  I've been here a handful of times before, but I've cheated myself out of exploring by revisiting familiar areas.  This time we decided to take the formal route and start at the Discovery Center.  From San Diego, you'll take the 78 East through Ramona, up to Julian, and down the backside of the mountains and straight down into Anza Borrego Desert State Park.  The Discovery Center is just before Ocotillo Wells – look for Ranger Station Road on your left.  I highly recommend starting here if it is your first trip.  It's an excellent starting point and the center itself has free maps at the front door.
Pulling into the Discovery Center for our first time, we were greeted by a group of park rangers gathered in a circle.  Turns out they were working with a powered telescope and they invited us over to get a bearable view of the sun.  For some reason the notion of using a telescope in the day never crossed my mind.  But here was this ranger with the telescope dialed in for an awesome view.  I wish there a way to capture what we saw, but I can at least help paint a picture. It was a big fire red ball.  Amazing I know.
We mapped out a general course, aired down, and were on our way.  Most of the day was spent on and off the Shell Reef Express.  This is a large 'expressway' as the ranger described it, and after sharing the road with dirt bikes, side by sides and Mad Max style buggies, it started feeling more like Fury Road.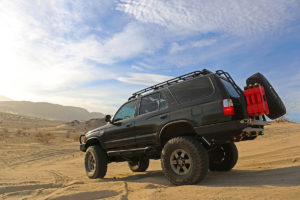 What sets the desert apart from other terrains and destinations is the pure expanse of it all.  The mountains have a special place in my heart, but much of exploring on four wheels is contained to mapped and marked trails.  As a Tread Lightly organization, we recognize the need to preserve our land, fragile ecosystems, and wheel responsibly.  Regardless, we've all had that urge to veer off the beaten path and blaze your own trail.  With Anza Borrego, you can scratch that freestyle itch free from ramification.  You're in a literal and figurative sandbox.
NOTE: While there are plenty open areas to explore, there are many sensitive areas even in the desert in which you need to stay on the marked paths.  Please check with your map and/or rangers if you have any doubt about the area you are in. Educate yourself, have fun and respect your surroundings.
After a couple hours of wheeling, we came to a popular intersection.  We decided to give our rigs a break and watch some of the purpose-built trucks and ATVs really get the most out of this terrain.  Hill climb challenges, prerunning, dune jumping – we were happy to sit on the sidelines and get our high-octane fill as spectators.  As dusk rolled in, the dust trails that helps identify other vehicles is replaced by high powered light bars and LED antennas.  It's quite a sight  to see a convoy of headlights zooming through the distance.
We took our time reaching the highway and had an absolute blast tearing through San Felipe wash as a group.  With soft sand embankments and the ability to choose your lines at will, it almost felt like skiing.  Before heading home, we wanted to show off a popular spot to the south called Sandstone Canyon.  To get there you take Split Mountain Road from the 78, and travel south approximately 8 miles.  You'll look for the Fish Creek Wash sign, and follow the wash and tire tracks to the canyon.
Shortly after turning on Split Mountain, you'll pass the area's only bar – Iron Door.  This is a no-frills, old school dive bar, and if you limit your expectations to getting cold beer at the local watering hole you'll be satisfied.  If you're wanting a jovial atmosphere you'll have to bring it yourself, but don't count on the staff or group of locals watching boat racing to join you.
There's something about a cold beer at the end of the day that just entices you to sleeping, and we were all feeling it after Iron Door.  After a quick in and out to the canyons, we were back on the road home.  This area really deserves your whole weekend, but we were happy just to get out and explore.  With a map and good insight from the local off road communities, we're well equipped and excited for a longer trip. For now, the snowy mountains are calling and we're answering soon.  Stay tuned.
PROTIP: There is free air available 24/7 on the south side of the 78 just before the Split Mountain turnoff.  It's a high capacity compressor that fills tires quickly and has a long hose. Just make sure to roll up the hose like you found it!