If an ideal headquarters existed for an action sports project, San Diego is among the top prospects. Surf, dirt, sand, and even snow is all within county limits.  Baja and the Eastern Sierras just beyond offer world-class ski and off-roading. It's an outdoor freak's prime location for a staycation.
San Diego is home to action sports junkies and off-road enthusiasts alike, and the vast gamut of terrain is a bonafide playground for nearly any hobby or sport. Let's run through 3 choice spots in San Diego that should be on everyone's list.
Pine Valley/Mount Laguna

Location: 40 miles east of San Diego

Terrain: Dirt, snow

Best times of year: Year-round

Great for: Camping, hunting, equestrian, hiking, MTB, MX, light off-roading
This is perhaps my favorite place in San Diego.  A great mix of traditional campgrounds, BLM-style dispersed spurs, remote bike trails from mild to wild, and that classic mountain small-town feel. It's also one of the few places in San Diego that accumulates powder in the winter. This past Christmas Eve, a storm rolled in and dumped 15 inches of snow – reaching all the way down to 3,000 feet elevation. Even the interstate was blanketed.
For coastal-minded San Diegans, this area is always a guaranteed eye-opener with its stark contrast to our epic beaches.  A surprisingly small percentage of locals are even aware this place exists, but it only takes one visit to make a permanent mark on their minds.
Mountain bikers, hikers and equestrians flock to the Mount Laguna recreation area because of its well-defined and diverse networks of trails – taking them through breathtaking meadows and forests. More seasoned riders can scratch their itch for intensity on Noble Canyon, an epic downhill trail spanning nearly ten miles through the Pine Valley wilderness – ranked 10th best in the state. In the company of Santa Cruz, Tahoe, etc., that's an impressive standing. The Pacific Crest Trail also cuts directly through this area.
Outside of the recreation area are a handful of truck trails, suitable for 2wd and high clearance. It's an excellent starting point for anyone new to off-roading, with just enough rocky terrain to get you hooked for more – and easily some of the best views in the region.
Make sure you pick up an Adventure Pass if you plan to park in the recreation area.
Anza Borrego Desert State Park

Location: 80 miles northeast of San Diego

Terrain: Sand, dirt

Best times of year: October – March

Great for: Camping, hiking, off-roading, rock crawling, pre-running, ATV/UTVs
Anza Borrego is best described as a free-for-all – a literal sandbox with wide open expanses, gorges, washes, mountains, and everything in between.  If you couldn't pick it up by the name, Anza Borrego's desert climate is anything but hospitable in the summer months. Temperatures consistently over 110 in the daytime.  This year topping out at 124 degrees.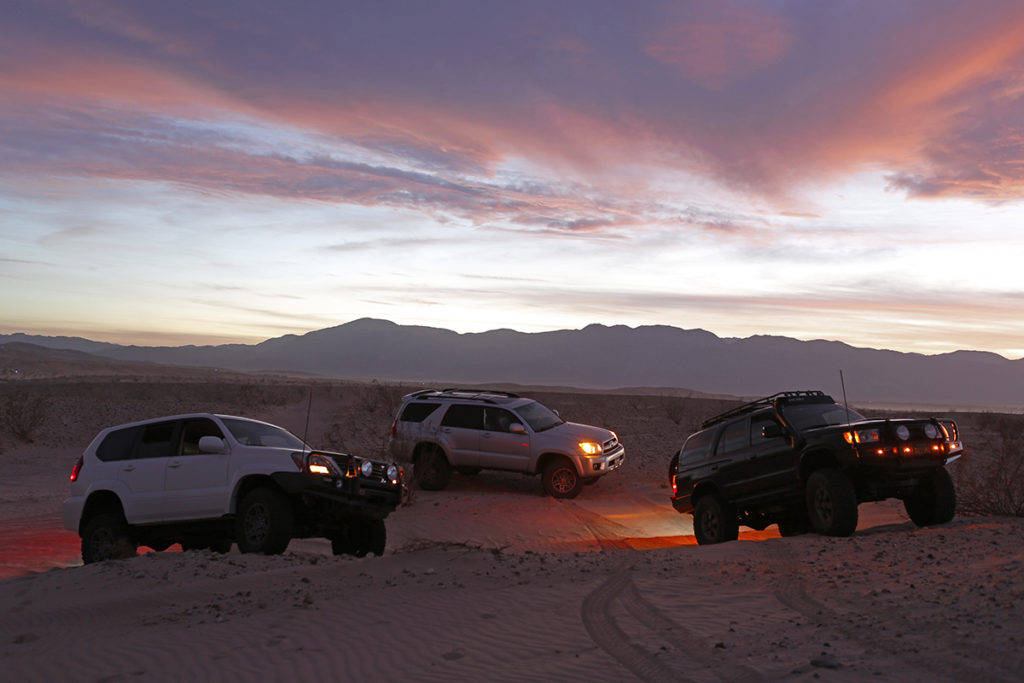 When the temperatures dip, this area turns into an off-road haven almost overnight.  Many own trailers, RVs, UTVs and buggies that stay mothballed six months out of the year just so they're in prime condition for desert season. One of the coolest sights you'll witness is Anza Borrego at night during its most popular months.  Far from the reach of city lights, the land is only illuminated by the night sky and moon, and the landscape peppered with LED whip antennas and flood lights. You'll see convoys of trailers and rigs screaming down the 78, and gangs of dirt bikes, pre-runners, overland rigs, and side-by-sides tearing it up. Anza Borrego is Mad Max incarnate.
What this area lacks in ecological diversity, it makes up for in pure access. Hundreds of miles of open dunes, sandy expressways, and washes for all skill levels can keep you busy for days without running over your own tracks twice. Even in the popular months, this area is unforgiving. Take your planning seriously here – bring twice the water you think you need, understand the dangers of flash floods and where not to camp, be prepared for severe winds, and do not forget sunscreen and shade.
Corral Canyon OHV

Location: 55 miles east of San Diego

Terrain: Dirt, rock

Best times of year: Mostly year-round

Great for: Camping, hiking, equestrian, MTB, MX, moderate off-roading to rock crawling
For the off-road and rock crawling crowd, Corral Canyon is San Diego's cream of the crop.  Even their easiest trails recommend 4-wheel drive and high clearance at minimum, while their more difficult sections demand purpose-built rock crawlers and a carefree attitude towards body damage. The landscape is green and full of boulders – more reminiscent of the Sierra Nevada mountains.
Four Corners is the staging area for the park and will most likely be your first stop. If you're biking, this is a great spot to unload and features a large map to help plan your day. Take a picture with your phone to reference while on the trail, because there's plenty intersection and forks to confuse you. Our first trip to Corral Canyon was supposed to be an 8-mile warmup get back in biking shape, but a mistake understanding the map turned it into a 26-mile calf and quad killer.
Your first stop should be the lookout tower on top of Los Pinos Mountain – only a couple miles of old paved road away from the staging area. It's the highest point in the area and offers an unbeatable vista of the entire surroundings. Since the tower has been deactivated from official use, most times you'll be able to climb the stairs to the lookout tower for the absolute best perspective.
If you're learning your limits, Espinosa trail is a fantastic challenge looping 20 miles around the entire area. While there aren't many bypasses for obstacles, you have plenty of opportunities to turn around. If you're more comfortable on two wheels, park at Four Corners and take the trail by mountain or dirt bike to gauge without the stress.
And if you've come for the hard stuff, Bronco Peak and Sidewinder are your perfect fix. Large boulders, jagged rocks, ridiculous clearance obstacles – you'll get everything you want and more here.
Bike enthusiasts can enjoy most of the OHV trails, and then some.  Kernan Cycle Trail is a single-track route restricted to mountain bikes and dirt bikes which offers grueling hill climbs and technical maneuvering. If you're riding a dual sport, you can take Kernan Cycle Trail from Corral Canyon back to Pine Valley.
The general rule of thumb is never off-road alone, it's truer than ever in Corral Canyon. The rocky terrain and remoteness of the area is the perfect formula for a bad time if things so south. There is nothing you can pack in your emergency kit that can trump another working vehicle and able body.
The same Adventure Pass for Mount Laguna works for parking at Four Corners.
---
These are just a handful of the endless offerings of San Diego, and we'll follow up with more detailed rundowns outside of the county in the future. As with all public lands – whether BLM, National Forest or National Parks – respect the land, leave with more trash than you brought, and don't be an idiot. Now get out there and explore.